Jack Anderson
Holidays With Ailey
Alvin Ailey American Dance Theater
New York City Center
131 West 55th Street
December 3, 2008-January 4, 2009, Tuesdays at 7 p.m.
Wednesday-Saturday evenings at 8 p.m., Saturday afternoons at 2 p.m., Sundays at 3 p.m. and 7:30 p.m.; $20 and up; inquire.
Tickets: (212) 581-1212, www.alvinailey.org or www.nycitycenter.org
Reviewed by Jack Anderson, December 29, 2008
It's easy to enjoy the Alvin Ailey American Dance Theater. No wonder the company has established itself as an annual holiday attraction. Because its dancers always perform full-out, its programs can warm the iciest of weathers. So, once again, we had a festive Ailey winter season, this one marking the company's fiftieth birthday.
Ailey's principal competition came from the New York City Ballet in that eternal verity, George Balanchine's "Nutcracker," and Les Ballets Trockadero de Monte Carlo in their balletic spoofs. Whereas "Nutcracker" and the Trocks seek to do little more than entertain, the Ailey, although undeniably entertaining, can at its best be more than that. Yet the company sometimes seems willing to settle for superficial excitement while ignoring dramatic or emotional depths: take its two premieres, for instance.
Alvin Ailey American Dance Theater's Hope Boykin in Mauro Bigonzetti's "Festa Barocca." Photo by Steve Vaccariello.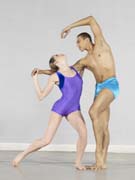 Alvin Ailey American Dance Theater's Gwynenn Taylor Jones and Clifton Brown in Mauro Bigonzetti's "Festa Barocca." Photo by Steve Vaccariello.
Mauro Bigonzetti's unabashedly entertaining "Festa Barocca" set the entire company frolicking to instrumental and vocal music by Handel. The dancers looked like celebrants in a joyous ritual, with Hope Boykin as a priestess casting spells that made everyone giddy. The gusto was occasionally interrupted by delicate moments which appeared unusually fragile in contrast to the prevailing energy. "Festa" was quite a revel. Yet there were times when it seemed overblown and overdone, its insistent theatricality becoming all too much of a muchness.
Some dancegoers complained that Bigonzetti ignored the meanings of the lyrics to the Handel arias. Many choreographers are similarly cavalier when devising steps to songs, pop and classical alike. For them, sonic moods and textures triumph over literal sense. These choreographers could even argue that since they are often setting steps to words in foreign languages, why fret about comprehensibility? Yet multilingual spectators who understand those languages might still find the choreographic results worrisome.
What I think such choreographers are doing, whether they realize it or not, is treating singing voices as musical instruments, removing meanings from texts so that, just as, say, a C-Major scale on a violin has no inherent meaning, so song lyrics are being transformed from specific statements into pure sounds. It's a risky procedure, but if choreographers can get away with it, well, why not? Nevertheless, choreographers should exercise caution and know what they're doing when they set texts in any language.
Alvin Ailey American Dance Theater's J. Roberts, R. Robinson, C. Brown and R. Deshateurs in Hope Boykin's "Go In Grace". Photo by Steve Vaccariello.
In addition to being a fine dancer, Hope Boykin is an ambitious choreographer, and she contributed "Go in Grace" which, unfortunately, ought to have been more substantial than it was. It depicted a family history and, in particular, the maturation of a Little Girl played by Rosalyn Deshauteurs. Stylistically, Boykin heightened gestural realism in a heroic manner that recalled Doris Humphrey's thematically similar "Day on Earth." A loving family raised two children, the Little Girl and a Brother (Matthew Rushing) who found himself lured into criminal mischief by some bad Boyz. Eventually, the father of the family died, Brother and the Boyz calmed down, and the Daughter grew up to live with grace.

Countless families have lived through similar situations. But Boykin's choreography seldom made her story compelling because her characters never seemed fully rounded people for whom one could feel deep concern. The only vivid characters were the Boyz, bad kids who demonstrated that theatrical incarnations of villainy can often be more interesting than personifications of virtue.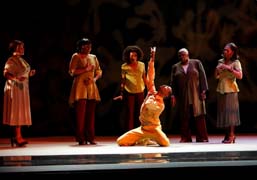 Alvin Ailey American Dance Theater's Amos Machanic, Jr. and Sweet Honey In The Rock in Hope Boykin's "Go In Grace." Photo by Paul Kolnik.
"Go in Grace" did put some memorable people on stage: Sweet Honey in the Rock, the all-female a cappella vocal ensemble that provided the music. These women roamed through the action like members of a community corresponding to the Chorus in a Greek drama. Offering gestural responses to events and sometimes appearing to advise characters, Sweet Honey in the Rock blended singing and dancing in a remarkable manner that suggested that Boykin (and other choreographers, too) might well continue to investigate the possibilities of uniting singers with dancers.
"Go in Grace," though flawed, had a fundamental seriousness that made it more than just holiday entertainment, while being at the same time suitable for the holidays because of its ultimate good cheer. And hearing Sweet Honey in the Rock was a reminder of how stirring live music can be, an impression also confirmed at those performances when Ailey's "Revelations" and "Blues Suite" had their own live music.