Jack Anderson
Oh, Those Beautiful Weimar Girls!
Sarah Lemp as Anita Berber in "Oh, Those Beautiful Weimar Girls!"
"Oh, Those Beautiful Weimar Girls!"
New Stage Theatre Company
Clemente Soto Velez
107 Suffolk Street, Lower East Side
November 19-December 21, Wednesday through Saturday at 8 p.m., Sunday at 5 p.m. (except December 21, at 3 p.m.); no performances Thanksgiving week; $25, $20 students and seniors
Tickets: (212) 868-4444, www.smarttix.com or www.newstagetheatre.org
Reviewed by Jack Anderson, November 23, 2008

Although surely horrendous to travel down, the road to ruin can be a scenic route to behold in the theater, and one of the most spectacular stops along the way is Berlin between the two World Wars. Weimar-era Berlin is revisited in "Oh, Those Beautiful Weimar Girls!," conceived and directed by Ildiko Nemeth, written by Mark Altman, choreographed by Julie Atlas Muz and Peter Schmitz, and inspired by one of that period's most bizarre figures, the dancer Anita Berber (1899-1928).
If Berber can be classified, she probably belongs on the fringe of German modern dance. Like several choreographers of her time, she was drawn to grotesque and even morbid themes, creating dances with such titles as "Ecstasy," "Suicide," "Morphine" and, her own drug of choice, "Cocaine." She championed anti-puritanism and sexual liberation by sometimes dancing in the nude on stage and by having both heterosexual and lesbian affairs offstage. But her unrestrained hedonism led to debauchery and addiction and possibly hastened her early death from tuberculosis.
Berber was both fascinating and pathetic. Yet, considering that she lived during a time of extraordinary German dancers (for instance, Mary Wigman and Gret Palucca), it can be asked, how important was she, really? "Oh, Those Beautiful Weimar Girls!" never convincingly answers that question, although it is certainly a lively, colorful show.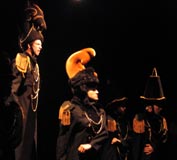 Figures in military attire before their "surrender to civilian license."
Nemeth and Altman quickly put events into historical context. Theatergoers take their seats beholding figures in military attire (costumes by Javier Boné-Carboné) posed stiffly about the space. Then guns roar, bombs explode, warriors charge, and World War I erupts. When it ends, uniforms are discarded and one of the soldiers (Schmitz) suddenly becomes a decadent androgynous cabaret Master of Ceremonies akin to the one in the musical and film "Cabaret." Military discipline has surrendered to civilian license.
Chorus of "Oh, Those Beautiful Weimar Girls!"
A chorus of cabaret cuties shimmies and struts through the sort of deliberately tacky routines we associate with cheap dives. There is also an alluring Chanteuse with an insinuating voice (Kaylin Lee Clinton) who serves as a figure of Fate. And accompaniments range from original music by Jon Gilbert Leavitt to pop tunes and pieces by such composers as Chopin, Brahms, and Beethoven.
The Master of Ceremonies introduces his new star, Anita Berber (Sarah Lemp), who enters gesturing grandly in an elaborate robe, which she throws aside to stand totally nude, thereby leaving the audience to decide if she is a daring avant-gardist or a brazen sensationalist. Throughout the production, Lemp admirably conveys Anita's artistic and erotic ambivalences, and her personal charisma, as well, as in a torrid tango with a Baroness (Denice Kondik) during which she also emotionally thaws the Baroness's prissy Daughter (Jeanne Lauren Smith).
Javier Boné-Carboné as Sebastian Droste, Sarah Lemp as Anita Berber.
After Droste (Boné-Carboné), Anita's unsavory partner, enters resembling an arrogant Spanish dancer, they perform an adagio act which suggests a bullfight and ends with an apparent orgasm. Events grow increasingly hallucinatory. There is a re-creation of Berber's "Morphine" solo in which Anita strokes her body, staggers, and grimaces. The chorus girls offer a blasphemous retelling of the Christmas story in which a woman throws her newborn baby to the pigs; Anita and Droste perform a death-infatuated duet, and everyone is transformed into circus animals. The debauchery is interrupted and squelched by a Nazi officer. This scene is theatrically powerful and symbolically appropriate, but historically misleading, since when the Nazis assumed power, Berber had been dead for several years. In "Weimar Girls," everyone tries to escape the Nazis, although the cabaret entertainers return in skeleton costumes for a danse macabre.
Offering occasional commentary on events is someone the program calls a Naïve Journalist (John Rosania), a young man obviously infatuated with Anita but apparently uncorrupted by her milieu. Looking like a boyish Romantic poet and speaking quietly, Rosania's Journalist seems perplexed and level-headed
Anita has her own fleeting perplexities, at one point expressing a desire to escape the sleazy cabaret, thereby possibly prompting theatergoers to wonder, "Well, why doesn't she?" Why indeed?
These perplexities point to a weakness of the show as a whole. Its character seldom seem real people. Not even Anita comes fully alive, and not because of any theatrical deficiency of Lemp. Anita, the other characters, and the world they inhabit are never more than curiosities, for the script's insufficient characterizations make it hard to grow excited about Anita's speeding down the road to ruin. In real life, far too many talents have taken that route (for instance, such writers as Rimbaud, John Berryman, Sylvia Plath, and Jack Kerouac). Writers, of course, can leave behind their writings which may triumphantly transcend their personal torments, yet dancers often leave behind nothing to attest to their genius. Nevertheless, even taking into account such problems, "Oh, Those Beautiful Weimar Girls!", for all its period atmosphere, never suggests why we, unless we are social workers, should be greatly concerned about the fate of Anita Berber.
It might be illuminating to compare, perhaps in another theatrical work, Berber's career with that of one of her Berlin contemporaries, Valeska Gert (1892-1978), a dancer-choreographer who, like Anita, knew the seamy side of society well. Gert an a cabaret and choreographed mimetic dances about such figures as boxers, jazz musicians, prostitutes, and strippers. Jewish and anti-Fascist, she migrated to America to escape Hitler. Although her savage humor was not to all American tastes, she directed a bohemian nightclub in Greenwich Village, then returned to Europe after the war and acted in movies, including Fellini's "Juliet of the Spirits."
Both Berber and Gert lived in tumultuous times. But whereas Gert survived them, Berber became their victim. Playwrights and choreographers might well speculate why.