Jack Anderson
San Francisco Ballet Celebrates
San Francisco Ballet
New York City Center, West 55th Street, Manhattan
October 10-18, 2008 (closed)
Information: (212) 581-1212
Reviewed by Jack Anderson, October 23, 2008

The San Francisco Ballet is now 75 years old, and it deserves to celebrate. Although it has had its financial ups and downs, it nevertheless soon demonstrated that ballet could flourish outside New York. It has trained scores of good dancers and has attracted good dancers to it. Most important of all is the way it has encouraged new choreography. Although when it was still quite young it offered pioneering productions of the complete "Coppélia," "Swan Lake," and "Nutcracker," its emphasis has been on one-act productions of many kinds.
This is a choreographers' company, and choreographers have served as its directors: Adolph Bolm, Willam and Lew Christensen, Michael Smuin. Whereas Helgi Tomasson, the current artistic director, does choreograph, he is primarily a company builder rather than a ballet maker. Nevertheless, he recognizes the importance of choreography.
Tina LeBlanc in Balanchine's DivertimentoNo.15. by San Francisco Ballet at New York City Center. Photo by Erik Tomasson
The San Francisco Ballet has long had ties to George Balanchine. Lew Christensen danced with Balanchine's American Ballet of the 1930's, and Balanchine works have constantly graced the San Francisco repertory. Two were shown in well-danced stagings by Elyse Borne. "Divertimento No. 15" was notable for its clarity. The women were airy, with Tina LeBlanc combining speed with delicacy in the Sixth Variation, while the men were solidly rooted without looking ponderous. "The Four Temperaments" has not lost its strange beauty. Balanchine is known for saying that "ballet is woman," but what one remembers most about "Temperaments" are its two great male solos, both sensitively interpreted here. Pascal Molat could have been confronting destiny in the Melancholic Variation, and Damian Smith danced as if energy were draining from his body and soul in the Phlegmatic Variation.
Whereas Balanchine works have become safe repertory choices, new creations remain risky enterprises. The San Francisco Ballet took risks this year by commissioning a multitude of premieres to celebrate its birthday, several of which came here, the best of them being Christopher Wheeldon's "Within the Golden Hour."
Sarah Van Patten and Pierre-François Vilanoba in Wheeldon's Within The Golden Hour by San Francisco Balle at New York City Center. Photo by Erik Tomasson.
Martin Pakledinaz designed a set of gold bars that rose and fell, and James F. Ingalls bathed the stage in golden light, but this ballet's real gold was Wheeldon's choreography, which made the dancers seem to glow as if from inner light. He kept pairing his 14 dancers, usually in male-female couples, although there were also some same-sex pairs. The choreography was smooth, never tense, and the dancers always looked unhurried and at ease even when Wheeldon had them slide across the floor. Dancers often appeared to melt into one another and into the space around them in this sweet ballet to scores by Vivaldi and Ezio Bosso. This is a honeyed ballet, one which I found more satisfying than the new works Wheeldon devised for the recent season of his own company, Morphoses. But you can never predict what the muses will bring.
San Francisco Ballet in Mark Morris' "Joyride" at New York City Center. Photo by Erik Tomasson.
Mark Morris's "Joyride" had its own choreographic interest, without ever being very likeable. Wearing metallic-looking costumes by Israac Mizrahi with little screens on them on which numbers kept flashing, eight dancers appeared to be engaged in a revel for robots. Allegros were sharp and angular, a slow section proceeded with icy deliberation. Everything was undeniably clever. But pointless, too. Morris never suggested why we should be interested in his science-fiction world and, to my ears, the quirky clangs, thuds, and tweets of John Adams's accompanying "Son of Chamber Symphony" were more appealing than Morris's steps to them.
The rest of the New York repertory was unremarkable. Like Wheeldon, Jorma Elo used music by two composers for "Double Evil" (Philip Glass and Vladimir Martinov). Many choreographers bring composers together nowadays, and there's nothing wrong with that, especially if the varied music can inspire sufficiently distinct choreographic episodes. But the parts of "Double Evil" were quite similar and the entire ballet resembled all too many other Elo ballets, with their perpetually splintered movement phrases that make the dancers resemble wind-up toys.
In "Fusion," which also had two composers (Graham Fitkin and Rahul Dev Burman), Yuri Possokhov presumably wanted to fuse aspects of Eastern and Western cultures. Some of the dancers wore handsome dervish skirts by Sandra Woodall; others were in simple Western dance attire. But despite incessant comings and goings, the choreography never convincingly established any sense of cultural discord or harmony.
The most bizarre novelty was "Ibsen's House," in which Val Caniparoli took characters from five Ibsen plays and set them swooning and storming to Dvorak in a gloomy drawing room designed by Woodall. Although everyone was obviously fraught, it was almost impossible to sort these people out and know what plagued them. The characters in any single Ibsen play are dramatic enough. To bring figures from five plays together made the action resemble a house party of loonies.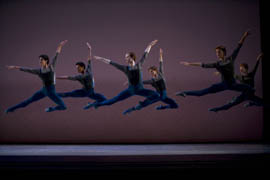 San Francisco Ballet in Tomasson's "On a Theme of Paganini" at New York City Center. Photo by Erik Tomasson.
Helgi Tomasson's own contributions belong in the category of what might be termed "balletmaster ballets," works by company directors or balletmasters who are not major choreographers, yet who are fluent enough to devise steps that can show off dancers pleasantly. That's what Tomasson did in his "Fifth Season" and "On a Theme of Paganini," although the familiar Rachmaninov "Rhapsody" which accompanied "Paganini" has far stronger emotional and dramatic shifts than Tomasson captured choreographically. His most effective display piece was his all-male "Concerto Grosso," which showed off Gennadi Nedvigin, Diego Cruz, Daniel Deivison, Taras Domitro, and Isaac Hernandez with wit and gallantry, as well as virtuosity.
So here was a repertory of mostly new works, most of them not totally successful. As the company knows, commissioning new ballets means taking risks. Yet if ballet is to be an adventure rather than a diversion to snooze over after dinner, they're risks worth taking. So God bless San Francisco Ballet for taking them.