Jack Anderson
BalletMet's Mild Audacity
BalletMet Columbus
Joyce Theater, 175 Eighth Avenue, Chelse
September 30-October 5, 2008
Tuesday and Wednesday at 7:30 p.m.,
Thursday and Friday at 8 p.m., Saturday at 2 and 8 p.m.
Sunday at 2 p.m., $49, $35, $19
Tickets: (212) 242-0800 or www.Joyce.org
Reviewed by Jack Anderson, October 2, 2008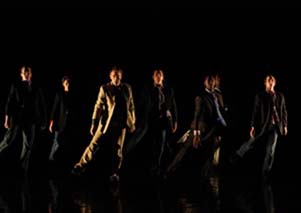 Dancer : BalletMet Dancers, Photo by: Sheila Hunt
It's not often that ballets endorse Presidential candidates. But that's what Warren Adams's "The Audacious One" seemed to do.
As stirring excerpts from Mozart's "Requiem" thundered away on tape, a community appeared to quarrel until a firm, controlled leader (the quietly authoritative Lynnorris Evans) brought harmony. Although characters lacked specific names in "The Audacious One," because Senator Barack Obama did write "The Audacity of Hope," it was easy to suspect that the ballet's leader symbolized the Democratic Presidential candidate.
Adams was choreographically audacious here, but only mildly so, never suggesting what issues divided the community, or what specific measures his protagonist took to set things right. Still, it was good that he balletically treated such matters, rather than the intrigues of some fairy-tale court. And his work made one wonder what balletic praise of Senator John McCain might look like.
Two other productions by the Ohio company also touched on social realities. Jimmy Orrante's "Ad Infinitum," to vintage Simon and Garfunkel songs, had attractive swooping movements, danced with easygoing skill. But the finale combined "Silent Night" with old newscasts mentioning Martin Luther King Jr. and the Vietnam War, presumably as a reminder that pleasant moments may be surrounded by grim ones. Stanton Welch's "Play," to songs by Moby, evoked the pace of street life with ingeniously changing rhythms. But, like "The Audacious One," both these pieces failed to make any firm statements about contemporary issues.
Dancer : BalletMet Dancers, Photo by: Sheila Hunt
Other offerings were insubstantial to the point of being flimsy. Adam Hundt's "Bang, Bang (My Baby Shot Me Down)," for Hitomi Yamada and David Tlaiye, portrayed a troubled couple without providing any strongly serious or satiric comments about them. Olivia Clark and Jackson Sarver were entangled lovers in David Shimotakahara's "Sweet." Orrante seduced, then bit, Jamie Dee in a pas deux from David Nixon's "Dracula." And young people went partying in Darrell Grand Moultrie's "Square Off!"
It was an evening of tame choreography and very short ballets. Since many companies these days dance long lugubrious platitudes, the program's sheer zippiness was admirable. So, too, was the fact that, by programming seven choreographers, BalletMet does not seem bound by a single choreographic style. Nevertheless, these itsy-bitsy pieces never amounted to much. It still remains to be seen what substantial fare BalletMet can provide.