Jack Anderson
Three Filipino Choreographers
Yangtze Repertory Theatre of America
Variations in a Foreign Land IX: "Akin, Amin, Atin"
Max Luna III, Gerald Casel, Leonides D. Arpon
Flushing Town Hall, 137-35 Northern Boulevard, Flushing
September 26-27, 2008 (closed)
Information: www.yangtze-rep-theatre.org
Reviewed by Jack Anderson, September 27, 2008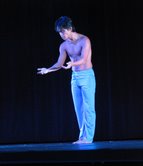 WIDELY TRAVELED -- Leonides D. Arpon was raised in Israel.
The press release for this program by Leonides D. Arpon, Gerald Casel, and Max Luna III cautiously but tantalizingly announced that this was "the first production in recent memory to be devoted exclusively to Filipino choreographers." The pieces shown aroused genuine curiosity about contemporary Filipino dance.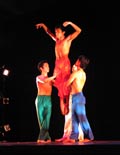 "Elements" by Leonides D. Arpon.
This Filipino event was also an international occasion. All three choreographers are widely traveled. One (Arpon) was born and raised in Israel. Not all the dancers were Filipino, some coming from such varied places as Korea, Japan, North Dakota, and Virginia. Their program was the ninth offering in a series of dance events called "Variations in a Foreign Land," presented by Joanna Chan's Yangtze Repertory Theater. Here, certainly, was diversity. Here, too, was quality.
Each choreographer contributed two works. Arpon's offerings were especially vivid. "Elements," created in collaboration with Peter Fazekas and its all-male cast, was billed as a work-in-progress. Nevertheless, as performed by Norbert L. De La Cruz, R. Colby Damon, Takao Komaru, and Arpon, this dance to a musical collage looked already quite polished, and its ceaseless currents of twisting, turning, rippling, and spiraling movements commanded attention. The program never indicated what specific sorts of elements Arpon had in mind. But if he meant the four basic substances of ancient philosophy and science, then his choreography certainly celebrated Earth as ground, Water as flow, Fire as passion, and Air as the space through which the men sped.
Yangtze Repertory Theatre of American presented "For Me For Us For Everyone," Variations in a Foreign Land IX, September 26 and 27, 2008 at Flushing Town Hall. "Shinka" by Leonides D. Arpon.
Steps were sharper and more forceful in Arpon's "Shinka," to insistently percussive music by Les Tambours du Bronx and Annie Gosfield. After Mica Bernas, Dana Marie Ingraham, and Chu Ying Ku made ominous incantatory gestures, as if summoning spirits, each of the women danced a duet with one of the cast's three men (De La Cruz, Damon, and Komaru), the choreography for all these duets suggesting erotic attraction co-existing with underlying suspicion. Events grew somewhat predictable, yet choreographic tension prevailed, and the finale brought everyone together with jerky angularities. "Shinka" means "evolution" in Japanese. But the dancers' increasing combativeness and the prevailing sense of unease made one wonder if this evolutionary process was for the worse, rather than the better.
"The Hurt We Embrace" by Max Luna. Dancers: Mica Bernas and Michael McBride.
Luna provided two strongly dramatic miniatures. "The Hurt We Embrace," to melancholy music by Jan Kaczmarek, contrasted physical rigidity with emotional outpouring. Bernas and Michael McBride sat motionless in chairs on opposite sides of the stage. Then she rose and stroked her leg, he rose and reached outward, but both returned to their chairs. Movements grew more intense, as when Bernas, looking troubled, tried to embrace McBride. Yet he disentangled himself, retaining a stony impassivity. It became possible to wonder if this duet depicted an unhappy love affair long past or an abortive affair that never really began. Sentiment appeared to triumph when McBride walked to Bernas and tenderly touched her. Yet, while he did so, he also appeared to give her leg a surreptitious slap and she pushed him in return. Emotional ambiguity prevailed.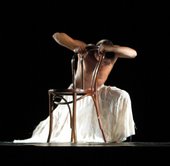 Michael McBride in "Cold Song" by Max Luna III.
Three empty chairs dominated the stage in Luna's "Cold Song," in which, to music by Klaus Nomi, McBride went from chair to chair, gesturing imploringly and bending backward in grief, his powerful presence paradoxically hinting at an eternal absence.
"Exit Skeleton" by Gerald Casel
A sense of absence was also established by a chair in which no one ever sat in Casel's "Exit Skeleton." In this duet to music by Jeff Hanson, Eun Jung Choi-Gonzalez and Guillermo Ortega Tanus of DaDaDance Project, kept trying to establish an emotional relationship. But their efforts were in vain, and the chair hinted that some invisible, and possibly judgmental, presence was watching.
"Save the Robots" by Gerald Casel.
"Exit Skeleton" was more taut and compelling than Casel's "Save the Robots!" which was billed as "preview of a work-in-progress" for members of Casel's company Gerald Caseldance: Lindsay Ashmun, Kai Kleinbard, Na-ye Kim, Nick Strafaccia, Samuel Wentz, and Casel. The choreography for what he presented sent small groups drifting about the stage to music by Devendra Banhart.
This evening by three Filipino choreographers worth getting to know was subtitled "Akin, Amin, Atin," which means "For Me, For Us, For Everyone" in Tagalog. And that it was.