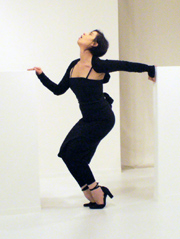 Orietta Crispino in "Appearance - A Suspense in Being."
"Appearance – A Suspense in Being"
Directed by Carlo Altomare
Theaterlab, 137 West 14th Street (between Sixth and Seventh Avenues), Greenwich Village
May 6-17, 2008
Tuesdays through Saturdays at 8 p.m.,
Tickets: (212) 868-4444 or www.smarttix.com

Reviewed May 15, 2008
Throughout the day, we respond to scores of sensory and emotional stimuli, sometimes with grandly-scaled movements, sometimes with only flickering, nearly invisible, gestures. There are also times when our actions are carefully calculated because we deliberately want to show the world something; yet we can also use movements and facial expressions as armor to protect ourselves.Orietta Crispino in "Appearance - A Suspense in Being."
A multitude of bodily responses flashed through "Appearance – A Suspense in Being," which Theaterlab presented in its pristine new white-walled space. The production for Jeanine T. Abraham, Joy Lynn Andersen, Liza Cassidy, and Orietta Crispino can be most simply termed a theater-piece. Yet, given its kinetic basis, this is specifically movement-theater, and the performers' proficiency often makes it akin to dance-theater. Carlo Altomare and Crispino, who conceived and directed it, have also been influenced by a number of theatrical theories including those of the avant-garde Russian director Vsevolod Meyerhold.
But theatergoers can ignore theory and concentrate instead on what goes on, and much does, even though at the start a poem by the 20th-century Mexican writer Octavio Paz announces "Stillness. Nothing moves." Quite a lot of movement follows, some of it in silence, some to taped music by Altomare and Joerg Burger.
Emotions materialize and play across the women's bodies in a progression of scenes based on structured improvisations, each action looking unusually clear because of the contrasts between the performers' black costumes and the white walls. There are spoken passages in which sentences beginning in plain English give way to passages of what may be some foreign language or even outright gibberish. But movements usually convey the emotional state any scene seeks to evoke.
Jeanine T. Abraham
Solos are especially effective. In one, Crispino moves cautiously forward, clenching and relaxing her fists, and looking as if she wished to tell the audience something, but never managing to do it. In another, Andersen announces, "I want to….," then lapses into one of the production's unintelligible languages, while constantly veering between simple movements and flamboyant ones. Abraham manages to look simultaneously sassy and frantic. And Cassidy's calm breathing is interrupted by spasms wracking her body.
All four dancers eventually step slowly forward as the space fills with jagged filmed images by Jeanne Liotta, and the production ends with a repetition of Paz's poem about stillness which includes the statement, "I saw for an instant true life. I am here."
These four women were truly in their own realms of being. Yet it was unfortunate that the production's directors made such repeated use of sudden extreme contrasts between tension and relaxation, tightness and floppiness, that the work's emotional progressions sometimes grew predictable. Scenes showing a steady heightening or diminishing of intensity, like crescendos or diminuendos in music, might have added variety to the production and provided the four talented performers with additional interpretative challenges. Nevertheless, "Appearance" held the attention as it vividly showed how the body may both display and conceal emotions.