Jack Anderson
Through Modern American Ballet History with American Ballet Theatre
American Ballet Theatre
New York City Center, West 55th Street between Sixth and Seventh Avenues
Oct. 23-Nov. 4, 2007 (closed)
Information: (212) 477-3030
Reviewed by Jack Anderson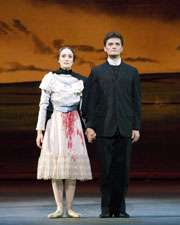 Julie Kent and Gennadi Saveliev in ABT's "Fall River Legend." Photo by Gene Schiavone.
In addition to giving fine performances, American Ballet Theatre stimulated thought about its own history and the development of modern American ballet in general.
Surveying the autumn repertoire, one could argue that its two best ballets were the oldest: Jerome Robbins's "Fancy Free" (1944) and Agnes de Mille's "Fall River Legend" (1948).
Robbins's comedy about sailors on shore leave remains a marvel, for the choreography is blessed with a sense of fun and a warmth of heart. Created during World War II, "Fancy Free" reflects its period, yet its human truths transcend that era: it's become a classic. It received a rollicking, well-timed performance the night I saw it with a cast that included Craig Salstein, David Hallberg, and Jose Manuel Carreño as the sailors and Paloma Herrera, Gillian Murphy, and Melissa Thomas as the young ladies they meet.
"Fall River Legend" (1948) has its problems. The action is melodramatic, characterizations lack subtlety. De Mille is sometimes obviously indebted to other choreographers: her dreamy young people in a lyrical episode resemble the Lovers-in-Innocence in Tudor's "Pillar of Fire," her pastor and flock recall similar characters in Graham's "Appalachian Spring." Oliver Smith's set, though striking, does not really suggest New England, for his sun-baked backdrop seems to place events somewhere in the West, perhaps just over the county line from "Rodeo." And the ballet is obviously a vehicle for a dramatic ballerina.
No matter. If "Fall River" is a vehicle, it's one that speeds along. Three ballerinas portrayed the Accused, as de Mille calls Lizzie. Possibly to avoid looking hammy, Julie Kent began in a low-keyed manner and it took her a bit too long to generate dramatic steam. Gillian Murphy's Accused appeared to react strongly to everything around her. Michele Wiles's powerful performance made the Accused seem to be smothered by her oppressive family life.
The comic "Fancy Free" and the grim "Fall River Legend" are the sort of dramatic dances for which American Ballet Theatre was known in the 1940's, and which could be found throughout American ballet as a whole back then. Antony Tudor is another major dramatic choreographer from that time, and Ballet Theatre wisely tries to stage a Tudor ballet or two every season.
This autumn saw a revival of "The Leaves Are Fading," a gentle look back at young love, to music of Dvorak. Although often lovely, it's also disappointingly vague. The dancers never seem actual people; the situations in which Tudor places them often seem unmotivated. Of course, he did not intend "Leaves" to be a literal narrative. Even so, too little of import appears to happen in it. This season's cast moved nicely, but without capturing some of Tudor's emotional nuances. However, in the central duet, Kent and Marcelo Gomes appeared to be real human beings, not just dancing partners.
A late Tudor work, "Leaves" dates from 1975, and by that time George Balanchine's abstract works had profoundly affected American ballet. It's not hard to understand why. Balanchine was a genius whose abstractions gave audiences a fresh type of ballet to enjoy and challenged dancers with their brilliance. Moreover, a steady diet of dramatic pieces, especially heavy ones, can grow wearisome, which may help explain why, with the rise of Balanchine, some dance fans also tired of Martha Graham's dance-dramas.
Balanchine was represented at City Center by "Ballo della Regina" (1978), a sparkling piece to Verdi that celebrates vivacity in its solos and ensembles and romantic ardor in its pas de deux. The company performed the ensembles attractively at the two performances I saw. But neither Michele Wiles, who lacked abandon, nor Yuriko Kajiya who, though light, seemed slightly strained, made the ballerina role fully convincing. But both Maxim Beloserkovsky and Herman Cornejo danced boldly in the one male role.
An increasingly common form of post-Balanchine choreography might be conveniently termed the plotless ballet with emotional implications, even though that term is ultimately unsatisfactory, for it's hard to imagine any ballet with no emotional implications whatsoever: the very fact of dancers moving in apparent harmony or discord will surely prompt some audience response, however slight. Balanchine did not invent the plotless mood piece, it existed long before him: Fokine's "Les Sylphides" is such a ballet. But plotless mood pieces have proliferated since Balanchine and are now omnipresent in a multitude of varieties.
Take Twyla Tharp's two pieces at the City Center. Both, though lacking definite plots, hinted at dramatic situations. In "Baker's Dozen" (1979), to easygoing "stride" piano music by Willie "The Lion" Smith, Tharp sends dancers loping and ambling convivially, as if at an informal party. "Sinatra Suite," adapted by Tharp from a work of 1982, has a clearer dramatic situation, for this duet depicts two lovers falling in and out of love, with the man finally dancing a solo to "One for My Baby (and One More for the Road)." Yet there are no plot complications and the emphasis is on the moods of the recorded Sinatra songs, which I saw danced by Copeland, who had a particularly sure grasp of Tharp's rhythmic complexities, with Carreño as her partner.
Tharp exemplifies the eclecticism of contemporary American dance. She emerged from the conceptual and cerebral tendencies of the 60's and 70's. But her interest in popular music and dance styles allies her with Robbins and de Mille. And Balanchine is certainly a precedent for her abstractions to classical music.
Just as not all that long ago choreographers and audiences grew tired of plot-heavy dramatic dances, so we may have started boring ourselves with plotless dances for today's incredibly agile dancers in which the choreography succeeds neither in evoking feelings nor in creating formally beautiful patterns in space. Our choreographers are in danger of manufacturing dances that are nothing but animated technique manuals. Yet many choreographers also seem unable, or unwilling, to attempt narratives, except when they rehash such old favorites as "Cinderella" or "Romeo and Juliet." In contrast, Tudor and de Mille often either invented stories or turned to less hackneyed literary sources.
Several Ballet Theatre productions used virtuosity in numerous ways. Benjamin Millepied battered the eyes with onslaughts of steps in his new "From Here on Out," to music by Nico Muhly. For all its self-conscious ingenuity, the unrelenting movement provided little to savor.
Some recent works by Jorma Elo have been comparably hard to watch because of the way his fiendishly complicated steps keep rushing by for no apparent reason. His new "C. to C. (Close to Chuck)" was equally complex, but now there may have been a reason for the complications. The ballet, to quiet piano pieces by Philip Glass, honored the painter Chuck Close, who was seriously incapacitated with an spinal aneurism. Although now confined to a wheelchair, he has been able to resume painting. Elo's ballet, during which three enormous self-portraits by Close come into view, hints at these biographical events, although you probably have to know about them already to relate them to the action on stage. Nevertheless, there are suggestion of hardships, struggles, and triumphs in Elo's choreography for three couples (Kent and Gomes, Copeland and Cornejo, and Kristi Boone and Jared Matthews), and his kinetic variety adds life to what could have been only a perpetual motion machine.
Lar Lubovitch disdained mere razzle-dazzle in "Meadow" (1999), but gave us wispiness instead. His choreographic mistiness recalled the opening of a poem by Robert Duncan in which the title is also the first line: "Often I Am Permitted to Return to a Meadow / as if it were a scene made-up by the mind, / that is not mine, / but is a made place, / that is mine, it is so near to the heart, / an eternal pasture folded in all thought…." Yet Lubovitch proved unable to sustain a sense of wonderment.
Stanton Welch's odd and interesting "Clear" (2001) was an abstraction to Bach. Well, we've seen lots of those over the years. So one might yawn in anticipation. But "Clear" is quirky. For one thing, seven of its eight dancers are men, and while the sole woman is certainly noticeable, Welch does not make her especially exalted until the quiet concluding duet. The male movement is vigorous, yet emphasizes finesse, rather than brawn. Some allegros are especially fascinating for the way Welch has the men cross the stage in horizontal lines and then return in other horizontal lines as if drawing stripes through space. Welch in his modest way invigorates a familiar choreographic form.
Taken as a whole, Ballet Theatre's little panorama of modern American ballet suggests that both dramatic and abstract dance forms today lack the imagination that enlivened choreography in the recent past. Yet no one really knows how ballet can be revitalized. If we did, we wouldn't be admitting we're worried.