Jack Anderson
Spectacles Re-Imagined
"Pamina Devi: A Cambodian Magic Flute"
Khmer Arts Ensemble
Joyce Theater, 175 Eighth Avenue at 19th Street, Chelsea
Oct. 9-14, 2007
Information: (212) 242-0800
"Zélindor, Roi des Sylphes"
Opera Lafayette
New York Baroque Dance Company
Frederick P. Rose Hall, Jazz at Lincoln Center, Columbus Circle
Oct. 17, 2007
Information: (202) 546-9332
Reviewed by Jack Anderson, Oct. 20, 2007
Two very different sorts of productions derived from 18th-century spectacles arrived in New York. "Pamina Devi," inspired by Mozart's "Magic Flute," came from Cambodia. "Zélindor," which François Rebel and François Francoeur composed in 1745 for the splendors of Versailles, had its modern world premiere in what at first seemed a conventional non-theatrical concert performance by groups from New York and Washington, D.C. Then flights of fancy made their presentation theatrically and choreographically, as well as musically, magical.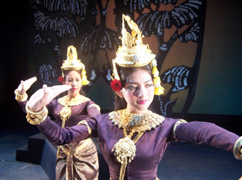 "Pamina Devi," photo by John Shapiro
Although "Pamina Devi" was subtitled a "Cambodian Magic Flute," its accompaniment was Cambodian music, rather than anything from Mozart's opera. Instead, Sophiline Cheam Shapiro based her work on that opera's libretto, which tells a story that never quite makes total sense, although musical scholars have long searched for allegorical significance in it. Yet the major characters in this adaptation did appear to stress the virtues of determination and independence, an emphasis with special meaning for Cambodians remembering their recent tyrannical past.
"Pamina Devi" was danced by a cast of women, as such productions traditionally are in Cambodia, and the accompanying musicians produced chiming percussion sounds punctuated by sharp vocalisms. By Western standards, scenes proceeded with little tension or suspense. Instead, the drama was in the theatrical details: the gliding steps; the astonishing ways in which fingers could bend both backward and forward and seem to spread open like blossoms; the glistening sequined and bejeweled costumes with tall spired headdresses. The choreographic pace was usually unhurried; there were even combats in slow motion. Momentous events attained the timelessness of myths.
"Zélindor, Roi des Sylphes," photo by Louis Forget.
"Zélindor, Roi des Sylphes," to give the work its full title, occurs in its own mythical realm, but one that seems very worldly. Zélindor, King of the Sylphs, falls in love with Zirphé, a mortal who sees him only in her dreams. When she desires to see him in reality, he fears that doing so will make her lose interest in him. After she keeps insisting, he warns her that if he becomes visible she will never be attractive to anyone else again. When she agrees to this state of affairs, he assures her that he was only trying to test her love; in the future, even while remaining faithful to him, "You will always please, all will submit to you, / A thousand hearts will be offered to you." Oh là là! This scenario does seem très français!
"Zélindor" shared the evening with a suite from "La Trophée," a tribute to Louis XV also by Rebel and Francoeur presented with "Zélindor" at the Paris Opéra later in 1745.
The music for both works is suave and elegant, with many touches of whimsy and caprice. It was given an assured interpretation by Opera Lafayette of Washington, D.C., conducted by Ryan Brown. The orchestra of this period-instrument group played with assurance and without any of the oddities of pitch that sometime plague such ensembles. Singers and chorus were also a pleasure to hear, especially Jean-Paul Fouchécourt, whose flexible tenor voice coped easily with the role of Zélindor.
The presentation followed today's standard operatic concert-performance format. The orchestra was on stage at all times. Vocal soloists came to the fore as required. Everyone wore formal attire. The presentation was the sort of thing one expects at such programs, and the music cast its spell.
Then magic prevailed. Members of the New York Baroque Dance Company entered in dance sequences choreographed by Catherine Turocy in which they portrayed nymphs and spirits in lovely-hued 18th-century costumes by Marie Anne Chiment, Marilyn Skow, and Bonnie Kruger. Moving deftly in the heeled shoes dancers wore at that time, they created a sense of airiness with their little rushes forward. Yet the choreography remained always within the framework of Baroque technique and style. There were many charming details, including appearances by spiffily attired salamanders with lizard headdresses, and the moment in a minuet when a rustic-looking lad portraying a gnome kept finding his breeches drooping down (fortunately, another level of clothing was beneath them); later, the luckless fellow's cap fell off.
The illusion of otherworldliness was enhanced by the way all the dancers were masked, as they would have been in the 18th-century. These masks, by Jane Stein and Stanley Alan Sherman, made the faces of nymphs and spirits look unchangingly serene, even as the brisk choreographic changes made their bodies look joyous.
Combining the practicalities of 21st-century concert practice with bits of 18th-century spectacle, this "Zélindor" took theatergoers into an enchanted realm all its own.