Jack Anderson
Founding Mothers
Martha Graham Dance Company
Joyce Theater, 175 Eighth Avenue at 19th Street, Chelsea
September 11-23, 2007
Isadora Duncan's "Iphigenia"
Joyce SoHo, 155 Mercer Street
September 21-22, 2007
Reviewed by Jack Anderson, October 1, 2007
Miki Orihara in Martha Graham's "Errand into the Maze."
By a happy fluke of programming, in only a few days one could see works by two great American modern dance pioneers, Loîe Fuller and Isadora Duncan (only Ruth St. Denis and Maud Allan from the pioneering days would have made this matriarchal list complete), as well as a collection of pieces by Martha Graham, from the next generation. It was an enlightening experience, for it revealed how varied modern dance was from the outset and how varied it remained as it developed.
"Isadora Duncan's 'Iphigenia,'" the solo evening at the Joyce SoHo was misleadingly titled. It included more than Duncan, for it began with Jody Sperling's tribute to Fuller, "Dance of the Elements." Presumably, no actual choreography by Fuller is revivable, although I hope some scholar uncovers notations to prove me wrong. Yet Fuller's compositions involved more than steps. Mixed-media experiments in which lighting and costuming were inseparable from movement, they presaged several generations of multimedia down to Alwin Nikolais and Momix, and researchers can presumably determine what Fuller's effects were and speculate on how to reproduce them.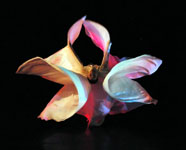 Dance of the Elements - Jody Sperling; Time Lapse Dance; at Joyce Soho.
Photo by Nan Melville.
Sperling, a diligent and imaginative researcher, has given us this suite, to various compositions for piano, with solos evoking Earth, Water, Wind, Fire, and Ether, aided by atmospheric lighting by Julie Ana Dobo and an elaborate and sometimes engulfing Fuller-inspired costume by Michelle Ferranti that Sperling manipulated as she danced.
Taking pattering steps while extending her arms in "Earth," she let the fabric seem wings ready to take off above the ground. The material cascaded in waves in "Water" and swirled around her in "Wind." Ascending from the floor in "Fire," Sperling became mounting flames and, as she glided about, she sank into the fabric and rose from it in "Ether." In all these solos, footwork was never complex: feet were simply agents of locomotion carrying the dancer from point to point. Instead, the emphasis was on movements for the upper body and arms and on the ways these actions set the fabric moving. The performer's body may have been solid (and Fuller was reputedly very solid) but, thanks to fabrics and lighting, her arms, head, and hair could appear to dissolve into a shimmer akin to that of Impressionist art while the lines of her moving upper body had the curves of Art Nouveau. Yet it should not be forgotten that, although she reflected artistic trends of her time and inspired poets and painters, Fuller derived some of her effects from spectacles associated with music-halls, and she successfully performed in such establishments. Fuller certainly was an artist; but she was an entertainer, as well.
Isadora Duncan could also entertain, but her dancing was self-consciously High Art and her public statements could be oracular. Moreover, she made a point of insisting that her movement came from a source within her. If Fuller's dancing was a show, Duncan made dancing an expression.
Duncan performances were often thought to be improvisatory. But that was an illusion created by her expressive powers; as a dance-maker, she was methodical, devising clear, carefully crafted forms. No wonder her disciples, and then their disciples, could preserve them, so that we now have a fairly sizable body of revivable Duncan dances that are at least as "authentic," and possibly more so, than what many ballet companies pass off as "Petipa." And so Jodi Liss could dance Duncan's "Iphigenia," as preserved by Julia Levien, one of the foremost guardians of the Duncan treasury.
Set to music from three Gluck operas ("Iphigenia in Aulis," "Iphigenia in Tauride," and "Armide"), this suite of solos separated by orchestral interludes is a peculiar composition, for although the episodes are vaguely related to the classic Iphigenia narrative, they do not re-enact it. Rather, they comment on its moods, as if the dancer were a one-woman Greek chorus, moving through states ranging from girlish innocence to ritual solemnity.
Liss danced with obvious earnestness. But, on this occasion, she looked unduly stolid and her interpretations lacked the gradations of energy that can make Duncan choreography so satisfying to behold. This was dancing with insufficient nuance, sculpted movement that seldom seemed to live and breathe.
Fuller and Duncan may have been dissimilar in artistic temperament, yet they were creatively alike in at least one respect. Both specialized in a single basic type of dance. Martha Graham, in contrast, constantly changed, one reason why she can be compared, as she often is, with Picasso and Stravinsky. She is like them not simply because all three are great artists in their fields, but also because all three went through various "periods" of development. Therefore it was intellectually refreshing for the Graham company to offer a repertoire drawn from 45 years of achievements. Too often, late in her career, Graham's programs emphasized her mythological or "literary" dances while ignoring other types of works. Of course, Graham had a right to do so; such scheduling reflected her concerns of the moment. But her programming restrictions could give younger dancegoers distorted views of her career. Fortunately, in recent seasons, the company, now under the artistic direction of Janet Eilber, has presented representative samplings of Graham choreography.
The earliest production seen this fall was the cumbersomely-titled "Sketches from 'Chronicle,'" a suite of excerpts from a longer work of 1936 that reveals Graham's command of form and spatial design and her ability to convey feelings and ideas without belaboring them literally. Choreographed after a World War and in a time of Depression when many people dreaded new wars, "Chronicle" is a masterful evocation of social unrest that begins with "Spectre 1914," a long solo in which a woman seems a Cassandra-like prophetess. Although Elizabeth Auclair never quite managed to sustain the role's intensity, the commitment and energy of the young dancers in the ensembles that followed this solo had a shattering impact. "Steps in the Street" contrasts movements backward suggesting disorientation with fierce pounding steps forward, while propulsive accelerating runs in the concluding "Prelude to Action" become calls to militancy. "Chronicle" is extremely dramatic, and all its drama resides in the movement itself. It set audiences cheering whenever I saw it.
By 1944, when Graham created "Appalachian Spring," times had drastically changed. World War II was raging, and optimistic productions with American roots, including such a musical as "Oklahoma!" and ballets like "Rodeo" or "Fancy Free" were prized as morale boosters. "Appalachian Spring" is Graham's contribution to this genre.
Her portrait of a young couple settling in the wilderness could have been as cute as a Norman Rockwell illustration. But her choreographic portraits are shrewdly observed as well as affectionate, and the cast I saw gave finely shaded performances. Although Blakeley White-McGuire's Bride looked innocent, she never looked weak. David Zurak deliberately made the Husbandman slightly gawky in demeanor. But he was also an eager good-hearted man; there was an openness about his movements that implied that he and the Bride would face the future with confidence and mutual trust. Katherine Crockett's serenity suggested the Pioneering Woman's wisdom. And although Maurizio Nardi gestured fiercely as the Revivalist, he never became a dangerous fanatic; like many evangelists then and now, he reveled in rhetoric and his little band of followers doted on him. Moreover, the tolerant way in which Crockett gazed upon him implied that the Pioneering Woman was an old acquaintance, used to his bluster. This "Appalachian Spring" was a dance about real human beings, rather than American archetypes.
By 1947, when "Errand Into the Maze" received its premiere, Graham had become preoccupied with archetypes, choreographing works based upon figures from mythology, literature, and history. Nevertheless, this encounter with a Minotaur, called here a Creature of Fear, is curiously related to "Appalachian Spring," and even to "Chronicle." The characters in "Appalachian," made during wartime, surmount their apprehensions about the wilderness. When "Errand" was created, World War II had ended, yet the postwar period was bringing its own fears arising from Cold War tensions and the threat of atomic annihilation.
"Errand" concerns fear, and conceivably may have reminded some audiences that back in the 30's President Franklin D. Roosevelt had assured Americans that they had nothing to fear but fear itself. "Chronicle" embodies the fears and uncertainties of that time and exhorts people to overcome them and struggle toward a common good. A decade or so later, in "Appalachian Spring," settlers transcend fears of the wilderness, while "Errand Into the Maze" shows a process of overcoming fear. But whereas "Chronicle" is a dance of social action, "Errand" focuses upon psychological conflict. The Creature of Fear lurks within the heroine's psyche, and although Isamu Noguchi's setting includes an imposing portal, it soon becomes hard to determine what specifically is inside and outside that gateway, which in any case never really prevents anyone from going in or out. The Minotaur is everywhere, and can be defeated only when the heroine confronts it directly. And having done so, the fact that this creature's arms are always constrained by a yoke makes him not quite so awesomely powerful an adversary, after all.
Miki Orihara began well by vividly suggesting the heroine's terror. But at the performance I saw she never quite built to a convincing climax from this strong start. It was, perhaps, simply a matter of dramatic miscalculation, for she proved frighteningly venomous as Medea in "Cave of the Heart" (1946). And Crockett staggered with delirious confusion as Jocasta in "Night Journey" (1947).
These mythological compositions exemplify a change in Graham's choreographic strategy. Gone is the bluntness of "Chronicle." Instead, we have convoluted dramas with an abundance of symbolic sets and props, often by Noguchi and frequently phallic. As Graham persistently ransacked literature and mythology for source materials, her weakest works in this manner gave the impression that she assumed that by simply tackling momentous subject matter she automatically would produce important dances.
Satirists could easily parody these efforts. This season brought an unintentional parody, a curiosity called "Ardent Song (Redux)," to music of Alan Hovanhess, somehow based on a dance of 1954 as "reconceived" by Susan McLain, presumably because the original choreography is lost. I have no idea what that might have been like, but this production was a pretentious affair that supposedly depicted the course of the moon at night, during which ten dancers got entangled in fabrics. Although moons change by waxing and waning, the dance had few emotional gradations, instead offering ceaseless convolutions for no discernible reasons. McLain chose to emphasize Graham at her most pretentious.

Yet Graham could never be pigeonholed. During the time of the somber choreographic myths, she devised the lyrical "Diversion of Angels" (1948), ebulliently danced at the Joyce, and among the mythological solemnities was "Embattled Garden" (1958), a witty and slyly erotic peek at multiple flirtations and temptations in the Garden of Eden.
Later in her career, Graham's choreography sometimes grew highly decorative, as if she were fondly recalling her Denishawn days. The most enduring example of this period is "Acts of Light" (1981), in which a stilted introduction gives way to "Lament," an ensemble which incorporates motifs from "Lamentation," Graham's solo of 1930, but with diminished effect. But then comes the radiant "Ritual to the Sun," which both glorifies dance classroom training and celebrates the sheer beauty of movement itself.
Both Fuller and Duncan would surely have applauded.