Jack Anderson
Bourne's Shear Madness
Matthew Bourne: "Edward Scissorhands"
Brooklyn Academy of Music, BAM Howard Gilman Opera House, 30 Lafayette Avenue, Fort Greene, Brooklyn
March 14-31, March 14 at 7 p.m., March 15-17, 20-24, 27-31 at 7:30 p.m., March 17, 24, 31 at 2 p.m.,
March 18 & 25 at 1 and 6:30 p.m., $80, $70, $50, $30
Tickets: (718) 636-4100 or www.BAM.org
Reviewed by Jack Anderson, March 19, 2007
It's easy to call Matthew Bourne's "Edward Scissorhands" a musical comedy without songs or dialogue. In fact, it's often been called that. Like many musicals, it's a splashy fast-paced show brimming with energy. But you needn't venture beyond the dance world to find a term to characterize it: "Edward Scissorhands" is a ballet. Yes, a ballet.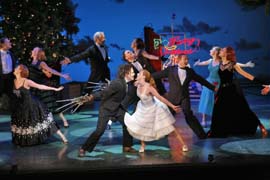 (center) Sam Archer and Kerry Biggin. Photo by Richard Termine.
Bourne himself hesitates to call "Edward" and his other works ballets, possibly fearing that the very term "ballet" will alienate the large public he hopes to attract, theatergoers for whom ballet is synonymous with snobbism. Moreover, within the dance community itself these days, when ballet is mentioned, people often think of either antiseptic abstractions or overstuffed extravaganzas set in long-ago foreign courts.
The fact that such facile, yet not entirely inaccurate, categorizations are now possible suggests how much our conception of ballet has narrowed since such trailblazing 20th-century ballet companies as Diaghilev 's Ballets Russes and Les Ballets Suédois presented works about tennis games, beach resorts, skating rinks, Russian street fairs, and Parisian sideshows, works that heralded later American ballets about bars, rodeos, and filling stations. And if Bourne employs musical-comedy and social dance forms as well as classical technique, he's not all that different from those 19th and early-20th century choreographers whose ballets incorporated mime, dramatic gesture, and folk and character dancing.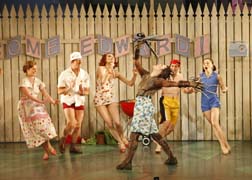 (left to right) Madelaine Brennan, Steve Kirkham, Michela Meazza,Sam Archer, Gavin Eden, Hannah Vassallo. Photo by Richard Termine.
Far from being trendy novelties, Bourne's creations belong to a great ballet tradition: his concepts are valid and his gusto is refreshing. Ballet needs choreographers like Bourne. But there are times when Bourne needs to be better than he is, and "Edward Scissorhands" is one of them. His source is Tim Burton's 1990 movie, in which Johnny Depp starred as an outcast with scissors instead of hands. My memories of that film are pleasant, but hazy. In any case, Bourne has said he has done his own retelling of the story and Lez Brotherston has set it in a candy-colored suburban community where Edward, before his love for a young woman takes a tragic turn, becomes a successful topiary gardener and hair stylist. His tale is told to original music by Terry Davies and an adaptation of Danny Elfman's movie score. It's unmemorable stuff, yet by establishing and developing moods, it provides serviceable accompaniment, as did the scores Minkus and Pugni composed for 19th-century ballets.
Sam Archer in "Edward Scissorhands." Photo by Richard Termine.
Bourne's ballet has multiple casts, and on the night I attended Sam Archer made Edward an ingratiating misfit with a shy, slightly fey, and loony manner. Bourne's choreography for Edward is endearing; far from being an obstacle, having to devise steps, gestures, and poses for someone lacking ordinary human hands appears to have stimulated Bourne's inventiveness. Therefore it seemed something of a let-down for there to be a vision scene in which Edward temporarily acquires hands: he's more interesting without them.
But other people in the large cast are weakly characterized. Theatrically, "Edward" may resemble an animated cartoon, yet its suburbanites are obvious and sometimes indistinguishable caricatures. Worse yet, the storytelling, an exciting and important component of any dramatic ballet, is often hard to follow, especially at the beginning and end. And what is a story-ballet without a good story? Still, the production's constant bustle ensures that there are no dull moments.
Bourne obviously hopes to add theatrical color and variety to today's pallid ballet scene. Yet this production is more notable for its ambitions its achievements. "Edward Scissorhands" needs sharpening.