Jack Anderson
The Balletic Pleasures of Aspen Santa Fe
"Sweet Fields" by Twyla Tharp. Photo by Rosalie O'Connor.
Aspen Santa Fe Ballet
January 23-28, 2007
Tuesday and Wednesday at 7:30 p.m., Thursday and Friday at 8 p.m.,
Saturday at 2 and 8 p.m., Sunday at 2 p.m., $42
Joyce Theater, 175 Eighth Avenue at 19th Street, Chelsea
Tickets: (212) 242-0800 or www.Joyce.org
Reviewed by Jack Anderson January 26, 2007
What a nice performance this was. The dancers looked good and danced well, and if no one appeared to have strong dramatic projection, that quality was not required on this occasion. What made everyone distinctive was an ability to move with confidence, yet without pretensions. And although the company has only ten members, the choreography never made the stage appear impoverished. Tom Mossbrucker and Jean-Philippe Malaty, the directors, have formed the balletic equivalent of a fine chamber-music ensemble.
The most satisfying offerings came from two choreographers relatively unknown here, although Jorma Elo of Finland attracted attention recently with two works for American Ballet Theatre and the New York City Ballet. Like them, his "Pointeoff" is technically demanding without being exhibitionistic; also like those pieces ("Slice to Sharp" and "Glow-Stop"), its title is peculiar, suggesting Elo's fondness for both linguistic and choreographic play. The title soon clarifies itself: no one is on pointe in this ensemble of four women and two men.
In what we've seen by him before, Elo often splinters phrases with abrupt shifts of weight and direction, making his ballets collections of kinetic shards. Here, however, everyone appears to be pushed firmly along in gusts of movement; sliding steps even become a recurrent motif. The dancers speed; at the same time, they can look weighted, possibly because of Elo's response to his accompaniment: various Bach works arranged for piano by Ferruccio Busoni. Played on a modern piano, these pieces have considerable gravity; yet while Busoni can be grand, he never makes his Bach pompous. So, too, Elo can be bold and forceful without ostentation.
Seven dancers inhabit the realm of Nicolo Fonte's "It's Not About the Numbers," another curiously titled ballet. This one, to Steve Reich, takes its title from that of the sculpture by James Surls that dominates the stage. Although no explanation is given for the sculpture's title, no matter: it's an attractive construction. Its parts resemble both geometrical and floral shapes that dangle above the stage, swaying slightly like an Alexander Calder mobile in the breezes dancers stir up as they pass beneath it. Michael Mazzola's lighting makes the sculpture cast intricate shadows on the backdrop, and toward the end of the ballet it lowers briefly toward the floor, then rises again.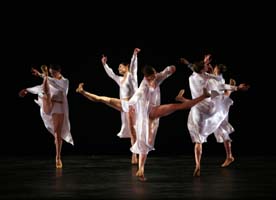 "Sweet Fields" by Twyla Tharp. Photo by Rosalie O'Connor.
Moving effortlessly in and out of tangled formations, the dancers resemble parts of a vast mobile extending from the sculpture itself into the space around it, and Fonte adroitly juxtaposes meditative stillness with exuberant allegros. Whereas this Brooklyn-born choreographer has worked throughout Europe, he is less known here, although Aspen Santa Fe has previously danced ballets by him at the Joyce. I'd like to see more.
Twyla Tharp, the evening's one familiar choreographer, was represented by her rarely performed "Sweet Fields" (1996), to unaccompanied religious choral music by William Billings and hymns from the Shaker and "Sacred Harp" traditions. Using all ten dancers, Tharp has created a community, presumably united by religious or at least moral conviction. Wearing loose white costumes by Norma Kamali, people march in processions, carry one another, circle in rings, roll on the floor, and jump for joy; one ingenious sequence features men running backwards.
Whereas the ballet seems neatly constructed, it also seems slick, as if composed of decorative movements, rather than outpourings from a communal heart and soul. Tharp never equals such comparable evocations of fervor as Doris Humphrey's now-classic "Shakers" or Tero Saarinen's recent "Borrowed Light." Nevertheless, the program as a whole was genuinely satisfying.
Aspen Santa Fe Ballet, founded in 1995, is a hardy survivor. A decade or so ago, some companies thought that the best way to survive in economically troubled times was to have two home bases. But, for various reasons, such pairings (including those of Cincinnati/New Orleans, Cleveland/San Jose, and Milwaukee/Philadelphia) did not last. Aspen Santa Fe can still call both Aspen, Colo., and Santa Fe, N. M., home. Mossbrucker and Malaty are surely doing many things right.