Jack Anderson
Elkins and His Favorite Things
Fraulein Maria: Carolyn Cryer, Krista Jansen, Charemaine Seet. Photo by Steven Schreiber
Doug Elkins: "Fraulein Maria"
DancemOpolitan at Joe's Pub at the Public Theater, 425 Lafayette Street, East Village
Dec. 8-9, 2006
Information: (212) 967-7555
Reviewed by Jack Anderson, Dec. 11, 2006
In "Fraulein Maria," Doug Elkins and some of his friends danced their way through one of his favorite things: the film version of "The Sound of Music." Elkins left no doubt about his fondness for this adaptation of the Rodgers and Hammerstein Broadway hit, calling it in his program note "the greatest movie musical ever made," presumably surpassing such other possible contenders for the title as "The Wizard of Oz," "Singin' in the Rain," "42nd Street," "An American in Paris" and, more recently, "Chicago."
He's not alone. Over the years, the cinematic "Sound of Music" has acquired hordes of devotees who love to wallow in the sentiments of its book and lyrics while they savor the lilt of its music. "Fraulein Maria" is Elkins's choreographic response to the songs of a film that could easily inspire extremes of emotional gush or withering contempt. But his production, which dispensed with narrative altogether, proved to be a suite of dances that were blithe without being foolish.
In every scene in which he appeared, Arthur Aviles commanded attention. Wearing a blue skirt and with his shaved head gleaming like a beacon, he and Jen Nugent whirled lyrically to the show's title song. Later, Elkins and Keely Garfield had a gawky duet to a reprise of that tune. And Elkins's fervent arm and leg movements to "Climb Ev'ry Mountain" could be called bodily talking in tongues.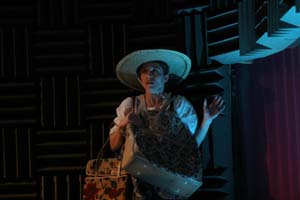 Nicole Wolcott. Photo by Steven Schreiber
Aviles's dances with Carolyn Cryer, Krista Jansen, Alexis Murphy, Charemaine Seet, Nicole Wolcott, and Nugent to "My Favorite Things" and "Do-Re-Mi" became increasingly intricate and madcap. When Mark Gindick and Johnnie Moore led a sing-along to "Do-Re-Mi," an initially hesitant audience gradually gained vocal enthusiasm. The big and imposing Archie Burnett kept one watching with his confident strides that appeared to set a demure David Parker (another guy in a dress) fluttering happily in "Sixteen Going on Seventeen."
For "The Lonely Goatherd," which has some truly virtuoso rhyming lyrics, Elkins created a manic romp with robust clapping and kicking patterns for Cryer, Jansen, Murphy, and Seet. But I wished he'd been even more manic and had made this ensemble a full-fledged uninhibited "slap dance," to use the term I knew from my childhood days of going to folk fairs in my home town of Milwaukee and seeing Bavarian (or were they Swiss or Tyrolean?) dancers slap just about every part of their bodies with rhythmic precision as they kicked with gusto. What, I wonder, would the choreographically impish Elkins have made of that sort of a dance?
Fortunately for us all, what he did make in "Fraulein Maria" was a smart-looking little cabaret show with a great big heart.