Jack Anderson
Ballet Theatre's Affirmations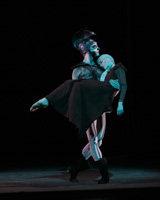 Marian Butler and David Hallberg in Kurt Jooss' "The Green Table". Photo: Marty Sohl
American Ballet Theatre
New York City Center, 130 West 56th Street
Oct. 18-Nov. 5, 2006
Tuesdays through Thursdays at 7:30 p.m., Fridays at 8 p.m.,
Saturdays at 2 and 8 p.m., Sundays at 2 p.m., $93, $85, $75, $59, $37, $26
Tickets: (212) 581-1212, www.abt.org or www.nycitycenter.org
Reviewed by Jack Anderson Oct. 23, 2006
American Ballet Theatre's fall seasons at the City Center feature what it has always done best: mixed programs of diverse one-act ballets. Of course, it can also offer other things: for instance, multi-act spectacles in spring at the Metropolitan Opera House. But the company first achieved fame in the United States, and then abroad, with its mixed bills.
These repertoire seasons affirm that, since the early 20th century and the innovations of Diaghilev's Ballets Russes, most great modern ballets have been compact one-act pieces. There's nothing wrong with full-evening extravaganzas. But sheer length is not a virtue in itself. After all, Mahler is not necessarily better than Mozart simply because his symphonies tend to be longer (and I say this as an admirer of both composers).
Ballet Theatre at City Center not only presents lots of stuff, it also presents lots of different stuff on each occasion. A gala of snippets got things underway, Oct. 18. A world premiere came on Oct. 19 with Jorma Elo's enigmatically titled "Glow – Stop," to movements from Mozart's Symphony No. 28 and Philip Glass's Tirol Concerto for Piano and Orchestra.
Elo's "Slice to Sharp" (an equally enigmatic title) and Alexei Ratmansky's "Russian Seasons" were for me the highlights of the New York City Ballet's Diamond Project premieres last spring. "Slice to Sharp" was effervescent giddiness. So is "Glow – Stop." But that makes me wonder, does this Finnish choreographer take the same delight in giving ballets odd titles that some musicians do in naming rock bands and, more importantly, is all his choreography giddy?
His movements for an ensemble of six couples in "Glow – Stop" are often brilliant, yet they irritate, as well as exhilarate. In the ballet's first scene, an allegro to Mozart, dancers come and go without apparent rhyme or reason in spurts of movement abounding with tilts, spins, and windmill arms.
Glass's music in the next, and last, scene is essentially lyrical. But the choreography sputters with almost equal energy as before. And phrases look just as splintered. I'm left puzzled why two emotionally distinct compositions from two different eras should have provoked such similar choreographic responses. If Elo believes Mozart and Glass are somehow soul-mates, he has failed to show the connection on stage. His ballet's theatrical fizz remains impressive. But is there anything more than fizz here?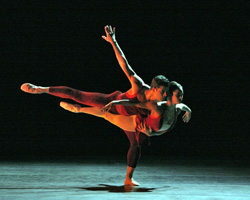 Misty Copeland and Marcelo Gomes in Jorma Elo's " Glow-Stop". Photo: Marty Sohl.
Twyla Tharp is known for choreographic fizz. But it usually serves a discernible musical, dramatic, or emotional purpose. Tharp is much in evidence these days, with a new Bob Dylan musical on Broadway and three works in Ballet Theatre's repertoire.

In "Known by Heart ('Junk') Duet," an assemblage of bumptious steps to clattery music by Donald Knaack, Irina Dvorovenko and Maxim Beloserkovsky danced with agreeable brashness. The pairings of both Luciana Paris and Jose Manuel Carreño and Sarah Lane and Herman Cornejo fared less well in "Sinatra Suite." These couples looked slightly stiff, as if Frank Sinatra's songs were temperamentally alien to them. "In the Upper Room," an ensemble piece, also began stiffly, yet eventually became fervent.
Surely, the greatest work in the season thus far is Kurt Jooss's "The Green Table" which, though dating from 1932, remains emotionally shattering, and not simply because it is an anti-war ballet presented in a time of war. Jooss's people (the Young Girl, the Woman, the Old Mother, and all the rest) may be symbolic character-types, yet they are not clichés. The production is notoriously Spartan with its score by F.A. Cohen for two pianos, instead of full orchestra, and black curtains rather than painted backdrops. But such austerity gives events a painful clarity. And Joss raises disturbing questions.
Here is a war. Who caused it? That remains uncertain. What was it about? No unambiguous cause is suggested; bloodshed just keeps perpetuating bloodshed. When a truce is declared, what has been accomplished? Nothing, apparently. Lives have been disrupted, innocent civilians as well as soldiers have died, and fatuous diplomats go on bickering.
As they argue to a tango in masks by Hermann Markard, these diplomats look like silly old fools imploring, cajoling, and pontificating. They bluster and swagger and view with alarm. And although they bow with unctuous politeness, they also fire guns, thereby bringing about catastrophe. These old fools are more than silly, they are deadly.
Then, out of the darkness, comes Death, a magnificent role for a dancer of some physical height and great dramatic depth. In David Hallberg the company has a young artist. ordinarily an elegant classicist, whose presence dominates the stage. Jooss makes Death appear to be borne by a great wind, and because Death sometimes seems simultaneously stirring up that wind and swept along by it, the choreography emphasizes the notion that, once started, war threatens to be unstoppable. This sense of inexorability is reinforced as Death monotonously repeats heavy arm and leg movements (in which Hallberg looks fearsome) while mortals march to battle.
Hallberg carefully delineates the different ways in which Jooss shows Death claiming victims. Thus Death beckons hypnotically toward the weary Old Mother (Marian Butler), then picks her up and cradles her in his arms with surprising tenderness. During an execution, Death becomes both the commander of the firing squad and the wall against which the condemned falls. And when the Young Girl (Jennifer Alexander) is forced into prostitution, Death partners her with an iron grip in a feverish bordello waltz, and finally crouches over her fallen body like a lion devouring its prey.
Only the Profiteer (the slyly-moving Carlos Lopez) appears to gain anything from the misery. Yet when both he and Death eventually seem caught up in an ongoing storm, the action suggests that this is a war no one is winning. Instead, the diplomats argue on.
Jooss prompts thoughts about serious matters without bombarding audiences with propagandistic overkill. (If only other choreographers could do as well.) This eloquent production simultaneously affirms both the aesthetic validity of the modern one-act ballet and American Ballet Theatre's one-act ballet repertory seasons.