Jack Anderson
Guillem and Maliphant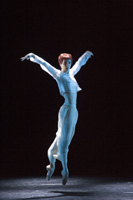 SylvieGuillem. Photo by BillCooper
"Push"
New York City Center, 130 West 56th Street
Oct. 11 and 13-15, 2006
Wednesday at 7:30 p.m., Friday and Saturday at 8 p.m., Sunday at 3 p.m., $85, $50, $35.
Tickets: (212) 581-1212
Reviewed by Jack Anderson Oct. 14, 2006
Sylvie Guillem, a French ballerina with what appears to be an infinitely pliable body and equally stretchable artistic interests, and Russell Maliphant, a Canadian-born British-trained dancer and choreographer with equally eclectic tastes, have joined forces. The result is "Push," an evening of three solos and a duet, all choreographed by Maliphant, that is the first event in an exchange program involving the New York City Center and London's Sadler's Wells Theater.
Two solos were for Guillem, looking glamorous in a red wig. In "Solo," the first of them, hypnotic undulating quasi-balletic and semi-Spanish movements to recorded guitar music by Carlos Montoya gradually sharpened, although the choreography never quite built to an effective climax. "Two," the second solo, found Guillem in a square of light raising and lowering her arms and legs with growing intensity in response to the mounting intensity of Andy Cowton's music. This was a variation on the concept behind Ravel's "Boléro." But, once again, the climax was insufficiently forceful.
The most striking solo was "Shift" for Maliphant, who moved in an unhurried way, as if lost in thought, to melancholy melodies by Cowton. Michael Hulls's lighting made multiple shadows of Maliphant rise on the back wall, some looming to enormous heights so that images of this contemplative mortal suddenly resembled monumental pieces of sculpture.
Finally, there was an equally sculptural duet to music by Cowton called, like the program itself, "Push." Although the 30-minute work was grueling, Maliphant's choreography never emphasized virtuoso glitter. Rather, this was a study in partnering that began with Guillem riding on Maliphant's shoulders while he carried her slowly forward, as if both had embarked upon an expedition. Hulls's lighting made the dancers keep emerging from and returning to shadows and there were many intricate lifts and entwinings.
Nevertheless, "Push" seemed emotionally empty. Maliphant's choreographic expedition had little point other than to display well-trained bodies moving beautifully. That in itself was an admirable achievement. But given the duet's great length and its undeveloped hints of moodiness, one hoped for more than that.