Jack Anderson
Shen Wei's Moving Brushstrokes
Photo by Bruce R Freeley
Shen Wei Dance Arts
Joyce Theater, 175 Eighth Avenue at 19th Street, Chelsea
Sept. 26-Oct. 1, 2006
Wednesday at 7:30 p.m., Thursday through Saturday at 8 p.m.,
Sunday at 2 and 7:30 p.m., $38.
Tickets: (212) 242-0800 or www.joyce.org
Reviewed by Jack Anderson, Sept. 28, 2006

Shen Wei has studied painting, as well as dancing, which may help account for the distinctive look of his productions, which he both designs and choreographs. He also invests the choreography itself with painterly qualities. In both of his pieces at the Joyce, the stage could be likened to a painter's canvas and movement phrases resembled lines or brushstrokes.
Thus his version of Stravinsky's "Rite of Spring" seemed an animated abstract painting. There was no story, no evocation of prehistoric wildness. Nor, despite Stravinsky's vibrant music, were there sudden outbursts of choreographic color. Instead, twelve dancers, moving to a four-hand piano version of the score, became a choreographic painter's lines in motion in a production dominated by the grayish hues of both Shen's costumes and David Ferri's lighting. Music that has often prompted ballets of visceral appeal here inspired a surprisingly cerebral work in which ever-shifting choreographic lines matched the musical changes.
In one of the work's first visually striking images, the dancers rise on their toes, as if in expectation. Then come passages of scurrying and darting steps. What people do appears always governed by musical intensity, rather than dramatic motivation. Yet there are enough kinetic surprises to make one realize that Shen is not merely imitating the score slavishly: for instance, during one tumultuous passage, eleven dancers simply stand immobile while a twelfth inches across the space upstage. This "Rite" theatrically exists in a fascinating tension between fervor and restraint.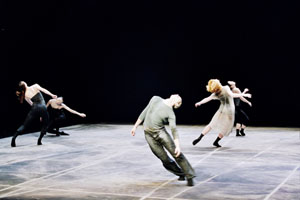 Photo by Bruce R Freeley
"Re- (Part One)" is even more austere. A company representative said that the parenthetical statement in the title of this New York premiere indicates that a Part Two will eventually materialize, that "re" is used as a prefix implying a recurrence, as in such words as "renew" and "rebirth," and that the dance as a whole reflects Shen's interest in Tibetan Buddhist culture. Traditional Buddhist chants are intoned by Ani Choying Dolma, a Buddhist nun who is first seen center stage, with the cast of four (Lindsay Clark, Dai Jian, Kathleen Jewett, and Sara Procopio) gathered about her on an intricately designed mandala.
Soon after the dancers begin to stir, it becomes clear that this floor covering is not solid, but composed of tiny bits of paper which break apart and swirl like confetti whenever anyone moves through them. Again from the company, I learned that these flurries symbolize the transience and impermanence of all things. Yet bits of confetti occasionally settle down and cling to the dancers' bodies, as if to suggest that particles of impermanent forms can reassemble.
The vocalist repositions herself as the dancers slowly and solemnly advance and retreat. Although the production is convincingly ritualistic, there were moments when it turned lulling, rather than serene. But Shen does promise a Part Two, and so it remains to be seen how any choreographic additions will affect the impact of Part One.