Jack Anderson
Nietzsche at Cedar Lake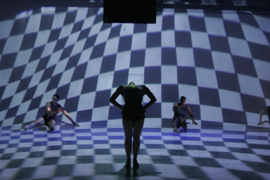 CEDAR LAKE - "HAMMER" dancer Jessica Lee Keller Photo by Paul B. Goode.
Cedar Lake Contemporary Ballet
Benoit-Swan Pouffer's "Hammer," opened May 8, then May 9-12 at 8 p.m., May 13 at 2 and 8 p.m., May 18, 19, 21 at 8 p.m., May 20 at 2 and 8 p.m., May 21 at 2 p.m.
"Dream Collaborations," May 31-June 2 at 8 p.m., May 3 at 2 and 8 p.m., May 4 at 2 p.m., $30, $10 students and seniors
Cedar Lake, 547 West 26th Street, Chelsea
Tickets: (212) 868-4444 or www.SmartTix.com.
Reviewed by Jack Anderson May 10, 2006
New York City has recently gained some fine new spaces for dance, and Cedar Lake in the Far West of Chelsea is a particularly impressive one.
The 16,000-square-foot Cedar Lake, originally two adjacent garages built in 1914, is especially well-equipped, with generous rehearsal areas and a 191-seat theater with a spacious stage. The building has its own dance company, Cedar Lake Contemporary Ballet, directed by Benoit-Swan Pouffer, formerly of the Alvin Ailey American Dance Theater, and he appears to favor a sharp, assertive performance style.
The troupe made a basically favorable impression on me in January in "Dream Collaborations," a program of one-act ballets inspired by dreams, choreographed by Nicolo Fonte, Emily Molnar, and Pouffer. If no piece proved a revelation, all were workmanlike.
The dreams are back, this time sharing a season with Pouffer's new "Hammer," an hour-long piece inspired by Friedrich Nietzsche's "Twilight of the Gods," in which, the choreographer says in a program note, that the philosopher "talks about posing questions and challenging life with a hammer." Hammer blows occasionally resound throughout the commissioned score by Stefano Zazzera, which was heard on tape, but there are also quiet passages for strings.
Much of the choreography was forceful. Dancers sometimes sliced their way through space, posed on and then dismantled panels that formed a small island on the stage floor, ran up the set's curving back wall and slid to the stage from an aperture high in that wall. Most of the time. the choreographic tone was serious. Yet there were also parodies of television game shows and commercials involving hammers. Where was Nietzsche in this? Perhaps only Pouffer and his cast know, for the choreography, though always vigorous, never achieved thematic coherence.
Yet "Hammer" commanded attention. Its scenery and costume designs by Junghyun Georgia Lee, lighting by Jim French, and projections by Adam Larsen suggested that stage facilities at Cedar Lake allow for considerable theatrical spectacle. This is no bare-bones black box. Dancers emerged from shadows. Starbursts of light spattered the backdrop and scattered shimmering particles across stage. Projections sent fish swimming along the floor and made dancers appear to move through water in an aquarium with them.
"Hammer" abounded with theatrical illusions and its dancers looked very good indeed. What it needed was choreography that was imaginative as well as eye-catching. But, perhaps, future Cedar Lake productions will provide that.