Many Threads: A Review of "Strings Attached"
"Strings Attached" by Carole Buggé, directed by Alexa Kelly.
Produced by Pulse Theatre on Theatre Row, 410 West 42nd St., NYC.
Sept. 8 - Oct. 1.
Running time 2 hours.
Wed. through Sat. at 7:30 PM, with matinees Wed. and Sun. at 3 PM.
Tickets are $55 at TheatreRow.org or 212-714-2442, ext. 45.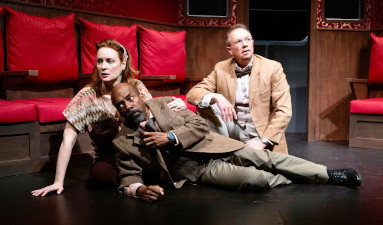 Photo by John Quilty
Add "Strings Attached" by Carole Buggé to the list of recent plays addressing science in our lives. Set in a train heading to London are two cosmologists and a particle physicist. They are at once excited and apprehensive about seeing "Copenhagen," Michael Frayn's 1998 drama about the meeting between physicists Niels Bohr and Werner Heisenberg in 1941. Like Frayn, Buggé had kept her set simple and brings us three ghosts, who speak separately to each of the physicists: Sir Isaac Newton, Marie Curie, and Max Planck.
The trio is struggling with personal issues. June (Robynne Parrish) and George (Paul Schoeffler) are grieving the loss of their son in a train accident. June, who blames herself, believes husband George won't care even if he learns that she is having an affair with his best friend, Rory (Brian Richardson). George soon sets her right. The action is clear but the focus of the play is confusing. When we are treated to a lecture on physics (complete with easel pad and pointer), I wasn't sure if the people watching the play were the target audience.
The second act takes us to a parallel universe, a facet of string theory. June, now married to Rory, who blames himself for their son's death, is having an affair with George. This offers the male actors an opportunity to shift gear but doesn't change the dynamic. Again we have a lecture on physics. June, who seemed a lesser scientist, closes the play by resolving the dispute between string theory and quantum mechanics to the delight of everyone on stage.
Direction by Alexa Kelly served the script. Kelly allowed the absurdist visitors to the train car to exaggerate their vaudeville like traits, adding a lively comic note to what was heading toward maudlin. Brian Richardson brought moments of poignancy and depth to Rory. Bonnie Black, Russell Saylor and Jonathan Hadley, triple-cast actors, found distinction in each of their characters, and Elena Vannoni's period inspired costumes should be on display somewhere. Joyce Liao's lighting glided seamlessly between realism and the play's other-worldly allusions.
Carole Buggé is an accomplished writer. "Cleopatra's Daughter," the most recent of her 15 novels, was an Amazon First Read selection. She has a list of awards for playwriting and poetry as well as prose.