THE LEHMAN TRILOGY COMES TO BROADWAY
"The Lehman Trilogy," by Stefano Massini, adapted by Ben Power, presented by The National Theatre and Neal Street Productions, directed by Sam Mendes at the Nederlander Theatre, 208 W 41st St., from Sept. 25 through Jan. 2, 2022. Running time 3 hours, 20 minutes, with two intermissions. Tues. – Fri. @ 7 PM; Sat. 1 PM & 7:30; Sun. 2 PM. $59-179. Many online sites offer tickets: Ticketsales.com, 888-729-4718, offers a discount. Or visit the box office.
Simon Russell Beale as Henry Lehman, photo Julieta Cervantes.
In 2019 "The Lehman Trilogy" opened at the cavernous Park Avenue Armory and took the theatre world by storm. As word got out, the few unsold seats became gold, costing as much as $1200 on StubHub. The production has returned (through Jan. 2) and is again wowing audiences at the Nederlander Theatre. The three man cast (Simon Russell Beale, Adam Godley, and Adrian Lester, a welcome new addition in his Broadway debut) plays dozens of roles, some of them children and women. Second time around, it is as poignant as it was at the Park Avenue Armory. (Some early critics, not as delighted as I, find it more compelling in a traditional space.) In 2019 my expectations were low. I did not believe that three performers dressed primarily in black (design by Katrina Lindsay) on an monochromatic, industrial set (design by Es Devlin), even with video design (Luke Halls) could hold audiences for over three hours. Turns out, they were inspired choices. The playwright Bertolt Brecht believed that introducing a scene with a quick caption or even a summary would replace surprise with observation. In this second viewing, I found more resonance and in different segments.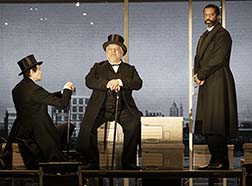 Adam Godley, Simon Russell Beale and Adrian Lester as the Lehman Brothers, photo Julieta Cervantes.
The outline is simple. Hayum Lehmann, later Henry Lehman, the son of a Jewish cattle merchant, arrives in New York from Rimpar, Bavaria, and opens a very small shop in Montgomery, Alabama, with a door handle that sticks. His two younger brothers join him. They are quick to seize all opportunities, which is how they find themselves marketing raw cotton to northern manufacturers out of the same small shop. New contacts provide their business education. Success as middle men (a new profession) in the cotton trade leads to their first New York office. At the end of the Civil War, Emanuel Lehman convinces the governor of Alabama to finance a bank and, well, the rest is a Wikipedia entry. Meanwhile the brothers argue and joke, they court women in their uniquely bizarre way and father many children, always with their eye on building a family legacy.
None of this summary sounds nearly as fascinating as it is on stage. You have got to see the portly, bearded Simon Russell Beale transform into a Southern beauty, holding the flowers of courtship, and later into the very young, prodigious Philip Lehman, reciting in a small voice for his dad. Or the Lehman sign on their shop change as the company changes, from hand-written to painted by brother Emanuel and repainted by employees. The visual and verbal images fire our imaginations. This is the magic of theatre. We become fully engaged -- re-charged, transported into the beauty of a narrative that is based on fact, borders on a fairy tale, and is composed with a riveting artistry.
The first time around I was taken by Part I, Three Brothers, their cautious small steps as they enlarged their universe and their tremendous courage. This time Part III, The Immortal, intrigued me, the burden of inheritance. Philip, the second generation, was destined for the business. He was born with the gifts and a genuine passion necessary for its growth. The railroad deal is mesmerizing. But his son Bobby, his heir, loved art and racing. Although he was brilliant at growing Lehman Brothers by investing in the new fields of television and motion pictures, the work made him nervous. He was a nail biter who gnawed his lip even at happy moments. While still a young man, his fingers trembled. Like all the Lehman leadership, he had nightmares. For Bobby, it was a tower of briefcases tumbling down. For Philip, it was a locomotive from the sky targeting him.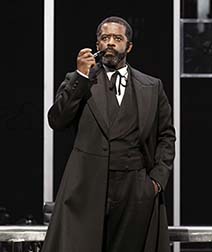 Adrian Lester plays Emanuel Lehman, photo Julieta Cervantes.
At seventy, something changed for Bobby, and – according to the script – he learned to do the twist (the popular dance fad). As Adam Godley's slow dance speeds up, we feel his excitement in new investments (Adrian Lester narrates) until his death, still twisting. The performance earned long, spontaneous, mid-scene applause.
There are moments and subtleties that sweep you into the emotional center of catastrophe. On Black Thursday, 1929, as a stunned Philip Lehman (Beale) sits in his office watching the price of everything fall, Adrian Lester lists the first names of the men who are taking their own lives and how they choose to die. Why first names? Because these men were friends and colleagues, not names in a newspaper. The Lehmans know them as the guy who just celebrated his son's bar mitzvah, the one who bought a new house, the one who just married.
The genius of the script is to meld metaphors and images with financial and biographical details. It is alive, always engaging. Even minor characters are beautifully delineated. Somehow "The Lehman Brothers" is up-close and personal, exhilarating, poignant, sad, maybe even tragic. It's also rare, wonderful theatre.