Downstairs
"Downstairs" by Theresa Rebeck, directed by Adrienne Campbell-Holt.
Produced by Primary Stages at the Cherry Lane Theatre, 38 Commerce St., NYC.
Nov. 7- Dec. 22, 2018.Wed.-Sat. at 8:00;Wed. and Sat. at 2; Sun. at 3:00.
Tickets start as $82.00
For tickets and information, call Ovation Tix (212-352-3101 or 866-811-4111)
or visit http://www.cherrylanetheatre.org/tickets or the box office.
Imagine: Stella Dubois has grown old and has no child. Stanley's sex appeal vanished as he aged; he is now simply a bully. They live in an ordinary house in an ordinary neighborhood. She rescued two dogs, whom she loved, but they disappeared. She dreams of an office job but he won't let her work. Into this picture of marital bliss enters a sibling, very bright and very unbalanced. When Irene left home, Teddy, her brother, remained with their disturbed mother, a violent alcoholic who screamed at the dishes and terrified the boy. Now a middle-aged man, he has fallen on hard times, hasn't a penny to his name, and is only asking to crash on the basement couch.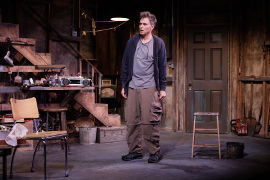 Tim Daly in Primary Stages Production of "Downstairs." Photo by James Leynse.
"Downstairs," Theresa Rebeck's new play at the intimate Cherry Lane Theatre, is a three-hander in which everyone plays with the truth. Like Pinter, especially in "The Birthday Party," Rebeck is deliberately vague, leaving perhaps too much to the imagination. But the emotions are real, the sibling push-and-pull, the abusive husband, the cowed wife. And the dialogue is smart. The various turns and temperature changes are at once surprising and just right, born out of the characters.
The play opens with Teddy (Tim Daly from "Madame Secretary") wandering around the basement in his shorts. It's obvious that he has hit bottom and probably been there for a while. Irene, his older sister (played by Tyne Daly, his actual sister,) tells him he must leave. Gerry, her husband ( John Procaccino, "Our Lady of 121st Street" ), wants him out. As he will do during the play, Teddy challenges her. This is her house, bought with her money, not Gerry's. Her husband, she confesses, took the balance of her inheritance; she has no access to it. The brother, disinherited (although we never learn why), claims part of it is his house. The screw turns.
And then there is the computer, maybe an old Kaypro, that the sister says doesn't work, but the brother is busy at for hours, taking notes on post-its. Is he hallucinating? He tells Irene he was bullied and then poisoned at work by a sudden pen stab from a colleague. He has band-aids over his hands and arms. He also says his brother-in-law is a demon. But he loves his sister, and as they reminisce, she grows stronger.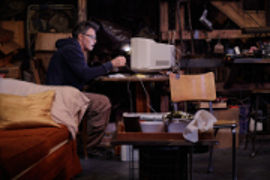 Tim Daly in Primary Stages Production of "Downstairs." Photo by James Leynse.
It is the sister who experiences the transformation. She talks about how even the clothing in her closet doesn't like her. (And the brother points out how crazy that sounds.) Rebeck depicts depression and paranoia effortlessly, without any clinical overlay. The lucid moments are revelations; the others are fantastical, imaginative twists on reality. Irene comes to see the demon in her husband and tries to return to hope, to a green coat that she once loved. She buys another to wear for Teddy. He grabs at the two shirts she brings as though they were a lifeline. Her brother, mad or sane, has given her courage.

After Gerry kicks him out, the sister confronts her husband about the dogs. We see the demon. And then she turns on the "broken" computer, traces her brother's searches through the hidden post-its, and threatens her large husband with a wrench. Upstairs there is knocking.
Among the good directing talent in new York, Adrienne Campbell-Holt stands tall. Good pauses are a hallmark of fine acting, teaching us the transitions and where to pay attention. Impressive performances by all three actors, especially Tim Daly. I didn't know he had this range. Irene is more subdued than most roles for Tyne Daly and she was excellent. John Procaccino was frightening. Although a typical basement, the set by Narelle Sissons was visually engaging.