A BRIGHT, BOLD MENAGERIE
"The Glass Menagerie" by Tennessee Williams, directed by Sam Gold. Belasco Theatre, 111 W. 44 St, NYC. March 9 - July 2, 2017. Tuesday & Thursday @ 7 PM; Wednesday, Friday & Saturday @ 8 PM; Wednesday & Saturday @ 2 PM; Sunday @ 3 PM. $35-149. For tickets and information, call 212-239-6200 or 800-447-7400, visit the box office or www.telecharge.com.
by Glenda Frank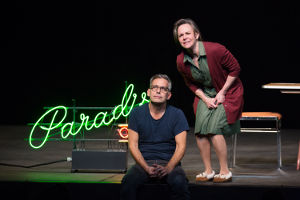 Joe Mantello and Sally Field in The Glass Menagerie (Photo by Julieta Cervantes)
Whenever Director Sam Gold (or his mentor Ivo van Hove) stages a play, you can bet your assumptions will be challenged. You may exit disturbed or even angry, but your new insight into characters and places will dazzle you. You will think about the production long after. Sam Gold's take on Tennessee Williams' "The Glass Menagerie" at the Belasco Theatre is a must see.
Once I agreed with my teachers that the play is a masterpiece. Poor Tom! But after becoming a single, working mom, I wasn't so sure. I was Amanda, struggling to survive on air and guide her resentful children toward a secure adulthood. I tried to suspend the personal, to focus on compelling features of the productions, and each time the depiction of Amanda made me cringe: nagging, insensitive, unloving, bizarre -- and never quite human. Gold's "Menagerie" is like no other I have ever seen. The poetry seemed sharper -- and the play wounded me.
So -- no fancy set, no lights to create the illusion of a St. Louis flat floating in a starry sky (memorable 2005 David Leveaux production). And Joe Mantello (Tom) with his gray hair looks older than the Amanda of memory. We rummage a bit with him before he speaks lines. He has things to do on stage before he speaks to us. Slowly he carries a Victrola across the stage. He stops to read the label on a probably scratchy 78 record. "I have tricks in my pockets. But I am the opposite of a magician," he tells us in a matter-of-fact way. "He gives you illusion that has the appearance of truth. I give you truth in the pleasant disguise of illusion. To begin with, I turn back time. I reverse it to that quaint period, the thirties, when . . . America was matriculating in a school for the blind. Their eyes had failed them . . . so they were having their fingers pressed forcibly down on the fiery Braille alphabet of a dissolving economy."
The Narrator has eloquent phrases, but as a son, Tom is laconic with punctuated bursts of rage. It is Amanda who owns chunks of the poetry. Her references have a range and intelligence, which the playwright was acknowledging. From time to time, during quieter moments, Joe Mantello's Tom leans toward her or she leans toward him in unconscious gesture of affection. And since they appear close in age in this production, the bond is not just the grown child to his mother, but the grown man remembering a woman. This double perspective is one of Gold's gifts to the playwright.
The second gift is Sally Field as Amanda. Who could not like her even as she keeps up a steady stream of suggestions, which sound like commands? Field keeps the nag out of her voice and trusts the lines. "Honey, don't push with your fingers. If you have to push with something, the thing to push with is a crust of bread. And chew—chew! Animals have sections in their stomachs which enable them to digest food without mastication, but human beings are supposed to chew their food before they swallow it down. Eat food leisurely, son, and really enjoy it. A well-cooked meal has lots of delicate flavors that have to be held in the mouth for appreciation. So chew your food and give your salivary glands a chance to function! "
She knows Tom is leaving as early as Scene Four (of seven scenes). She has been preparing, selling subscriptions to wealthier women. She flatters, cajoles, persuades with vivid details of a serial novel, sympathizes over the ailments specific to each of them, bears their slights, and is elated if one agrees to continue subscribing. What a tough way to pay the rent!
As for that dress, the one that makes sympathy almost impossible as she flirts with the Gentleman Caller, designer Wojciech Dziedzic garbed her in a simple pink chiffon, too young for a mother of grown children. (Consider the costume choices of Cher, Madonna, and Bette Midler, who have grown daughters.) The designer's goal was not to deride her but to demonstrate neediness and memory. It's easy to believe that the young Amanda entertained 17 Gentlemen Callers.
The wheelchair was pure inspiration, a metaphor (Amanda struggling up the stairs to the stage with the chair) -- and a reality check for the audience. Amanda says Laura exaggerates her handicap. The Gentleman Caller (Finn Whittrock), who is studying Freud, labels it an inferiority complex. Pathologically shy, susceptive to illness, and unable to tolerate any emotional stress, Laura wears both physical and mental braces. The wheelchair forces audiences to confront these handicaps.
The costumes look contemporary but the year of the play is 1937. Accessibility is limited, and as we watch the talented Madison Ferris (who suffers from muscular dystrophy) manipulate her body, the play changes from sentimental memory to bitter reality. Yet each character is vivid and complete. We understand not just their suffering, but their conflicts and dreams.
The acting, individually, but mostly as ensemble, is quietly perfect. Joe Mantello especially, is the presence the play demands, seamless in the time transitions and emotional shift. The more exciting visuals are supplied by Adam Silverman (light design), whose large green neon PARADISE (Dance Hall) sign is an ironic comment; sudden blackout as the electricity is cut off; and dimly candle-lighted scene pull us deeper into the interpersonal dynamics. Set is by Andrew Lieberman.

Yes, I too prefer that Laura blow out the candles rather than stage rain and Laura's crawling across the stage. Director Gold offers a powerful, insightful but unsettling vision of family and choices.