The Resistible Rise of Arturo Ui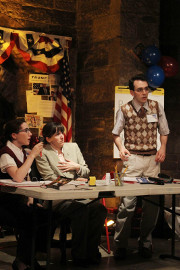 Malka Wallick, Amanda Thickpenny & Alex Rafala. Photo by Abigail Jennings.
"The Resistible Rise of Arturo Ui" by Bertolt Brecht,
translated by Jennifer Wise, directed by Noam Shapiro.
Produced by Lyra Theater at The Cave at St. George's, 209 E. 16 St., NYC.
October 20-November 5, 2016 – 12 Performances.
Wednesdays & Thursdays at 8pm; Saturdays at 3pm & 8pm;
Tickets are $18 at https://www.artful.ly/lyratheater.
For more information, visit:http://www.lyratheater.org/
I love it when new theatre companies invite sprawling, rarely produced texts into their season. I like it even more when they do it brilliantly, with dead-on spoofs, like the Lyra Theatre Company and its production of Bertolt Brecht's "The Resistible Rise of Arturo Ui" (1941), a typical Brechtian combination of comedy, politics and the (American) gangster, a combination best exemplified by "The Three Penny Opera". The many pictures of Donald Trump (and one of Ronald Reagan) and the taped Republican conversations about the current election (sound design by Adrian Bridges) don't exactly fit the play, but they add their own gloss. This production is off off-Broadway at its best.
The plot line is simple. When we meet Arturo Ui, he is a petty thug in a slump. He is not getting enough media attention for his crimes. (Read: low poll numbers.) So he and his buddies decide to muscle in on the – Wait for it! – Cauliflower Trust. The Trust is struggling with low sales. Chicago is in a slump and is cutting back on fresh veggie. Although the Trust has been denied a needed loan, it turns down Ui's offer of "protection." Instead it turns to Dogsborough, a trusted elder politician (Amanda Thickpenny in interesting gender-blind casting), who for the first time accepts an illegal deal to provide for her daughter (Aurora Heimbach, who creates a character from a throw-away role).
Photo by Abigail Jennings.
Once Brecht establishes the premise, the action picks up speed. Ui discovers the illegal deal and blackmails Dogsborough . She caves, and the nascent tyrant, not even knowing his next step, is on his way to power. There are murders, car explosions, fires, corrupt board meetings, armed threats and, even scarier, some gentler arm twisting -- all presented with comic twists and cartoonish bravura. The dramatic and the farcical spark each other to greater heights. There is a breathlessness about Ui's ascent the reminded me of Shakespeare's Richard III.
The absurdist performances and special effects -- playful, clever, smart – embellish the text. Arturo Ui enters in a red baseball cap, red windbreaker and a long red nose, stiff and hunched over with fear. The very gifted, loose-limbed Matthew Van Gessel , who plays Ui, channels Richard III, Richard Nixon, Donald Trump, and (it seems) Jim Carrey – at different moments. Brecht was fond of scenes in which characters renew themselves as they change their garment ("Galileo") or, in this case, take lessons from an actor about self-presentation to make the transition from goon to politician. The scene is funny, odd, and terrifying. The unemployed actor (Matt Biagini) begins Ui's education with bizarre elocution, moves into a hilarious segment on body language, and then has Ui learn Mark Antony's signature speech from "Julius Caesar": "friends, Romans, countrymen, lend me your ears." The speech is a masterpiece of crowd manipulation. Ui just recites words at first. But as it grows on him, he opens into a leadership posture and eventually climbs a chair for added effect as he speaks. The demagogue is born. After he appears not in his red windbreaker but in a sport jacket and tie. By the end of the play he is wearing a suit – and his long red nose -- as though he had never worn anything else. He has managed to get his gangster side-kick murdered and added the city of Cicero to Chicago as his tuff. He's hungry for bigger stakes.
In the cozy Cave, a lovely space in the labyrinthine St. George's Church, eight actors play 33 roles – usually distinctively, through using changes in costume, accents, vocal variations and, most important, pinpoint interpretations. Brittany N. Williams, for example is fine as Betty and Flake, but she is a scene-stealer as O'Casey, the prosecutor. With a two-fingered jab for emphasis and two-fingered point for accusation and by emphasizing repeating phrases, she becomes the fighting moral center in a losing battle against Ui's corruption. The rather unwieldy plays pops back to life. There are also wonderfully bizarre moments. As Dogsborough, a white-haired politician the young Amanda Thickpenny periodically takes out a shaker of white powder and dusts her hair to become the role. Very Brechtian: very Alienation Effect.
The props by Brett Warnke are delicious. Staplers become guns and popping balloons are gunfire. Brecht advocated theatre in found spaces and using whatever material is at hand, especially if it reminded the audience that they were seeing a construct, a learning play that entertained, and not a fantasy. The staging by director Noam Shapiro set up a nice flow between the two tables at either end of the traverse stage and in the center for group dynamics. Shapiro and the Lyra Theatre Company worked within a small budget yet remained true to Brecht's vision. They allowed the imaginative and the talented cast room to create. They are a group to watch and support.