A Two-person Monologue
"Hughie"
by Eugene O'Neill,
at the Booth Theatre, 222 W. 45 St., NYC
February 5 – March 27, 2016
Opened Feb. 8, 2016 – open run.
Tickets are $25 – 149 at www.HughieBroadway.com, www.telecharge.com, 212.239.6200, or the Booth Theatre box office. Tuesday through Thursday at 7:30 pm, Friday and Saturday at 8 pm, with matinees Wednesday and Saturday at 2 pm, and Sunday at 3 pm.
by Glenda Franck
"Hughie" is a difficult play. Written in 1942 it was not staged until 1958 at the Royal Dramatic Theatre in Sweden. The American production took six more years, probably at the persuasion of those two great O'Neillians, actor Jason Robards and director José Quintero.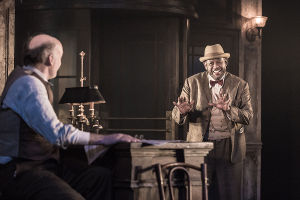 Franck Wood, Forest Whitaker. Photo by Marc Brenner
O'Neill was ahead of his time in many ways. Addiction, abortion, adultery, and inter-racial love were part of his cannon as far back as the 1920s. The written script "Hughie" may have as many stage directions as lines of dialogue, most of them telling us what the night clerk, Charles Hughes, is thinking as he ignores Erie Smith, the gambler who rambles non-stop like a character out a Damon Runyan story. The director has to make choices. How do you show audiences someone's thoughts? Should you show audiences Hughes' thoughts? And if you don't, what sort of play do you have?
The current production starring Forest Whitaker ("The Last King of Scotland") and Frank Wood (1999 Tony Award for "Side Man") was directed by Michael Grandage, who put flesh on the bare bones of "Red, " a two-hander by John Logan about artist Mark Rothko. "Red" won the 2010 Tony for best play. "Hughie, contracted to run through June 12, is closing March 27.
Franck Wood as the hotel clerk, Forest Whitaker as Hughie, playing dice. Photo by Marc Brenner.
I saw the show with a playwright, a former actor and sometime director, who left the theatre – like so many in the audience -- not knowing what the play was about. Although you might not realize it from the haunted hotel set by Christopher Oram (that led my friend to think the play was going to tell a ghost story), "Hughie" is a play of seduction. Erie Smith (Whitaker) has just lost Hughie, his only friend, a night clerk in a seedy hotel. He is lonely, grieving, down on his luck, and back from a five-day drunk. It's the wee dark hours of the morning, when life seems grimmest.
Then he makes a discovery. The new night clerk is also named Hughes. Maybe this is an omen. He tries to arouse in this indifferent man glimmers of his old friend. But the night clerk only wants to daydream about the life of the city. Erie Smith tries to ignite in this second "Hughie" the sustaining friendship of the clerk who died.
Erie is desperate. Hughie was Erie's luck, and now Erie is in the hole to some violent men. That desperation is not on the stage of the Booth Theatre. Whitaker, whose performances I have long admired, hasn't found his theatre chops. He has his work cut out for him. The actor not only has to charm the new clerk but also the audience and to dominate by force of will alone a set that dwarfs him. My guess is that Grandage did not see the play as a tone-poem in seduction – or at least he did not communicate that to Forest Whitaker. Erie is fighting for his life. But on stage the stakes just seem to be a conversation, a way to pass a long night. Some people read the play as an allegory for the O'Neill brothers – Jamie, the gambling, drunken older brother, trying to get Eugene, the dreamy younger brother, to save him. That wasn't even a glimmer in this production.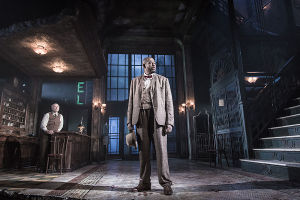 Franck Wood, Forest Whitaker. Photo by Marc Brenner