By Glenda Frank
"Lazarus"
"Lazarus"
by David Bowie and Edna Walsh
directed by Ivo van Hove
at the New York Theatre Workshop, 79 E. 4 St. , NYC.
Inspired by the novel "The Man Who Fell to Earth" by Walter Tevis.
Nov. 18, 2015 – Jan. 20, 2016.
Tuesday and Wednesday at 7pm, Thursday and Friday at 8pm, Saturday at 2pm and 8pm, and Sunday at 2pm and 7pm.
Tickets and information $25 - $135 plus benefit pricing at www.nytw.org.
Reviewed by Glenda Frank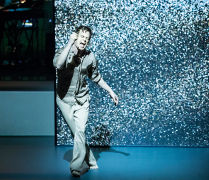 Photo by Jan Versweyveld
After my contrarian reaction to director Ivo van Hove's "A View from the Bridge," his flamboyant Broadway debut at the Lyceum Theatre, I was a bit trepidatious about the more experimental "Lazarus," by David Bowie, who initiated the project and Enda Walsh, the Irish playwright who won a Tony for "Once." Again, the audience sat for almost two hours without intermission, but this time I was swept into the characters and conflicts, my emotions and imagination totally engaged. Maybe the intimacy of the New York Theatre Workshop space creates a synergy.

The musical features Bowie's songs from several albums including ones from the track he wrote for "The Man Who Fell to Earth," which was not used in the film. Protagonist Thomas Jerome Newton's longing is the lynchpin and heart of the drama. An extraterrestrial from a drought-stricken planet, he found himself stranded on earth. He built a brilliant business empire, planning to design a spaceship to take him home. When that proved unsuccessful, he gave up on everything – the businesses and hope. This is when we meet him, an urban recluse, eating Twinkies, drinking gin, and blaring the television. As played by the mesmerizing Michael C. Hall ("Dexter" on television, "Cabaret" on Broadway), his temper can be sudden and violent. He finds himself, self-absorbed and inconsolable, wanting but unable to die.

This is tragedy, which both Aristotle and Arthur Miller defined as the willingness to pursue one's dreams single-mindedly even to death. His dream – to return to his rightful place in the universe -- has magnitude and nobility. Newton even has an idiosyncratic tragic chorus -- three punky teen-age girls (Krysina Alabado, Kristi Pioppi, and Brynn Williams) who sometimes wear masks. The shades on the cityscape windows become screens, on which designer Tal Yarden projects alternate reality and icons of Newton's longing, especially Mary Lou, his attractive wife, with her signature blue hair.

Photo by Jan Versweyveld
The stage is alive with visuals and action. Hall is not alone. There is Valentine, the enigmatic man in a suit (Michael Esper), who is drawn by Newton's celebrity. He could be a con man, a stalker, a thief or an assassin. He suddenly appears in Newton's apartment. He feels dangerous and carries a knife.
There is Elly (Cristin Milioti, Tony nomination for "Once"), Newton's new assistant, whose gestures and contortions have an odd, charismatic choreography (Annie-B Parson). These gestures grow increasingly strange. Like the musical itself, she begins as a reality-based creature but is swept up into Newton's surrealistic orbit. We see her at home interacting with her husband (Bobby Moreno) and voicing her dissatisfaction with the pedestrian marriage. The day-to-day is less than satisfying. And so she is drawn to the romantic aspect of Newton's longing. She dons a blue wig and dresses in Mary Lou's clothing, which Newton has kept and takes out from time to time to touch and smell. He flies into a rage and fires her, but her own inner self has been released. She trades her non-descript work clothes for glam dress-up (costume design by An D'Huys) and makes the bar scene.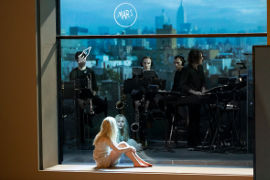 Photo by Jan Versweyveld
When Girl (Sophia Ann Caruso), the flaxen-haired girl-woman and foil to Elly, arrives, Newton begins to return to life. She seems to understand his deepest longing and tapes the outlines of a spaceship on the floor, promising him a trip home if he will do something terrible. This, the weakest section, needs some serious tightening. She is both salvation and temptress. Layered upon this bare bones outline is Bowie's music, which sometimes fits the action, sometimes takes us in new, curious directions, much like other surrealist work. I think the friction between the script and score worked, keeping us always a little off-balance. The performances were uniformly impressive: singing, acting, and movement. Under Henry Hey's direction, the band, seated behind the Plexiglas, offered another theatrical aspect to the evening. New York critics – and audiences -- are generally not kind to surrealism, theatre of the absurd, and other non-realistic (or non-traditional) theatre. Which is why NY Theatre Workshop is such an important voice in the contemporary theater dialogue.
---
"Lazarus": Leaving this World With Music
"Lazarus"
By David Bowie and Enda Walsh
Directed: Ivo van Hove
New York Theatre Workshop
79 East 4th Street,New York, New York 10003
Previews beginning Wednesday, November 18, 2015
Opened: Monday, December 7, 2015
Closing: Wednesday, January 20, 2015
Mon-Sun, Varying Times and Dates
Tickets: Box Office 212-460-5475 - Sold Out.
Reviewed by Edward Rubin
Ever since David Bowie came onto the scene big time, as a quasi-alien rock star with the rock 'n' roll game-changing album, The Rise and Fall of Ziggy Stardust and the Spiders from Mars in 1972 in which he blurred the lines between man and woman, most everything that he has touched, if not in reality, certainly in perceived memory – has turned to gold.
Photo Courtesy of Museum of Image and Sound, Sao Paolo, Brazil.
Chalk it up on his chameleon-like ability to successfully ride the ever-changing waves of time. No performer, not even Madonna, once the Queen of Reinvention, has gone through as many iterations—so many alter egos, each of which influenced a multitude of artists, while allowing him to remain a top drawer talent.

Though Bowie has been keeping a low public profile ever since he experienced pains in his arm and shoulder while performing at a festival in Scheeßel, Germany in 2004 – it was a clogged artery which led to an emergency angioplasty – his reputation, unlike that of many artists whose disappearance is barely noticed, seems only to have grown in stature.
While his touring schedule was virtually nonexistent during the next decade he wasn't exactly comatose. Bowie continued to write songs and sporadically perform, mostly in New York City where he lives with his wife Iman. He took to the stage in Central Park with Arcade Fire (2005), played Radio City Music Hall (2006) with Pink Floyd legend Dave Gilmore, and sang a three song set at New York's Hammerstein Ballroom – his last public performance in 2006.
Turning to film and TV, he starred in the film Prestige (2006), a hit in London, and appeared in an episode of Extras, Ricky Gervais' series on HBO the same year. Most surprisingly – not even his PR people were aware until they were asked to write a press release – he released a new single on his 66th birthday "Where Are We Now" in 2013.
Further burnishing his reputation, perhaps laying the ground work for a possible tour, hopefully so – is David Bowie Is, a traveling retrospective tracing his shifting style and sustained reinvention over five decades. Opening his own archives, a first, for Bowie, the exhibition features handwritten lyrics, original costumes, fashions, photography, film, music videos, set designs and his own instruments. The exhibition has been pulling in record crowds ever since it opened in March of 2013 at the Victoria and Albert Museum in London.
Lazarus poster with Bowie's face.
So far, David Bowie Is has traveled to London, Toronto, Berlin, and Chicago's Museum of Contemporary Art, the only US venue, thanks to their Chief Curator Michael Darling who managed to steer this exhibition to his institution where it was their most popular exhibition ever. It will be travelling all this year and part of next to San Paolo, Paris and the Netherlands.
Putting another notch in his belt, Blackstar, Bowie's 25th album was just released, not coincidentally, on January 8 the date of his 69th birthday. The reviews, many heralding the coming of a "new" Bowie, have been stellar. Rolling Stone's David Fricke described the album as "a ricochet of textural eccentricity and pictorial-shrapnel writing." Andy Gill of London's The Independent regarded the record as "the most extreme album of his [Bowie's] entire career," stating that "Blackstar is as far as he's strayed from pop."
Writing for Exclaim, Michael Rancic called Blackstar "a defining statement from someone who isn't interested in living in the past, but rather, for the first time in a while, waiting for everyone else to catch up." The New York Times, also weighing in, describes the album as "at once emotive and cryptic, structured and spontaneous and, above all, willful, refusing to cater to the expectations of radio stations or fans." Last I looked, Blackstar was the number one selling album in London, and number two in the US.
If that is not enough to light up the sky, the musical Lazarus, a 13 song (some old some new) Bowie driven musical with a book by Irish playwright Enda Walsh, best known for winning a Tony in 2012 for his stage adaptation of the movie Once, is currently running at the NY Theatre Workshop in New York City through January 20th. For the record Lazarus sold out in a matter of hours. Still, no doubt, if your pockets are bulging, scalper tickets can be found. Be sure to call your banker first.
Based on the 1976 Nicolas Roeg movie The Man Who Fell to Earth which in turn was based on Walter Terris' 1963 Sci-Fi novel of the same name, Lazarus stars Michael C. Hall, best known from the TV series "Dexter." Hall plays alien Thomas Newton, the same character Bowie played in movie. Also starring is Cristin Milloti (Grammy Award winner, and Tony nominee for Once) and Sophia Anne Caruso.
Photo Courtesy of Museum of Image and Sound, Sao Paolo, Brazil.
The plot for those newbie's unfamiliar with The Man Who Fell to Earth, book or movie, is relatively simple. Newton, an extraterrestrial, comes to earth with the intention of getting water for his dying planet. He starts a bunch of companies, becomes super rich, and builds a spaceship to return home. The government finding out he is an alien holds him captive in a locked luxury apartment where he spends his days alone drinking gin, watching TV, eating Twinkies, and pining for his outer space family and the return of Mary Lou, the earthling who loved and left him. This is how we find Newton—sprawled out on the floor of his apartment – when the play begins.
Though alone, certainly in his own head, and not always even there,Newton is given to hallucinatory visions. In the reality of the stage, he is at the center of an swirling tsunami of people, coming and going, real and imagined, each with their own dramatically captivating story. Though the set is relatively bare, one bed and refrigerator, mostly filled with gin, is the only stationary furniture. The characters are surrounded, and the audience bombarded with an electrifying series of sonic sounds, video projections which often echo what is happening on stage, a seven piece band seated behind a scrim, and 10 compellingly quirky characters, all beautifully realized.
Elly (a wonderfully intense performance by Cristin Milioti), was recently hired by Newton to be his personal assistant. She eventually falls in love with him, much to her husband Zach's (Bobby Moreno) dismay.
At one point Elly, describes Newton perfectly. He is "sorta sad, sorta unknowable in the way that you imagine rich, reclusive, eccentric men to be." Eventually, hoping to become his lover, she attempts to transform herself into Mary Lou—Newton's lost love, by donning a blue wig.
Also, appearing, disappearing, and appearing again and again, is the ethereal, and beautifully voiced, Sophia Anne Caruso who in the program is billed as Girl. Appearing to know all about Newton, her mission is to help him return to his outer-space world. It is a double-bind, as Newton's mission is to help free the Girl (who just might be an apparition) from her limbo state. Bowie's lyrics in Life on Mars "now she walks through her sunken dream to the sear with the clearest view and she's hooked to the silver screen," fit like a glove to her character.
All of men in the play, in somewhat subsidiary roles, also are coming and going, coming and going. Michael Esper (last see on Broadway in The Last Ship) – he always seems to show up unannounced at people's apartments - plays Valentine, a sinister, knife-wielding, character who eventually gets bury his knife in human flesh. Appearing to be Newton's only friend, this from their business days, is Michael (Charlie Pollock) last seen on Broadway in Violet). Michael appears to be the only truly sane character.

Adding spice to the proceedings – they just might be working for the government – is a Supreme-like group—with nobody playing Diana Ross). Ostensibly, Krystina Alabado, Krista Pioppi, and Brynn Williams, billed as Teenage Girls 1, 2, 3 are government agents. Also making an appearance and a particularly harrowing departure are Lynn Craig and Nicholas Christopher. Here they are caught in series of lurid embraces, seeming just short of copulation.

The play, if not for the star-turns of actors Michael C. Hall, Cristin Milloti, and Sophia Caruso, who do most of the singing and acting, is as close to being an ensemble piece as possible. Yes, all of the acting and singing is letter-perfect good. But it is Hall, on stage for all two hours channeling what appears to be the heart and soul of Bowie himself that holds us prisoner. No doubt, his short stint on Broadway in Hedwig and the Angry Inch, another totally demanding role, has served him well here.
If the truth be told, and here I am telling it, wonderful performances aside, the brilliance of Lazarus resides in the hands of visionary director Ivo van Hove (his production of A View From The Bridge is currently represented on Broadway at the Lyceum Theatre), and the play's technical staff Jan Versweyveld (Scenic and Lighting Designer), Tai Yarden (Video Design), Brian Ronan (Sound Design), Henry Hey (Music Director), An D'Huys (Costume Design), and Anne-B Parsons. It is a rarity when the all of the production values come together so astonishingly, as to conjure up a sense of wonder, one that takes us to another world.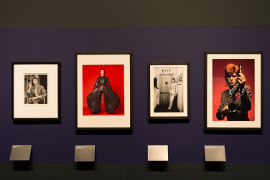 Installation view, /David Bowie Is/, MCA Chicago. Photo by Nathan Keay.
Note from the reviewer: The majority of this review was written last week, during which he released Blackstar, his 25th album on his 69th birthday. It was only this morning when I found out about his passing. And that he was battling cancer for 18 months. Of course, having spent some 25 hours in total immersing myself in Bowie research, so much so that I became Bowie – making us Bowie has always been his strength – I was devastated. It was like part of me died which indeed it did. Though the tone, as well as the reception of this review will change the reading of the article,
I chose to as a Reviewer's Note rather than starting off with a Death Notice.
Most chilling in retrospect are the lyrics of Lazarus one of the last songs Bowie wrote. Here, he seems to telling us, in no uncertain terms that he will be leaving the planet. The lyrics sung by Michael C. Hall include "Look up here/ I'm in heaven/ I've got scars that can't be seen…"This way or no way." You know, I'll be free" Bowie sings these same lyrics in his video Lazarus. (See link below). Appearing distraught, Bowie is seen shaking and writhing among the tousled sheets of his bed. He levitates briefly after a disembodied hand creeps toward him from beneath the bed frame. The video ends with Bowie closing the doors of his life, as he enters a coffin like closet.

https://www.youtube.com/watch?v=y-JqH1M4Ya8