"The Roaring Girl"
Reviewed by Glenda Frank



"The Roaring Girl" by Thomas Middleton and Thomas Dekker.
directed by Anais Koivisto
Everyday Inferno Theatre Company, at the Gallery of Access Theatre
380 Broadway, NYC.
June 4-21, 2015.
In repertory with "Punk as Fuck."
$18 each; two for $20.
For tickets: call 347.291.1805 or http://www.everydayinferno.com/PunksProvocateurs.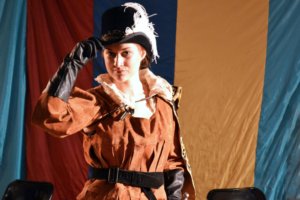 The Roaring Girl. Photo by Anais Koivisto
All the tongues in town are wagging about the man-woman, the masculine womanhood who earns her living as a cross-dressing thief but is the beloved of Sebastian (Jacob Owen), who is such a good catch. He is the handsome son of the wealthy aristocrat, Sir Wengrave (Matt Walker). The eponymous hero, Moll Cutpurse (Malloree Hill), swaggers when she should tremble with fear, struts when she should sashay in "The Roaring Girl," a Jaocbean comedy – and even better a feminist comedy! --about seduction, unscrupulous men, and money, which was co-authored by Thomas Middleton, the cynical son of a bricklayer who wrote "The Changeling" and "Women Beware Women," and Thomas Dekker, who penned "The Witch of Edmonton."
The Roaring Girl. Photo by Anais Koivisto
The course of true love does not run smooth. Sebastian loves Mary Fitzallard (Anna Clare Kerr), his lovely fiancée, but Sir Wengrave breaks the engagement when her father loses his fortune and she goes from heiress to beggar's child. Sebastian and Moll devise a ludicrous scheme. If the conventional Sir Wengrave (the names are often puns) believes his son is infatuated with Moll, then his relief at discovering that Mary is the real object of Sebastian's attention will ensure his blessing on the marriage. Of course this works – a good comedy ends in a marriage – but before there are all sort of ruses, lies, affairs, betrayals, disappointments, double-entendres and surprises.
The tone is light, the action swift, and the period musical interludes delightful. ("No Balls at All" is the first number.) We are offered three bits of pungent advice before the play begins: If you think it is about sex, it is. If you don"t, it still is. If you're confused, it's about syphilis. As for the language, yes there are occasional archaic moments but the actors make the dialogue sound contemporary, although contemporary as written by some weird creative duo on a bet. The actors are, that is to say, very clear and very appealing. They add those little touches that mean so much. When Sir Wengrave rises, he rubs his aching back. Someone on stage rings a bell three times before another actor observes that it is "three by the clock." To add to the allure, they adorn several scene shifts with lovely, mostly a cappella tunes mentioned earlier.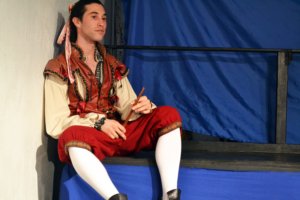 The Roaring Girl. Photo by Anais Koivisto
Last year Mark Rylance, the British comedian America has grown to treasure, headed an all-male cast playing a double bill of "Richard III" and "Twelfth Night" at the Belasco Theatre on Broadway. Staging was minimal, costuming was elaborate, and the direction attempted to be sort-of-true to the period. The plays were a hit. Everyday Inferno Theatre brings us their own take on Elizabethan-Jacobean theatre. Sets are minimal but the costuming is rich, even elegant in silks, lace, sequins, velvets, ribbons, feathers, and leather in earthy and rich colors. The audience sat at cabaret-like tables or in the traditional space. For those at the tables, the action happened all around them; the full stage was employed. The stage lights are portable (design by Michelle Tobias). A large hanging drape in red, white and several shades of blue covered the ceiling and draped down the walls to create backstage wings. It was ingenious and exciting – an obstacle transformed into design. Director Anais Koivisto is also the company's artistic director and its costume designer. She has given this work humor, elegance, and pizzazz.
While the main plot is contrived, some of the subplots shout out to modern ears. One merchant's wife is almost gulled by a lying suitor who tells her tales of her absent husband's infidelities. She plots her own adulterous revenge but stops in time to discover the lies. Even more poignant, Mistress Gallipot (the lovely Erin Beirnard) finds herself infatuated with Laxton (Joel DeCandio), who mostly wants her money. She will do anything to please him, including devising an elaborate scheme so that her husband will pay her lover. (Yes, it is funny!) Once she discovers her lover's deception, however, she is enraged, but her strangely quiescent husband offers him cash because he has his wife, his children, and his fortune intact. They money doesn't matter. He will "dine upon my scraps." It's like a reverse schadenfreude.
The Roaring Girl. Photo by Anais Koivisto
Sir Alexander Wengrave is another story. As the villain, he hires a spy to trap Moll, and when that doesn't work he stoops to conquer by tempting her to rob him so that he can have her arrested and keep his son from marrying her. Moll's heart, however, is pure so she is not even tempted -- Oh well, comedy is part fairy tale!

" The Roaring Girl" is good fun. It's a delight to have a woman save the day, especially in a fine production directed by a woman. "The Roaring Girl" plays in repertory with "Puck as Fuck," the world premiere of a contemporary comedy about band members who don't fit in on a fateful day in 1991.

By the way, Moll Cutpurse was based on the actual Mary Frith. A "roaring" boy carouses, brawls and commits petty crimes. The term is rarely applied to a woman. Frith was a popular subject, inspiring John Day's 1610 "The Mad Pranks of Merry Moll of the Bankside" and Nathaneil's Field's "Amends for Ladies" (1611). More about Mary Frith can be found in seventeenth century lawsuits.