"Angels in America" by Tony Kushner, directed by Ivo van Hove
Brooklyn Academy of Music, 651 Fulton St., Brooklyn, NYC.
Oct. 23-25, 2014.
Tickets begin at $40 at 718-636-4100 or bam.org.
Running time: 5 hours 10 minutes. In Dutch with English subtitles.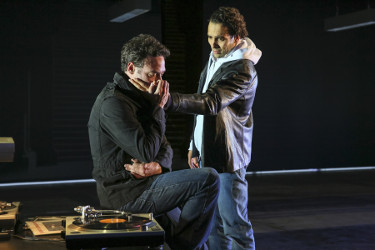 "Angels in America." Photo by Richard Termine.
Sometimes an 80 minute play can seem three hours long. And sometimes a production that runs over five hours (with a short dinner break) can seem less than 80 minutes. Yes, there are supertitles in the BAM production of Tony Kushner's "Angels in America" directed by Ivo van Hove in Dutch, but we are all used to film subtitles. This production is a great theatrical experience, conceived by the synergy of two masters and brought to life by a powerful cast. It is as captivating as "Coast of Utopia" and more accessible.
"Angels in America" became an overnight classic after its staging 20 years ago, and its reputation has grown. In its spectacular sweep from drag queens to the power players in 1985 America, from the Old Testament through Mormon theology, with its focus on love, loyalty, and the AIDS crisis -- it is iconic Americana. I have been told by friends that van Hove's productions do not work for audiences unfamiliar with the plays. Maybe. But for the rest of us, his stripped down style is revelatory, always of interest, and often shocking.
Photo by Richard Termine.
In van Hove's hands, the story of Prior Walter, suffering from AIDS and abandoned by his lover, Louis, is less the solar center of orbiting narratives than a star in the galaxy. The bookends are clearly death and revelations. The play opens with a funeral and a eulogy for a lost but difficult life style. The revelations are both cryptic disclosures from the visiting angel (Alwin Pulinckx) and inexplicable insights from the characters themselves whose imaginations are not bound by time and space. Van Hove does not bring us a literally descending angel, which was a highlight of every other production I have seen. His Roy Cohn is less a devil than an almost human villain. The realism is about people, not about the staging.
Photo by Richard Termine.
The play itself grows more powerful as the overwrought dramatics -- which I confess I love -- are removed. The large stage at the Harvey Theatre is bare except for a small table with two phonographs. The actors from the Toneelgroep Amsterdam, in everyday clothing, create their own landscapes -- the hospital scenes are particular vivid -- or float in a dream world, reminiscent of the ones created by Robert Wilson. One character interaction may be forestage while another character -- say Roy Cohn in a hospital gown and IV drip -- slowly makes his way backstage. The scenes flow into each other seamlessly, and the approach is totally engaging. The focus is always on the emotional confrontations and the slow discoveries that make the plays such a powerhouse.
Photo by Richard Termine.
The story seems to unfolds both on the stage and in the viewer's imagination -- if not heart. The tapestry is so rich: Joe's (Marwan Kenzari) acknowledging his needs; Harper's (Hélène Devos) creation of new geographies and a new companion, Mr. Lies (Roeland Fernhout); Prior's (Eelco Smits) growth into a leader; Louis's (Fedja van Huêt) all too human failures; Ethel Rosenberg's ghost (Marieke Heebink in a brilliant triple performance) transcending revenge and offering forgiveness to Roy Cohn (Hans Kesting), the man who spared nothing to ensure her execution for treason.
Tony Kushner's "Angels in America" has raised the bar for contemporary playwriting. Ivo van Hove's production revels in its elegant bones and transports us from tragedy to triumph through the acceptance of personal limitations.