"This Lingering Life" by Chiori Miyagawa, produced by Cake Productions,
directed by Cat Miller at HERE, 145 Sixth Ave., NYC.
Sept. 12 - Oct. 4, 2014. Wed.-Sat. at 7 PM; Sunday at 2 PM.
Tickets $18 at www.here.org or 212-352-3101.

L to R: Stephanie Weeks, Meg MacCary and Marta Kuersten. Photo by Natassia Jimenez
Obsessions are unpredictable. They may suddenly turn deadly or simply evaporate, but they all have compelling moments and occasionally stunning insights. Playwright Chiori Miyagawa's consuming passion is for Noh drama, the Japanese classics with their slow ceremonial unfolding and operatic emotions. Not interested in moving backwards in time to write her own Noh play, she brings us in "This Lingering Life" a compilation of Noh characters and situations that is at once very funny, profound, troubling, contemporary and good entertainment. The production at Here Theatre can boast a talented cast of ten playing 28 roles and some very surprising moments under the direction of Cat Miller.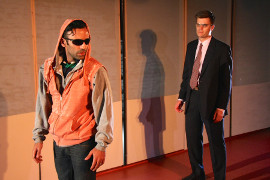 L to R: Amir Darvish and William Franke. Photo by Natassia Jimenez
Influenced perhaps by films like "Crash," that interweave several seemingly unrelated narratives, "This Lingering Life" taps the five categories of Noh drama to introduce a panorama of Japanese favorites: young lovers, crazy women, bereaved mothers, warriors, and troubled ghosts. Early on we meet the woman whose hair grows up instead of down (Meg MacCary), a mock tragic figure. Her father rejected her because she was different as well as her brother who was born blind (Ronald Cohen). As she searches for him, she enters into the stories of the other characters. Her rueful cheerfulness becomes joy when she discovers mid-play that she is the play's narrator. This tongue-in-cheek meta-theatrics opens the door for a presentational style that ranges from tragedy to camp.
The ghost of a slain young warrior (Stephanie Weeks) is the most tragic tale. He cannot stop fighting, believing that only in victory can he win back his father's affection. Another warrior (Enormvs Muñoz), who has been reborn and is now a business man in a suit, returns to bring the boy peace.
L to R: Marta Keursten and Luke Forbe. Photo by Natassia Jimenez
Princess is the height of camp. As played by the simpering Luke Forbes, with a large flower in his short afro and a tight mini-skirt, Princess is a self-centered, rich teenager, pure parody, and probably not familiar in this guise to NOH audiences. The mood lightens every time Princess appears, yet Princess is a character in the most poignant and contemporary of the tales. An old gardener (Vanessa Kai) has come to seek employment with the young head gardener (William Franke), whose knowledge of horticulture is sadly lacking. The old gardener is humble and while he understand what should be done, he claims to be no expert. He works hard, and one day spies Princess, the owner's daughter, in a window. He falls instantly in love.
When Princess hears of his infatuation, she devises a cruel practical joke. She sends a letter to the old man protesting her love for him and designating a meeting at night. He waits, then realizes the trick played on him. "This lingering life" is his phrase.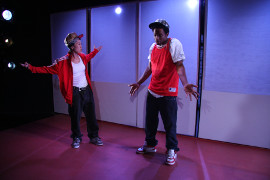 L to R: Vanessa Kai and Luke Forbes Photo by Natassia Jimenez
Playwright Chiori Miyagawa has enjoyed two productions of "This Lingering Life," the other at Theatre of Yugen in San Francisco, which, she said, was very different in conception. Her play is a bridge between two worlds -- three if you count the spirit world -- and she has brought Noh in all its operatic dimensions into the life of contemporary theatre. It is no small feat. The costumes by Becky Bodurtha are a gift -- simple, subtle medleys of texture, color and pattern, suited perfectly for each character.