"Hard Times: An American Musical" by Larry Kirwan with music by Stephen Forster and Larry Kirwan.
Directed by Kira Simring at the cell, a twenty-first century salon, 338 W. 23rd St., NYC.
Jan. 9- Feb. 16, 2014. Thurs. - Sat, 8 PM; Sun. at 3 PM.
Tickets and information: $18- 35.00 at www.thecelltheatre.org or by calling 1-800-838-3006.
Reviewed by Glenda Frank, Feb 11, 2014.
Almeria Campbell & Ayesu Lartey. Photo by Steven Simring.
Who doesn't know the music of Stephen Foster--"Jeanie with the Light Brown Hair," "Beautiful Dreamer," "Old Folks at Home," "Oh, Susanna"-- that has come to define American music. And thanks to Martin Scorsese's 2002 blockbuster "Gangs of New York" (with Leonardo DiCaprio, Daniel Day-Lewis, and Cameron Diaz), the Five Points, home to violent, corruption, and clashes of cultures, is not only familiar but exciting. Larry Kirwan's "Hard Times" at the Cell Theatre brings both together in a totally entertaining two hour musical that is also, to its credit, memorable, and clever. It offers insights into the composer and the world in which he lived, a world in rapid transition. The musical premieres in 2012, and this time around, it has been extended after an initial sold-out run.
The year is 1863, a disturbing moment in New York and US history. The country is at war, President Lincoln has declared a very unpopular draft, the rich are buying their way out for $300 and poor immigrants, notably the Irish, some of whom speak only Gaelic, are being inducted straight off the boat. The factions in New York are riling up to the Draft Riots, which caused hundred of thousands of dollars in property damage and eleven deaths, some from lynchings. A black orphanage was burned to the ground.
But that's outside Nelly Blythe's tavern. Inside, an amalgamation (the period term for integration) of races gossip, sing, dance, and only occasionally lose control. The 6-person band is live and lively; drinks are cheap, and when you're down on your lucky, Nelly (Almeria Campbell) offers credit if you entertain the clientele. Nelly, a free black woman, is the widow of an Irishman, a giant of a man judging from their wedding photo on the wall. Owen (John Charles McLaughlin), the most versatile talent on stage, is a young Irish immigrant with a temper; Thomas Jefferson (Stephane Duret) is a free, young black man, angry at his lack of opportunity; and Michael Jenkins (James D. Sasser) is a well-to-do Yankee, a sometime racist who has come to court Nelly. Flattered, Nelly neither trusts his intentions nor his courage to take on an interracial relationship. Stephen Foster (a poignant Jed Peterson), six months before his death at 37, is a gentle, introspective figure, troubled by his choices. Foster, today recognized as the father of American music, has become a poster boy for neglected talent. Despite having written 286 songs, many of them popular to this day, he could not earn a living because of absent or weak copyright laws. Foster is the protagonist. In flashbacks, we witness married life with Jane (Jennifer Lorae) although the strain in the relationship is not made clear. The play implies -- in a tender cameo -- that Foster, had a brief fling with Owen, who would like to continue and feels rejected. Foster's homosexuality remains an unsubstantiated rumor, by Kirwan's accepting it as fact juiced up the play and underlined the mystery of the composer's life. The theme of forbidden love is a leit motif.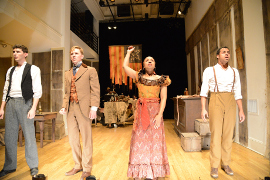 John Charles McLaughlin, Jed Peterson, Almeria
Campbell, and Stephane Duret. Photo by Steven Simring.
The musical opens with Owen in blackface singing a spirited version of "Camptown Races." Foster laments having written these songs. Nelly and the other performers tell him he needs to hear the songs with new ears and in their renditions the songs portray sensitivity and longing for a lost home. They are a revelation, but Foster is sunk in defeat.
The dancing, ranging from excellent Irish jigs by McLaughlin, tap dances, and shuffles show up the uneven casting, but that is a hallmark of off-off Broadway, part of its charm. The tattered old flag (designer Dara Wishingrad) is a nice touch in the minimalist setting. The dance competitions are spirited and funny. When Nelly gets in on the action, the juice joint jumps, especially in Foster's "Nelly was a Lady."