The Audition

"Summer Shorts 2013, Series A" at 59E59 St., NYC. July 19- Aug. 31, 2013.
Tues.- Thurs. at 7:15 PM; Fri. - Sat. 8:15 PM; Sat. 2:15; Sun. 3:15 and 7:15 PM.
Tickets are $17.50- 25.00 at 212.279.4200 or
www.summershortsfestival.com or www.throughlineartists.org .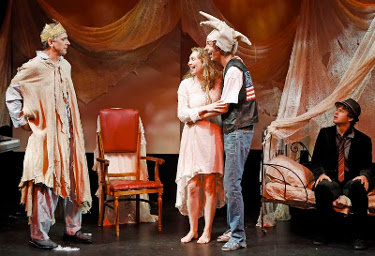 "Breaking the Spell,"written by Tina Howe, directed by Birgitta Victorson. L-R: Michael Countryman, Crystal Finn, Evan Shinners, Jesse Schein. Photo by Carol Rosegg.
Although it's not stated in the program, the theme of the three one-act plays, premieres all, that make up Summer Shorts 2013, Series A at 59E59 St. Theatre is auditions -- some more bizarre than others. It's a catchy theme, and the playwrights are top-drawer, Neil Labute, whose films ("In the Company of Men") have bite and whose "Reasons to Be Pretty" played at the Lyceum Theatre in 2009; Tina Howe ("Painting Churches"), who has won a Pultizer Prize and Obie and Tony awards; and Lucas Hnath, a young playwright with impressive credentials. But Series A caught them on an off summer. All the plays are disappointing in different ways. What stands out are many of the performances and some of the direction.
Hnath's "About a Woman Named Sarah" demonstrates admirable play writing, but political works have time-frames -- and Sarah Palin is yesterday's news. The play adds no twist, insight or irony. John McCain (Mark Elliot Wilson) has invited the governor ( Marisa Viola) to his ranch for an informal interview. Cindy McCain (Stephanie Cannon), a strong political ally, disapproves both before the Palin arrives and after they speak. Todd (Ben Vigus) asks his wife to refuse the nomination; she has too much on her plate. And we all know, she does not listen.
Right up front Sarah is the take-charge lady. She announces that there will be four scenes, and announces each scene. Although bearing no physical resemblance, Viola makes a charming, straight talking Palin. She is always trying to close, a genuinely interesting character. We can see why McCain is intrigued. Cindy reminds us -- and McCain -- that even though no one else was willing to run with him, Palin is a mistake. The scenes with Palin and the McCains are good theatre. There are clicks throughout the play that seem to dictate the brisk pace of the scenes (excellent direction by Eric Hoff) and are reminiscent of David Ives' "Sure Thing" with its insistent bell. The dialogue is in clipped fragments rather than full sentences, which also contributes to the speedy exchanges and is reminiscent of the best of David Mamet.
LaBute's "Good Luck (in Farsi)" seems ripped untimely from the computer. It needs a few more drafts. Two actors are waiting for an audition. Paige (Elizabeth Masucci) has just lost her agent and has a skimpy resume, but she's wily. She acted one of the audition scenes in the park, was videotaped, and is waiting to see herself on YouTube. She claims to know Farsi, creates an absurd biography, and convinces the other actor to repeat nonsense syllables during her audition. She also announces that Kate, in the ladies' room, changed her mind about auditioning.
Kate (Gia Crovatin) has a top agent, was a lead in a cancelled series, and looks the role of an attractive CIA agent. For some reason, she succumbs to Paige's manipulations. Unfortunately LaBute indicates that both women are extremely vain and dumb -- which drains the play. The characters are never more than cartoons, the situation is familiar, and it's difficult to understand what LaBute is doing in this landscape. The actors struggled to find their characters. Sometimes a playwright is better off not being his own director.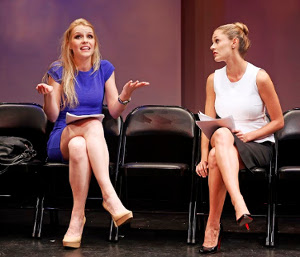 "Good Luck," written and directed by Neil Labute. L-R: Gia Crovatin, Elizabeth Masucci. Photo by Carol Rosegg
Tina Howe is an American Absurdist, like Edward Albee, whose comedies are sometimes misunderstood and under-appreciated. That is not the case with "Breaking the Spell." The scene is a skewed fairy tale. "An over-sensitive witch" has locked the king, his court, and his daughter in a spell. If they can't wake her when the 100th year ends, they all die. The king has tried everything. PWF (Poor Wretched Fool), a child rescued from a wine-barrel raft floating in the moat and reared as the king's jester, suggests their last chance is musicians. The one-act is funny and a little surprising -- FWF talks gibberish from time to time and the king lapses into French -- until this point. And then it goes on and on, with nothing added to the comedy. This is a script begging for cuts.
Michael Countryman as the king with his Bob Newhart sad face and Evan Shinners as PWF, who plays absurdity with a capital A, carry the show. Countryman, who was last seen in David Ives' "All in the Timing," won Drama Desk nominations for "The Common Pursuit" and "Out." Shinners a classically trained musician who has been called "the brattiest Bach since Glenn Gould," performed at the White House in 2012.