Glenda Frank
THE CULTURAL DIVIDE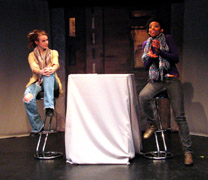 In "With Aaron's Arms Around Me," an NYU writing student elicits a love story from a Jamaican girl engaged in an interracial relationship with a Jewish boy. L: Naomi McDougall Jones, R: Latonia Phipps. Photo by Bobae Kim.
"With Aaron's Arms around Me" and "The Mire" by Sophia Romma.
Directed by Charles Weldon
Cherry Lane Studio Theatre, 38 Commerce, St., NYC.
Dec. 3-19, 2010.
Tickets $19. 212-239-6200 or 800-432-7250
Like many New Yorkers, Sophia Romma was born and educated abroad -- in Russia. Her plays are informed by this double identity. Her outsider status has sparked a sensitivity to other immigrant groups -- and informed "With Aaron's Arms around Me," the first short play in a double-header at the Cherry Lane Studio Theatre. The production is produced under the auspices of the Negro Ensemble Company. Both plays are directed by Charles Weldon, the Artistic Director of NEC.
"With Aaron's Arms around Me" takes us to two NYU students completing a homework assignment -- an interview about their love lives. The Russian Jew has fallen in love with an Italian Catholic. The Jamaican student is considering marriage to her Jewish boyfriend of two years. The Jamaican talks about her passion for her boyfriend, his family's difficulty accepting someone who is not Jewish, and her own belief that somehow she and her boyfriend will muddle through to happiness. This is familiar material, and the second woman, who plays a cynic to the Jamaican woman's Pollyanna, has a minor role. The strength of the piece is Latonia Phipps's performance, but faced with a sketchy canvas, even she veered toward overacting.
THE MIRE -- Tosh Marks as the Army officer; Naomi McDougall Jones as Svetlana Moiseyevna, the Russian Jewish vixen. Photo by Bobae Kim.
"The Mire," the second play on the bill, taps the playwright's admiration of Russian literature. It is an adaptation of an Anton Chekhov short story, updated to contemporary New York. Guided by the plot, with many lines directly from the Chekhov, Romma reduced the several male suitors and the two visits to one. She also added grandparents and a menorah to represent the temptress's Jewish roots.
A disaffected Italian-American deserter from the Iraq war (Tosh Marks) visits the home of Svetlana (Naomi McDougall Jones), a Russian Jew, seeking payment of a debt she owes his cousin. Svetlana's abstracted grandmother (Carolyn Seiff) lets him in without even asking his name. Svetlana has been suffering from a sick headache and greets him in her robe. He offers some convoluted (and contradictory) story about needing the money for his upcoming marriage, and she launches into a diatribe against women. He is curious. After promising him full repayment, she digresses to a lively analysis of different cultures. He is now both charmed and impatient. And then she offers him supper.
Little does he know that this is her routine, a con game, and she has no intention of repaying any debt. She hints that she would welcome his attention. He dangles a flash drive with the film she scripted, which his cousin had been editing for her, and still she does not pay. They begin a fandango of seduction and violence with her grandparents (Allan Mirchin as the feisty grandfather) looking on, offering comment from time to time. In the end, he is snared.
The play has hints of Absurdism. The amount of money is fluid, and the grandmother complaints constantly of a toothache (as in Ionesco's "The Lesson") but the play never tips enough into the grotesque to pull it off. Everyone talks about eating and sits at the table but they never eat. The actors, too, seem unsure of what comes next. They rarely guide us through the emotional shifts so the piece appears jerky, like an early rehearsal. Although the plays are billed studies of intolerance and bigotry, it's hard to find the themes in either play.
Sophia Romma's film "Poor Liza," starring Academy Award winners Lee Grant and Ben Gazzara, won first prize at the St. Petersburg Literature in Film Festival. "The Frozen Zone," her documentary about Russian prostitute rings, also received an award. She is currently teaching playwriting and film at the Negro Ensemble Company.