Glenda Frank
AMERICA HURRAH


"America Hurrah" (Revisited) and "The Mother's Return, a dream play"
by Jean-Claude van Itallie.
Directed by Josh Adler. Performed by Theatre Research Ensemble (TReE).
Produced at La MaMan E.T.C. (The Club) 74A East Fourth St., NYC.
Oct. 15- 24, 2010. Tickets $18 at 212-475-7710 or www.lamama.org.
by Glenda Frank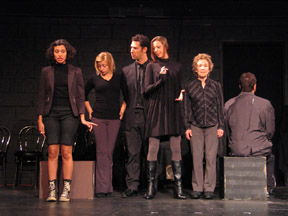 In "Interview," the first part of "America Hurrah," applicants and interviewers in an employment agency are dehumanized. L-R: Noelle Neglia, Helen Nesteruk, Matthew Tischler, Autumn Horne, Cam Kornman, Randy Noojin. Photo by Jonathan Slaff.
The 1960s was a golden age for off off-Broadway theatre. Greenwich Village--east and west--was alive with outbursts of creative joy and political protest. Non-traditional spaces--bars, storefronts, basements, even living rooms--hosted innovative dramas and performance styles that changes the face of American theatre almost overnight. There were no barriers. Genres blended. Jazz entered art galleries as well as poetry readings and dance. And Ellen Stewart, LaMaMa, was in the forefront, enabling the visionaries with performance space and sometimes loans. She was guided by an American theatre tradition established in the beginning of the twentieth century by George Cram Cook and Susan Glaspell at the Provincetown Playhouse: respect for the gifted amateur who is guided by his passion. She believed that people with something to say were the next wave, and Jean-Claude van Itallie was one of her discoveries. For 10 days in Oct. LaMaMa welcomed a revival of his much heralded piece "America Hurrah" (Revisited) and a new addition "The Mother's Return, a dream play," beautifully directed by Josh Adler, Artistic Director of Theatre Research Ensemble (TReE).
Do the pieces hold up 45 years later? Yes and no. "Interview," the first piece is a little masterpiece, absolutely delightful and a revelation. The work seems tailor-made for our current economic climate. An applicant arrives. There are several interviewers. One by one other job hunters enter: a temp, an executive, a floor washer. And soon the stage is filled with applicants and interviewers--eight in all--who repeat phrases, change places, and reassemble in a variety of formations. Individuals emerge from the group to share their experiences and traumas. One woman believes she died in a recent car accident. Voices overlap in a symphony of responses and questions. The interviewers check the applicants teeth, look for track marks. Even if you haven't interviewed in decades, you are there, identifying with the hopes, the rising tensions, the indignities--all in a quickly shifting dramatic landscape.
In "Motel," puppets (in this production, tiny puppets projected on huge screens), like Big Corporations, trash and destroy a motel room (i.e. our world). Puppeteer, puppets and puppet stage: Alan Barnes Netherton. Photo by Jonathan Slaff.
"Motel," a staple of theatre history textbooks, is less successful, perhaps because it uses a diorama and small marionettes (Alan Barnes Netherton, creator) to tell its story. A large backstage screen has some projections, but they did not improve the aesthetic of the piece. The story, however, is engaging. First a female puppet--who will later strip to a red bra and slip, then a male arrives in the orange motel room. The motel itself is a marionette, complete with a Vacancy sign. The owner , a voice over (Cam Kornman), tells us she has hand selected the furnishings. She is very fussy, fastidious, and proud of her property, which the flesh-colored marionettes trash after having sex. The metaphor is ambiguous, which is part of its fascination. Audiences at the premiere, where the puppets were grotesque and bloated, read the play as corporate America destroying the little guy. It's easy today to see the motel owner as the status quo and to hear the static, out-of-space sounds she emits as what Schultz's Charlie Brown calls the "blah-blah-blah" of the adult world.

In its time, the play was a highly controversial and a watershed. Norman Mailer called it "possibly the best one-act I've ever seen." "A massive Mother Hubbard [motel puppet], made of very clammy clay revolves . . . like a warning beacon, welcoming the transient to a haven filled with the books of John Galsworthy. . . " wrote critic Walter Kerr about the premiere. Directed by Tom O'Horgan (who also directed the Broadway productions of "Hair" and "Jesus Christ Superstar"), "Motel" (then called "America Hurrah"), toured Paris and Copenhagen. In England and Australia special performances were held to thwart the censors.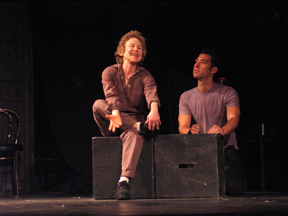 In "The Mother's Return, a dream play," seven New Yorkers who volunteer at a soup kitchen tell each other their dreams, political and personal. Cam Kornman and Matthew Tischler. Photo by Jonathan Slaff.
"The Mother's Return, a dream play" is a new piece, set in a soup kitchen. Sets and props are minimal. Once again we hear the blended voices and individual stories emerges as in "Interview," only now they are more politicized. As the onstage actors serve the meal and clean up afterwards -- as they take care of the human community--they share their laughter, dreams and stories. Some of the stories are fantastical, some paranoid, some daily dramas. Constructed like music, the voices move from solo to group, almost the way we hear conversations when we are busily at work in a crowded room. The eponymous mother is a mythic figure representing healing power.
The soup kitchen volunteers are the community's guardians. At the end of the play, they gather in Washington Square Park to enact a healing celebration--almost an exorcism. It's very '60s. Together they create a mandala, a sacred circle, and all the beautiful performers chant away the evils of the world: irradiated food, extreme rendition, domestic abuse. The young, talented, interracial cast is a joy to the eye and ear: Autumn Horne, Lou Boretto, Noelle Neglia, Randy Noojin, Diana de Luna, Matthew Tischler, Cam Korman, and Helen Nesteruk. You know that they--the soup kitchen workers--can't change a world run amok, but you can't help believing that their gestures of faith are a promise that goodness and sanity will prevail. It's good to know that Van Itallie still has that powerful mojo going.