Glenda Frank
HAYDN AT THE HAYDEN
"IL MONDO DELLA LUNA."
Score by Joseph Haydn. Libretto by Carlo Goldoni.
A Gotham Chamber Opera directed by Diane Paulus at the Hayden Planetarium,
Museum of Natural History,
NYC.Jan. 19 - Jan. 28, 2010. 8 PM. Seats: $125 - 30.
Tickets at 212-279-4200 or www.ticketcentral.com.
By Glenda Frank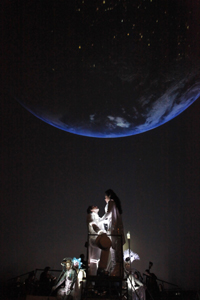 IL MONDO DELLA LUNA -- (L-R) Nicholas Coppolo, Hanan Alattar
Even before recorded history, human beings were fascinated by the moon, sometimes seeing in its graceful orbit a kingdom ruled by a powerful deity -- male or female depending on the culture. Our deepening knowledge of the universe has not destroyed our romance with outer space, so it is not hard to understand Buonafede's (Marco Nisticò) fascination with the moon, a body he studies devotedly through his telescope.
(L-R) Matthew Tuell (back), Albina
Shagimuratova, Marco Nisticò, Hanan Alattar
Buonafede is the domineering father in Joseph Haydn's "Il Mondo Della Luna" (1777), which was written to celebrate an Esterházy family wedding and became the composer's favorite opera. The script is by Carlo Goldoni (1707-1793), an Italian comic playwright and librettist (of dramma giocoso), who became famous for imaginative inventions in realistic settings. Buonafede has two daughters, Clarice and Flaminia, and a flirtatious maid, Lisetta, all of whom he keeps under constant surveillance. Three suitors have tried in vain to court the women. Desperate, they devise a scheme. Ecclitico's (Nicholas Coppolo), a false astronomer, has been making a good living off Buonafede by showing him both false and real lunar images. The aging father is ecstatic to see a husband whacking his wife and a young woman caressing an old man; he declares the moon "a well-run place" and waggles his hips with delight. Ecclitico, who loves Clarice (Hanan Alattar), informs Buonafede that the Emperor of the Moon has created a special elixir to fly him to his kingdom as his honored guest.
(L-R)
Timothy Kuhn, Matthew Tuell, Albina
Shagimuratova, Hanan Alattar.
Ecclitico drugs the nobleman with a sleeping potion and wakes him in a beautiful garden disguised as the moon. When Buonafede awakens, he demands the disguised Lisetta (Rachel Calloway), wearing a mini-skirt and Princess Leia hair, for his bride. Cecco (Matthew Tuell), the servant who loves her, is disguised as the Emperor of the Moon and reluctantly complies, but Lisetta can defends herself. The two other suitors court the two daughters (who wear space helmets) and Buonafede, at the behest of the Emperor, consents to their marriage.
Marco Nisticò
Director Diane Paulus transformed the Hayden Planetarium into an intimate opera house for this limited run. As you might expect, the great strength of the presentation is the superb -- and marvelously trippy -- 180 degree starry projections, which were culled from several museum space shows (Philip Bussmann, video and production design). There is even a meteor shower and journey through a kaleidoscope nebula. Not to be outdone by the outer space wonders of the show, costume designer Anka Lupes let her imagination soar in the moon scenes. Bizarre, provocative, and stylized, the lunar costumes, all lighted in a wild variety of designs, could grace any runway. Even the uniforms of the silent [hula] hoop dancers -- in lieu of the two ballets called form in traditional productions of the opera -- received murmurs of delight from the audience. Translations into English are projected both left and right so following the plot is easy.
Marco Nisticò
Transforming the circular planetarium space into an opera hall presented many problems. Diane Paulus, the artistic director of the American Repertory Theatre and acclaimed director of the revival of "Hair" at the Al Hirschfeld Theatre on Broadway, placed the 25 musicians and conductor Neal Goren in a raised circular platform rear of center stage. They were magnificent. Haydn's masterful lyrical phrases and unpredictable elegant twists filled the hall with tonal clarity.
The singers, however, faced a series of staging obstacles that interfered significantly with their performances. Their stages were a moving platform, much like a table, placed in front of the musician's box by white-robed stage hands and rolling ladders that they ascended for the space numbers. Some of the performers were agile as they climbed up and down; some tripped; some seemed wary. Once they were firmly grounded, most of them regained their ease. The unadorned industrial rolling ladders seemed aggressively modern for the 18th century setting, but they proved to be highly effective for the several space duets, adding a vertical dimension (perhaps weightlessness) to life on the moon.
Marco Nisticò
Marco Nisticò and Nicholas Coppolo, the lead singers, were admirable. The duets between Coppolo and Hanan Alattar, his beloved, were poignant and delightful. But the cast was uneven and two singers seemed overly strained by the challenges of the production. At several points the singers were in direct competition with the visuals rather than both working in tandem, and often the visuals upstaged the performances.
"Il Mondo Della Luna" at the Hayden Planetarium could probable have benefited from a week or more of rehearsal and some serious rethinking about staging. But it was a marvelous experiment, one I would not have missed. Neal Goren, Artistic Director and founder of Gotham Chamber Opera, commented that this staging is "Gotham's grandest and most audacious production in our eight-year history. The combination of Haydn, the Hayden, Diane Paulus, and our incomparable lineup of singers and designers adds up to a once-in-a-lifetime experience." I want to add my applause for the Museum of Natural History. From its jazz band series and live butterfly display to its Imax presentations and now opera, it has become one of the most vital cultural institutions in New York, and a place that is always fun to visit.