DARKNESS AFTER NIGHT: UKRAINE
Written and directed by Stephan Morrow
Theater for the New City
155 First Ave. (at E. 10th Street)
212-254-1109
From December 22, 2022 to January 8, 2023
Thursdays through Saturdays at 8:00 PM, Sundays at 3:00 PM
Running Time: 90 minutes without intermission.
Website: theaterforthenewcity.net/shows/darkness-after-night-ukraine/
Reviewed by Eric Uhlfelder
(R) Stephan Morrow as Russian logistics officer, (L) Liam Kyle McGowan as his aide.
Last week, as Russia rains destruction across his country, Ukrainian President Volodymyr Zelensky came to the US Capitol. Dressed in his plain battle fatigues, Zelensky put a face to a distant war for all of Congress and the America to see. His words were compelling, his story affecting. And the Ukrainian flag he handed to Speaker of the House Nancy Pelosi, which had just been signed by his soldiers on the frontlines at Bakhmut, was testament of what Zelensky had just witnessed.
Imagining and feeling the ongoing tragedy is the challenge all foreigners face in viewing the most horrific war that has befallen Europe since Nazi Germany surrendered in 1945. We can see the video reports, we can hear the accounts of atrocities. But it's difficult to get the pain and suffering of all those huddled in darkness and cold and their sense of abandonment and despair.
Motivated by such awareness and urgency, award-winning screenwriter, playwright and actor Stephan Morrow--whose long career has included collaboration with Norman Mailer, Arthur Miller, and Mario Fratti--brings this nightmare vision of Ukraine to life at the Theater for the New City in the East Village.
In this fictionalized account, Morrow plays a Russian logistics officer (Yuri Dubashin) who has seen one too many atrocities committed by his country. The latest: the bombing of a Ukrainian children's hospital. Troubled by such outrageous tactics, he defects to the Ukrainian side.
But he's re-captured by Russian forces and faces execution. The core of the play—whether flashback or imagination—are fragments of his life during the war evolving around a tragic romance with an ambitious Russian woman (Andreyeva played by Emilie Bienne), who then abandons him for the Russian leader (played by Joe Marshall).
L-R: The Russian leader (Joe Marshall) plots with a jailer (George Lugo) and a political operative from Yemen (Josh Alter).
Outraged by the horror that has been unfolding across Ukraine for months, the playwright cites inspiration in Arthur Koestler's "Darkness at Noon." This haunting historical novel portrays a Communist revolutionary who's betrayed by a system he once believed in, and subsequently condemned in the Moscow show trials of the late 1930s.
To provide context to the hazards confronting Dubashin and to help inform the audience, the production includes running narratives of key events of the 10-month war through dialogue and a Ukrainian newscaster (Natalia Volkodaeva).
Darkness After Night is a raw organic play that attempts to give an intimate look at a horrendous event that continues to unfold in front of us.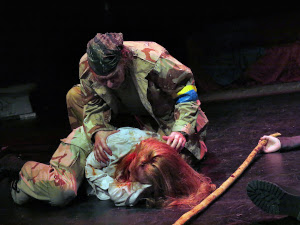 The Russian defector to Ukraine (Stephan Morrow) grieves over the fallen body of his ex-lover (Emilie Bienne), who has abandoned him for the Russian leader.
And if the play seems out of place for the holidays, it's not. It's a stark reminder of the hell many Ukrainians are facing as Christmas comes and likely for many more months and years to come.