RUSSIAN RESTORATION
Anna Lentz (Genya) and Alexander Sokovikov (Nicov) In "The Artist." Photo by Maria Baranova.
CHEKHOV / TOLSTOY: Love Stories
Short Stories written by Anton Chekhov and Leo Tolstoy
Adapted by Miles Malleson
Mint Theater
https://minttheater.org/
January 23 through March 14th
Theatre Row
410 West 42nd Street
212-239-6200
Reviewed by: Eric Uhlfelder
Running Time: 90 minutes without intermission
Seeing unbearable poverty and injustice in Russia, Tolstoy asked, "What then must we do?"
A little-known British playwright Miles Malleson addressed this question in plying together transcriptions of short stories by Leo Tolstoy and Anton Chekhov, which he completed more than a century ago.
Seeing the works of two of Russia's most critically acclaimed writers staged together for the first time has the makings of an intriguing evening, especially after the Mint's splendid productions of two of Malleson's works.
Katie Firth (Matryona) and Malik Reed (Michael) in "Michael." Photo by Maria Baranova.
Alexander Sokovikov--who plays the protagonist, a dour painter called Nicov, in Chekhov's "The Artist," and then a cameo role as a Russian noble in Tolstoy's "Michael,"--is one of the evening's highlights. Being a graduate of Moscow's Russian Academy of Theatre Arts no doubt helps him deliver an authentic, compelling Slavic performance in his US professional stage debut.
Katie Firth (Matryona) and J. Paul Nicholas (Simon) in "Michael." Photo by Maria Baranova.
In the Tolstoy tale, Malik Reed makes us believe his entranced ethereal character called Michael. He is rescued by an impoverished shoemaker, Byelkurov, played poignantly by J. Paul Nicholas.
Both plays make the point that contentment and salvation can be delivered only through love.
When Nicov is finally in the arms of a young girl who has been admiring his work, he realizes: "Disillusioned, hopeless, with no belief in men and no faith in the victory of good over evil—a word from your lips, a look from your eyes, your arms about me, and I'm filled with a triumphant peace."
If it t'were only that easy.
And Chekhov knows this.

Just minutes earlier, Nicov was telling the girl's family of severe Russian hardships of which they knew little:"Cold, hunger, animal terror, a great burden of endless labour—these things block the way, like avalanches of snow; block every way for them to the life of the spirit—the human spirit that's in every one of them—the only thing that makes life worth living."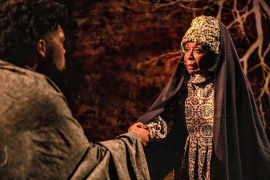 Malik Reed (Michael) and Vinnie Burrows (Anuiska) in "Michael." Photo by Maria Baranova.
"Michael" is a more textured, mystical, and compelling tale where life's harshness collides with possibilities of deliverance, if we are only open to them(and if one doesn't happen to succumb while waiting).

Much to his wife's chagrin, Byelkurov makes a fateful choice to forgo winter necessities to save a naked man he finds unconscious in the snow. This rescued soul is revived by the couple's stove and their meagre foodstuffs. He then stands and slowly moves silently across the stage—his face a mysterious intriguing glow.

Borrowing a line from Shakespeare, the couple must wonder to themselves: "Be thee airs from heaven or blasts from hell?"

But Chekhov's play gives a hint to what is to come in Tolstoy's story: "Whatever is beyond understanding is a miracle." Tolstoy believes man can make such miracles happen.
In a concluding soliloquy that retells the story in much too long a fashion for Michael's character, he discovers, from his brief time on earth, "It is not given to man to know his own needs. . . (but) I understood that in man dwells Love and it is Love alone by which they live."
The evening is rich with thought and gives us much to talk about. But it also leaves one wondering if there could've been more to the tales and the telling.