"The Collaboration"
Imagined Conversations
Warhol & Jean-Michel Basquiat on Broadway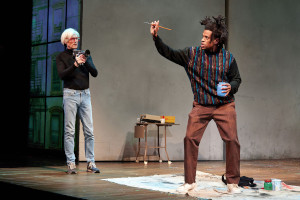 Paul Bettany as Warhol, Jeremy Pope as Basquiat. Photo by Jeremy Daniel.
Having lived in New York City's East Village for many decades, the very neighborhood where much of the action in Anthony McCarten's currently running Broadway play The Collaboration takes place, and where art world legends Andy Warhol (1928-1987) and Jean-Michel Basquiat (1960-1988) - here beautifully channeled by actors Paul Bettany and Jeremy Pope, could frequently be seen roaming the streets.
Just reading for weeks on end about McCarten's The Collaboration working its way from London's Old Vic to Broadway's Samuel J. Friedman Theatre (despite the play's mixed reviews), had me hot, bothered, and as Dame Edna would say, moist.
Paul Bettany as Warhol, Jeremy Pope as Basquiat. Photo by Jeremy Daniel.
Obviously, I was lusting to return to the 60s and 70s and early 80s - the pre-AIDS days - where all of the happening people, and those that actually believed they were happening, gathered to play, display, and get laid at Max's Kansas City, the Chelsea Hotel, the Filmore East, and Studio 54, to name but a few of the then city's more popular hotspots.
The play opens, with a story-setting prologue if you will, at the Zurich gallery of Bruno Bischofberger (Eric Jensen), where he is showing Warhol the paintings of Jean-Michel Basquait.
It seems that Bischofberger, who also represents the up-and-coming Basquiat, is hell-bent on by pairing the work of both artists in what he is sure would be "the greatest exhibition ever in the history of art."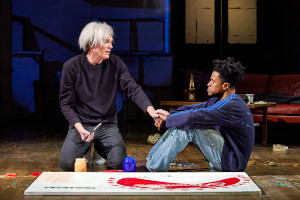 Paul Bettany as Warhol, Jeremy Pope as Basquiat. Photo by Jeremy Daniel.
Although the timing was perfect, as the sales of the 56-year-old Warhol, who hadn't lifted a paint brush in decades were at a low ebb, and the 24-year-old frenetic jazz loving Jean-Michel's paintings, selling like hotcakes, and were all the rage; both artists had to be tricked by Bischofberger into collaborating, as Warhol didn't get Jean-Michel's "busy paintings with skulls and grave stones everywhere were bleak. All these words and symbols. What's it all mean? What's he trying to say? They're so ugly and angry and yeah, well they're kinda violent. I'd be careful, he's really in trouble, I think."
And, as far as Basquait, Warhol was old hat. "Does anyone really care about Warhol anymore? All that fag silk screen stuff" he quips. Of course, money won the day, and the crowd-pleasing show which boosted the sales of both artists opened in NYC at the Tony Shafrazi Gallery in September 1985.
Jumping forward a couple of years at the play's end, and just before the heroin overdose death of Basquiat and Warhol's botched gall bladder operation, we find ourselves at Sotheby's. With projected images of the Collaboration Paintings flashing by we are listening to a real life recording of their auctioneer. "I'm going to start the bidding here" he says. 57 million dollars, 65 million dollars on the telephone now, 69 million dollars now. New bidder, 91 million dollars now, 92 million dollars, at 98 million dollars the hammer is up sir and selling for 98 million dollars."
In between the opening and closing of the two-hour play, with more fictives than lice on the body of an alley cat (read imagined conversations) the playwright recounts in lecture-like scenes, along with their opposing art philosophies of each artist from their childhood beginnings to their initial wariness of working together, to their eventual friendship.
Special attention is paid to a number of major events such as Warhol being shot by Valerie Solanas, the horrific death of a close graffiti artist friend of Basquiat's which brought Basquiat to tears, and the repeated mention of Basquiat's rumored bedding of Madonna which held special interest for the gossip-loving Warhol.
Another one of Basquiat's many girlfriends Maya (Krysta Rodriquez) makes two cameo appearances, the most interesting being her purchase, with Warhol's help, of Basquiat's graffiti covered refrigerator from his studio apartment.
The play, which I thoroughly enjoyed, mostly because I actually played, laid, and lived through these times, after 2 extensions, closes on Saturday, February 11.
This said, The Collaboration is well worth seeing, if only to experience the finely calibrated rock star tour de force performances of Paul Bettany and Jeremy Pope. Yes! They really Rock.
Cast: Cast: Paul Bettany (Andy Warhol), Jeremy Pope (Jean Michel Basquiat), Krysta Rodriquez (Maya), Erik Jensen (Bruno Bischofberger)
Technical: Scenic & Costume Design: Anna Fleischle, Lighting Design: Ben Stanton, Sound Design: Emma Laxton, Production Photographer: Jeremy Daniel, Production Design: Duncan McLean, Wig Design: Karicean" Karen" Dick & Carol Robinson, Original Music: Ayanna Witter-Johnson, Dialect & Vocal Coach: Deborah Hecht, Production Stage Manager: James Latus
The Collaboration (2 hours including an intermission), is directed by Kwame Kwei-Armah and continues at the Samuel J, Friedman Theatre, 261 west 47th street in New York City, Extended twice in its Broadway premiere, it closes on Saturday, February 11, 2023, for online tickets go to manhattantheatreclub.com, or call Telecharge at 212-239-6300.
Edward Rubin is a member of American Theatre Critics Association, NYC's Drama Desk, and the Outer Critics Circle, International Association of Theatre Critics, International Association of Art Critics, PEN American Center, and the Foreign Press Association.