"Underneath the Skin"
Everywhere, Everything, All At Once

"Underneath the Skin"
Playwright: John Kelly
Director: John Kelly
La MaMa Experimental Theatre Club
66 East 4th Street
New York City
Website: www.lamama.org
Phone: 212-254-6468
Opened: Thursday, December 8, 2022
Closing: Thursday December 22, 2022
Reviewed by Edward Rubin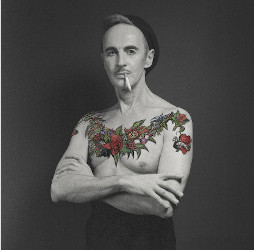 John Kelly. Photo by Josef Astor.
Billed as "A Penetrating Portrayal of A Queer Giant," performance artist John Kelly's explosive gay-themed show "Underneath the Skin" – bolstered by actor/dancers Hucklefaery, Estado Flotante, and John Williams Watkins, each playing multiple characters, a slew of videos, (one featuring Lola as Gertrude Stein), lots of song and dance, oodles of simulated male to male sex, and a cornucopia of informative lecture-like projections, all centering around the life and work of little known historical footnote Samuel Steward (1909-1993), channeled to a fare-thee-well by Kelly is currently holding court at the La MaMa Experimental Theatre Club in New York City at the Ellen Steward Theatre through Thursday, December 22.
John Kelly. Photo by Bronwen Sharp.
"Underneath the Skin" originally opening at Skirball Center for the performing arts in October 2019 – Skirball also commissioned this play - is essentially a gay history lesson using the extraordinary life of Ohio born Samuel Steward (1909-1993) as a template. The play begins, even before it begins, with a kind of a primer which introduces the audience, thus setting the mood of what is to follow during the next 85 minutes, with a series of immediately recognizable historical era-setting, fast-moving images projected on a large screen accompanied by period songs from Steward's lifetime, no doubt personally chosen by John Kelly himself.
Using Samuel Steward's own words, culled from his diaries, journals, memoir, novels, lectures and interviews, the play, if one can call it that, presented in a series of vignettes, mostly in chronological order, covers Steward's storied life, often in lurid detail, from age 17 to just before his death at age 84. Though living during the years when just being a homosexual was looked upon as a sickness, as well as illegal, and subject to arrest, fines, and even jail, staying in the closet, which Steward embraced for much of his life, was one's safest bet. Still, the handsome Steward, with a PhD in English Literature, did not let any of this curb his insatiable sexual appetite.
John Kelly. Photo by Bronwen Sharp.
As Steward frankly writes, "I went to college with the major purpose of bringing pleasure to others; mainly straight young men, and not to be concerned about pleasuring myself – for in bringing it to those I admired, I did please myself. Another aim? Oh, yes – to get an education."
As the play both shows and tells us, no matter where he was or what he was doing at the time, be it a master tattoo artist, a writer of novels, both pornographic and not, a sometime actor, an unofficial collaborator during the 1940s and 1950's at the Kinsey Institute, or in an alcoholic stupor for some 17 years, he continued to follow his great love of pleasuring which led to a tryst with Rudolf Valentino, an affair with Oscar Wilde's lover, Lord Alfred Douglas, and playwright Thornton Wilder, he could always be found on his knees pleasuring others.
Photo by Bronwen Sharp.
Something of a romantic, starting with Valentino who he first approached at a hotel for an autograph at age 17 – it was a mutual seduction - Steward collected a pubic hair, which he kept in a jar, from each of his conquests. He also kept a highly detailed file on all the men he slept with. With his good looks, story-telling talents, and a driving desire to scale the heights, Steward could also be found hobnobbing around the world with the likes of such literary eminences as Gertrude Stein, Cocteau. Andre Gide, Thomas Mann, and Julian Green.
Photo by Bronwen Sharp.
"Underneath the Skin" ends with John Kelly at his most emotionally moving, channeling the 84-year-old, as he sings Judee Still's somber 1973 song The Kiss which has Steward, long past his salad day, wishing for one last kiss.
Due to its popularity "Underneath the Skin" has been extended till Sunday, December 22, 2022. For those unable to attend a performance, Steward's endlessly fascinating life can be found in Justin Spring's 2010 National Book Award nominated biography the "Secret Historian: The Life and Times of Samuel Steward, Professor, Tattoo Artist, and Sexual Renegade,
Cast: John Kelly (Samuel Steward, age 17 to 84), Hucklefaery -aka as Ken Mechler - (Student, Cocktail Buddy, Le Loup, Sailor, Phil Andros, Walt Whitman), Estado Flotante (Student, Cocktail Buddy, La Licorne, Sailor, Gay Dude, 1994 Man in hospital gown, John Williams Watkins (Student, Cocktail Buddy, Le Cochon, Sailor, Tattoo Master, Leather Stud, Oscar Wilde, voice of Alfred Kinsey, Lola Pashalinski (Gertrude Stein)
Technical: Set Design: John Kelly, Costume Design: Ramona Ponce, Lighting Design: Nicholas Houfek, Video Design and Animation, Josef Astor, Cinematographer on Gertrude Stein and Older Sam, Piano arrangements for 'The Kiss', Production Consultant: Craig Hensala, Production Associate: Alyce Dissette
Music: Russ Columbo, Jóhann Jóhannsson, Ludwig van Beethoven, Jean Lenoir (sung by Lucienne Boyer), Judee Sill, Iron Butterfly, Bessie Smith, Lucille Bogan, Ma Rainey, George Hannah, Peg Leg Howell, Kokomo Arnold, Gene Malin, Gladys Bentley, Jimmy Rogers, Wal-Berg and Camille Francois, Claudio Monteverdi
Edward Rubin is a member of American Theatre Critics Association, NYC's Drama Desk, Outer Critics Circle, International Association of Theatre Critics, International Association of Art Critics, PEN American Center, and the Foreign Press Association.