Flying high, 'The Kite Runner' – closing soon – should not be missed.
"The Kite Runner"
Novel By: Khaled Hossein
Director: Adapted from the novel by Matthew
Musician: Tambla Player Salar Nader
The Hayes Theater
249 West 44th Street
Website: thekiterunnerbroadway.com
Phone: 212-239-6200
Opened: Thursday, July 21, 2022
Closing: Monday, October 30, 2022
Reviewed by Edward Rubin
Amir Arison (Amir). Photo by Joan Marcus.
Sometimes, a gripping story with universal relevance sells big. Such was the case of "The Kite Runner," Khaled Hossein's 2003 semi-autobiographical novel which was turned into a movie, a graphic novel, an audio tape, and a new Broadway play. Topping the New York Times Bestseller list for over two years - thanks to countless book clubs across the country - it took the reading public by storm.
Written in first person, "The Kite Runner," was translated into 42 languages and published in 38 countries, sold more than 12 million copies worldwide.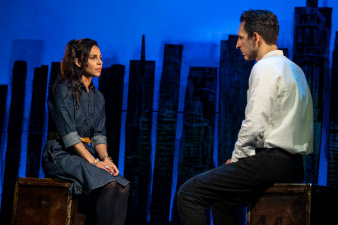 Amir Arison (Amir), Azita Ghanizada (Soraya). Photo by Joan Marcus.
The staged version of The Kite Runner is currently running on Broadway at the Hayes Theater in NYC though Monday, October 30, 2022. Based on the novel. and adapted by Matthew Spangler, the play in two acts and 17 scenes, spans three decades and two continents. With lots of twists and turns, it begins with Amir (Amir Arison), the narrator of the story, who never leaves the stage during the play's two and a half hours, looking back on his life.
As Spangler notes in the play's program, intending to ease the audience into this prodigious history- laden story, the play "is about a father and a son; two best friends, a husband and a wife; immigration; the relative peace of the 1970s Afghanistan; global politics; class and ethnicity; and much more. More pointedly, above all else, this epic-scaled drama is "a story of guilt and redemption."
Faran Tahir (Baba), Evan Zes (Ali). Photo by Joan Marcus.
Though the characters in the story are fictional, many of the larger events (and no doubt some of the smaller ones too) depicted in the book are real, such as the Soviet invasion of Afghanistan, the rise of the Talban, and the annual kite-fighting tournament.
That's when the boys battle kites by covering the strings in broken glass. When a string is cut, the losing kite flies loose, and the boys called the kite runners chase the kite across the city until it falls. The last fallen kite is the trophy of honor.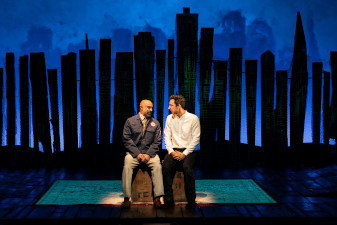 Faran Tahir (Baba), Amir Arison (Amir). Photo by Joan Marcus.
The play, presented in non-chronological scenes, begins with Amir confessing to the audience, with a hint of what's to come, that he is still in pain from a childhood event that happened decades earlier in which he selfishly turned his back on his best friend Hassan (Eric Sirakian).
"I became what I am today at the age of twelve, on a frigid overcast day in the winter of 1975," he tells us. "I remember the precise moment, crouching behind a crumbling mud wall, peeking into the alley near the frozen creek. That was a long time ago, but it is wrong what they say about the past. I've learned about how you can bury it. Because the past claws its way out. Looking back now, I've realized I have been peeking into that deserted alley for the last twenty-six years."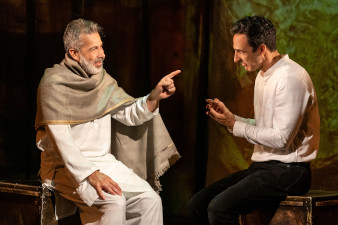 Dariush Kashani (Rahim Khan), Amir Arison (Amir). Photo by Joan Marcus.
Thus starts Amir's journey which transports us from Kabul, to Pakistan, to San Francisco, and eventually to San Jose, California. Along the way, with some actors playing dual roles, we meet a cornucopia of characters, all played by actors of Middle Eastern and South Asian descent. In a flurry of location changes, we visit an orphanage, a U.S Embassy, a trek over the mountains, the home of a major Taliban leader, witness a rape scene, hear about murders committed, sudden illnesses, spend time at a flea market, and attend a wedding. In short, life in its fullness.
Cameos apart, and there are a great many, the major players in this story, addition to Amir, are his single father Baba (Faran Tahir), Ali (Evan Zes) the household's servant of forty years, and Ali's son Hassan (Eric Sirakian making a stunning Broadway debut) both members of the oppressed and harassed Hazara minority group; and Rahim Khan (Dariush Kashani) Baba's best friend and chief encourager of Amir's writing, Assef (Amir Malaklou), Amir's bullying nemesis, Amir's wife Soraya (Azita Ghanizada), who he meets at a flea market in San Jose California, and her father General Taheri (Houshang Touzie).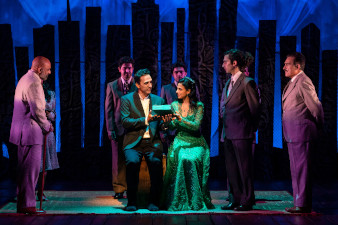 Faran Tahir (Baba), Beejan Land, Danish Farooqui, Azita Ghanizada (Soraya), Amir Malaklou, Houshang Touzie (General Taheri). Photo by Joan Marcus.
Housing the play, as minimally as possible, so as to let the story alone do all of the heavy lifting, is the scenic genius of designer Barney George. Aside from a chair and a table or two are a pair of towering sails, mostly out of sight, that are flown in at times to indicate a change of location. The projections of William Simpson are also used to indicate various locations. On stage, sitting on a mat throughout the play, adding a comforting touch, is Salar Nader's Tambla-playing, augmented by the cast playing Tibetan singing bowls and percussion instruments which serve to build tension during the kit-flying scenes.
For those theatergoers who crave an all-around extraordinarily unique theatrical experience, one that will be long remembered, The Kite Runner is Must- See, One-Of- A-Kind, not to be missed event.
Amir Arison (Amir). Photo by Joan Marcus.
Cast: Salar Nader (Tambla Artist), Amir Arison (Amir), Dariush Kashani (Rahim Khan/Soldier #2/Dr. Schneider/Omar Faisal), Eric Sirakian (Hassan/Sohrab), Evan Zes (Ali/Farid), Faran Tahir (Baba), Amir Malaklou (Assef), Danish Farooqui (Wali/Guard/Pakistani Doctor), Beejan Land (Kamal/Zaman/Husband/Radio Announcer), Christine Mirzayan (Pomegranate Seller/Wife/Andrews), Joe Joseph (Merchant/Russian Soldier #1), Houshang Touzie (General Taheri), Azita Ghanizada (Soraya)
Azita Ghanizada, Amir Arison, Eric Sirakian (Sohrab), Houshang Touzie. Photo by Joan Marcus.
Technical: Barney George, Scenic and Costume Design, Charles Balfour, Lighting Design, Drew Baumohl, Sound Design, William Simpson, Projection Design, Johnathan Girling, Composer & Music Supervisor, Kitty Winter, Laura Stanczyk, Casting Director, Philip D'Orleans, Fight Designer, Aurors Productions, Production Management, James Latus, Production Stage Manager, Deirdre Murphy, Company Manager, Humaira Ghilzai, Cultural Advisor & Script Consultant, Salar Nader, Tabla Artist & Additional Arrangements
Note: Though masks are required in the building and theatre. proof of a vaccination, and a valid government issued photo ID no longer necessary.
Edward Rubin is a member of American Theatre Critics Association, NYC's Drama Desk, and the Outer Critics Circle, International Association of Theatre Critics, International Association of Art Critics, PEN American Center.