A Holographic Circus:
"The Cherry Orchard" at The Baryshnikov Arts Center
"The Orchard"
Playwright: Ana Nogueira
Director: Mike Donahue
Robert W. Wilson MCC Theater Space
511 West 52th Street, New York City
Website: www.https://mcctheater.org
Phone: 646-506-93932
Opened: Tuesday, May 19, 2022
Closing Saturday, May 28, 2022
Reviewed by Edward Rubin
Nael Nacer. Photo by Pavel Antonov.
I seem to remember reading, in all of the hoopla surrounding the Baryshnikov Art Center's Production of Chekov's The Cherry Orchard, somebody saying "Unlike anything that you ever saw before."
This talking head could also have said, as audiences were soon to find out, that this production, adapted, created, reimagined, and directed by Kiev born Igor Golyak, and starring Mikhail Baryshnikov is a work of genius. Obviously, the great Chekov is embedded deeply in their bones.
L-R: Darya Denisova, Nael Nacer, Mark Nelson, Elise Kibler, Jessica Hecht, John McGinty, Juliet Brett, Mikhail Baryshnikov. Photo by Pavel Antonov.
Titled "The Orchard," Golyak's two-version production (both live and virtual), presented as a limited run, opened on June 16 and closed on July 3rd. Way too soon if you ask me. Hopefully, it will be brought back somehow, somewhere by a theater-loving angel.
To ensure that the audience's eyes and ears were glued to the stage throughout, director Golyak cleverly chose to use what some critics deemed the star of the play, an imposing vertical 12-foot metal crane-like arm placed center stage on an all-blue set (Anna Fedora). It serves coffee, sweeps the floor, acts as a tree, a person, a bookcase, a place to hide from danger, and a beeping camera that films the play's goings on. More importantly, it serves to direct our eyes to the play's imminent action.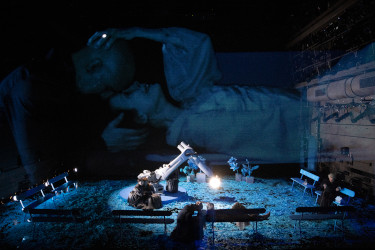 Neal Nacer, Jessica Hecht. Photo by Pavel Antonov.
Brilliantly encasing the entire production is Carol Rocamora's translation of Chekov's last play, The Cherry Orchard (1904). Though most of the play's original language was kept, a few scenes, though barely noticeable, were cut and rearranged. Eliminated was Dunyasha. the maid, and her would-be lover.
Added to the play's mix, quite effectively was a giant stage-covering scrim which intermittently featured on its surface live text, video, and close-ups of the actors in real time. Equally absorbing were several speeches delivered in ALS sign language, as well as in French, Russian, and German. Also, slipped into the play's text, adding a touch of twenty-first century was mention of the Ukrainian cities of Mariupol and Kharkiv.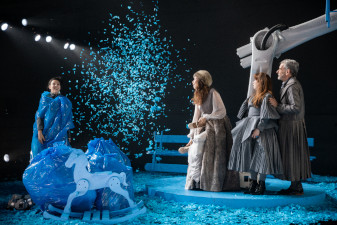 Darya Denisova, Jessica Hecht, Juliet Brett, Mark Nelson. Photo by Pavel Antonov.
Another beguiling addition to the stage was a robotic silver metal dog that could be seen playfully scampering about the stage. Able to do tricks, as well as play dead, it was an audience favorite.
Aside from Firs' (Baryshnikov), the long-time estate's keeper appearing to open up the house, the play truly begins with the arrival of Lyobov Andreevna Ranevskaya (Jessica Hecht) to the family's estate in the Russian countryside. Ranevskaya had run off to Paris with her lover to escape the grief she felt over the loss of her young son. And now she is back.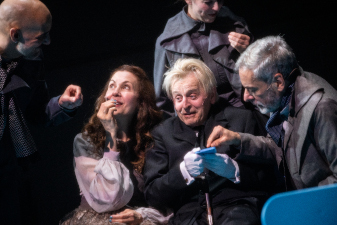 L to R - Darya Denisova, Nael Nacer, Jessica Hecht, Mikhail Baryshnikov, Mark Nelson. Photo by Pavel Antonov.
Following in her fashionable entrance, we meet her brother Gaev (Mark Nelson), her adopted daughter Varya (Elise Kibble), her natural daughter Anya (Juliet Brett), and their servants. They are there to try and save the beloved home and cherry orchard from being auctioned off due to an unpaid mortgage.
Rounding out the cast, each with their own intricate story which links them closely to the family, is Darya (Charlotta Ivanova, also Golyak's wife), Pyotr (John McGinty, hearing- challenged in real life), a frightening Russian-speaking, Passerby (Llia Volak) in black military dress, another Golyak nod to the ongoing Ukrainian war, and Lopakhin (Nael Nacer), the now rich, former peasant who ends up buying the Orchard.
Mikhail Baryshnikov, Jessica Hecht. Photo by Pavel Antonov.
Lopakhin's idea to save the orchard which unfortunately falls on deaf ears, is to turn the estate into a tourist attraction by creating rent-paying summer houses on the property. We realize that times are a-changing – the Russian revolution of 1917 which marked the end of the Romanov dynasty is only 11 years away – when Lopakhin gloats, after he buys the estate that he and his father were never allowed into the family's home. His only regret is that the beautiful Ranevskaya does not come along with his purchase of the estate.
The virtual live production, with the same 2 hour running time, features the play's most dramatic scenes, punctuated by performances by Baryshnikov as Anton Chekov, and Hecht as his wife and mistress. Here the viewer follows Chekov into a virtual replica of the Baryshnikov Arts Center building where we could enter various rooms where we hear both Chekhov speaking in Russian with subtitles, and his wife and mistress, often quoting letters, talking about their lives.
Mikhail Baryshnikov. Photo by Pavel Antonov.
Happening at the same time we get to see the audience sitting in the theater, some who are participating in the estate's sale, flashed on the scrim. The virtual performance ends outside the now sold arts center with Baryshnikov, this time as Firs, slowly walking away with his belongings. In the live theatre production, after everybody leaves, and Firs forgotten by the family he has served all his life is alone. Firs, hearing the sounds of the cherry orchard's trees being chopped down in the background just before everything vanishes, he sadly comments to himself that, "Life has slipped by as though I hadn't lived."
For those lucky enough to catch either version of the play, both magnified by an army of design wizards and technical geniuses, from Scenic Design (Anna Fedorova), Costume Design (Oana Botez), Lighting Design (Yuki Nakase Link), Projection Design (Alex Basco Koch), Sound Design (Tei Blow), Robotic Design (Tom Sepe), Emerging Technology design (Adam Paikowsky). Interactivity Design (Anna Hrustaleva), to ASL sign language expert (Alexey Prosvirnin), and a clowning coach (Alita West), the experience, hypnotic to say the least, was not unlike watching a giant aquarium filled with a frenzy of tropical fish. This, primarily due to the effect of the giant scrim which ironically both distanced ourselves, as well as brought us a lot closer to the play's action.
Note: Masks required in building and theatre, along with proof of a vaccination, and a valid government issued photo ID.
Cast: Mikhail Baryshnikov (Anton Chekov/Firs Nikolaevich), Jessica Hecht (Lyobov Andreevna Ranevskaya), Elise Kibler (Varya Mikhailovna), Juliet Brett (Anya), Nael Nacer (Yermolai Alekseevich Lopakhin), Darya Denisova (Charlotta Ivanovna), Mark Nelson (Leonid Andreevich Gaev), John McGinty (Pyotr Sergevich), LLia Volak (Passerby)
Technical: Scenic Design: Anna Fedora, Costume Design: Oana Botez, Lighting Design: Yuki Nakase Link, Projection Design: Alex Basco Koch, Sound Design: Tei Blow, Clowning Coach: Aelita West, Music Composition: Jakov Jakoulov, Emerging Technologies: Adam Paikowsky, Robotics Design: Tom Sepe, Hair/Makeup: Anna Hrustaleva, Interactivity Design: Alexander Huh, Virtual Sound Design: Alexey Prosvirnin, Director of ASL: Seth Gore, Director of Photography: Leanna Keyes, Production Manager: Jason Reis, Associate Producer Virtual: Zachary Meicher-Buzzi, Production Stage Manager: Jennifer Rogers
The Orchard conceived, adapted, directed, and reimaged by Igor Golyak and based on Chekov's The Cherry Orchard as translated by Carol Rocamora, opened on Thursday, May 16, 2022 for a limited run through Sunday 3rd at the Baryshnikov Arts Center at 459 275 West 37th Street in Manhattan. Running time is just under 2 hours with no intermission. For more info or to buy tickets call 617-942- 0022 x 1 or log on www.theorchardoffbroadway.com
Edward Rubin is a member of American Theatre Critics Association, NYC's Drama Desk, and the Outer Critics Circle, International Association of Theatre Critics, International Association of Art Critics, PEN American Center