Tú Amarás (You Shall Love)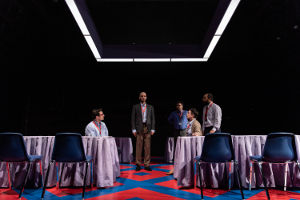 Gabriel Urzúa, Guilherme Sepúlveda, Carlos Donoso, Paulina Giglio, and Gabriel Cañas. Photo by Maria Baranova.
Tú Amarás (You Shall Love)February 13-15, 2020
Baryshnikov Arts Center's Jerome Robbins Theater
450 West 37th Street.
Written by Pablo Manzi, Translated by Cristóbal Pizzaro, Directed by Andreina Olivari & Pablo Manzi.
Running Time: Approximately 85 Minutes with no intermission.
For more information, or to buy tickets click on bacnyc.org or call 646-731-3200.
After performing around the world, Bonobo, the internationally acclaimed Chilean experimental theater company finally made its way to New York City's Baryshnikov Arts Center, with "Tú Amarás (You Shall Love)," a socio-political offering with a surreal touch that examines what is an enemy, how do we create one, and how do we connect to others.
Gabriel Cañas and Guilherme Sepúlveda. Photo by Maria Baranova.
Performed for 3 days (February 13-15) in Spanish with English subtitles, it played to full houses. On the night I attended, the majority of the audience was comprised of Spanish speaking people, no doubt among them, a hefty number of Chileans whose country still lives under the shadow of the late dictator Pinochet (1915-2006).
Though writing credit has been given to Pablo Manzi, the way the Bonobo collective works, the ideas, the thoughts, the words, and even the play's eventually shape – with research, improvisations and conversations all taking place before the text is even formalized – is a group effort involving the writers, directors, actors, designers, as well as the producers.
Paulina Giglio and Gabriel Cañas. Photo by Maria Baranova.
The last, largest, and scariest step, as Co-Director and dramaturge Andreina Olivari relates in one interview, "comes when Pablo in one way makes a very tuff work, which is to recollect and generate a text out of it, involving all of us."
The play begins in America. The year is 1600 and we are introduced to a male Indian (obviously costumed for historical identification) who admits to having made love to a cow, and two Pilgrim clothed settlers whose role appears to be that of good cop bad cop. This vaudevillian scene, a prelude as to what's to come, with its rapidly paced, back and forth talk, conjures up thoughts of Waiting For Godot and Abbot & Costello's most famous routine, "Who's On First."
Gabriel Cañas, Paulina Giglio, Guilherme Sepúlveda, and Carlos Donoso. Photo by Maria Baranova.
Here we are meant to see that distrust, discrimination, inequality, and even fear and loathing towards otherness, and we all know what happened to the Indians, has a very long history. Both domestic and international.
The scene ends with the pilgrim claiming that whatever tension existed between the Indian and himself is over. This said, a number of times, he asks the Indian to leave the land and take his family with him. The Indian's retort "My friend I have a lot of respect for you. But this tension between you and me will never end. Because you are my enemy. And if you free me, I will kill you."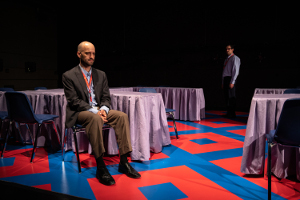 Guilherme Sepúlveda and Gabriel Urzúa. Photo by Maria Baranova.
The setting for the rest of the play takes place, over three days, in a hotel conference room in Chile. Assembled together are a group of Chilean doctors seemingly led by Veronica (Paulina Giglio) the only women in the room. All are preparing for an international conference on prejudice in medicine, a subject complicated by extraterrestrials (who we only hear about) called Amenites who have come to earth to escape genocide.
Practicing her presentation, Veronica informs one of her colleagues that the Amenites, who settled "right next to a very poor neighborhood," were not accepted by their neighbors. The one example she uses is an Amenite-hating woman rejecting a dying motherless child who is climbing on her shoulder with the words "Take this cunt off of me."
"Where there is extreme poverty," Veronica continues, "There is violence. That's no mystery. Where there's violence, there's prejudice and "we" (meaning the presenters at this conference) are going to show the role that medicine can play in giving Amenite communities back their dignity. What we can bring to the table is our personal experience with an Amenite community. Showing how by spending time with them, all of our preconceptions faded away."
The questions they plan on addressing during this presentation are Why do Amenites get a poorer treatment than other groups at Hospitals? Why some doctors prefer not to attend Amenite patients? Are we doctors judgmental people? Why is Amenite mortality rate so high at hospitals, and Is it possible to approach a more democratic medicine?
Of course, this is only the beginning, soon enough, not unlike the inequities they are railing against, descension among the group raises its ugly head. Lies are told, secrets revealed, violence erupts, a knife-cutting takes place, all the things that the presenters want to eradicate. Even Arturo, the most forthright of the group who everybody insists on calling Rabbit both behind his back and to his face - he single-handedly put the power point presentation together - is asked to leave the group. But not before being roughed up by his own colleagues.
Ironically the person most insistent that he leave, is Veronica who spent a great deal of the play defending his right to stay.
At the very end of the play all five actors returned to the stage carrying a banner exposing the underlying message of the play, as well as the raison d'etre behind Bonobo's very existence.
Bringing the audience to its feet, it read Chile Does Not Support Human Rights, a statement that can be applied to many countries around the world. One only has to examine history to verify the facts.
Cast: Gabriel Cañas, Carlos Donoso, Paulina Giglio, Guilherme Sepulveda, Gabriel Urzúa.
Technical: Scenic and Costume Design: Bob Crowley, Lighting and Costume Design: Felipe Olivares & Juan Andres Rivera, Music: Camilo Catepillan.
Edward Rubin is a member of American Theatre Critics Association, NYC's Drama Desk and the Outer Critics Circle.