Cyrano de Bergerac
A Large Nose, A Lot of Noise, and Little Poetry
"Cyrano de Bergerac"
Written by Edmond Rostand
Translated by Ranjit Bolt
Director: Jamie Lloyd
American Airlines Theatre
227 West 42nd Street
New York, New York 10036
Opening Night Thursday, October 11 2012
Limited Engagement through November 25, 2012
$42 - $137 Tues – Sat 8 PM, Wed, Sat, Sun 2 PM
For Tickets visit Roundabout Theatre.org or call 212-719-1300
Roundabout Theater Company's Cyrano de Bergerac playing at the Airlines Theater on Broadway. Foreground: Douglas Hodge, balcony: Clémence Poésy, background: Kyle Soller. Photo by Joan Marcus.
Everybody knows Cyrano de Bergerac – he of bulbous snout – if not by name alone, than by play, movie, or perhaps even history. Yes, Hercule-Savinien de Cyrano de Bergerac (1619 – 1655), the French dramatist and duelist actually existed though not exactly in the form that dramatists have portrayed him. Published in 1897 by the French poet Edmond Rostand, the play, Rostand's most successful work is the story of Cyrano's love for his cousin the beautiful Roxane, whom he is obliged to woo on behalf of a more conventionally handsome but less articulate friend, Christian de Neuvillette. In the play's most famous scene — shades of Romeo and Juliet balcony scene – the tongue-tied Christian, using lines being fed to him by Cyrano, is seen declaring his love for Roxane. Intoxicated by what she believes are Christian's florid confessions, Roxane declares her love for Christian.
First performed in Paris by Constant Coquelin in 1897 at Théâtre de la Porte Saint-Martin – in 1900 he brought the play to the U.S. with Sarah Bernhardt playing Roxane – Cyrano, with many translations under its belt, has been performed, from rhyming couplets to modern day speech, to song, by a cadre of actors, stage, screen, and TV. Not unlike Dumas' Camille in which countless actresses, among them – Bernhardt, Duse, Nazimova, Charles Ludlam, and the forever incandescent Garbo, in her most famous role, lined up around the block to play the beautiful tubercular courtesan – the highly romantic role of Cyrano was equally sought after by a stream of actors eager to play the wild and poetic hero.
Richard Mansfield was the first actor to play Cyrano in the United States in an English translation. The longest-running Broadway production ran 232 performances in 1923 and starred Walter Hampden, who returned to the role on the Great White Way in 1926, 1928, 1932, and 1936. Many modern day actors such as Sir Ralph Richardson (1946), Richard Chamberlain (1973), Christopher Plummer (1973), Derek Jacobi (1984), Frank Langella (1997), and Kevin Kline (2007), brought the swashbuckling versifier to stage. Made into a musical in 1973, Plummer won a Tony for his performance. However, it is Ferrer, in play (1946 Tony), movie (1950 Oscar), and TV (1949 and 1955), who brought Cyrano to true prominence in this country.
In 1990, the play was adapted for screen with Gerard Depardieu in the title role. The dialog was in French with subtitles written in rhymed couplets the form of the dialogue in the original play. Nominated for an Oscar as Best Actor, Depardieu lost out to Jeremy Irons in Reversal of Fortune. It is interesting to note that in none of adaptations is there any mention of Cyrano having had a fourteen year long affair with writer musician Charles Coypeau d'Assoucy, or for that matter his suffering from tertiary Syphilis and being confined to an asylum by his own brother as Ishbel Addyman wrote in her book Cyrano: The Life and Legend of Cyrano de Bergerac (2008). It is also rumored that he did have an affair with his cousin upon who he based the character Roxanne on.
Well, Cyrano, thanks to the Roundabout Theatre Company, is back on Broadway. I wish I could say that their production of Cyrano – among the most romantic theatrical chestnuts and long a favorite of mine – blew me away. Alas, and sadly, no such happening took place. The play opens, in opera-like fashion, which means a stage filled with lots costumed extras waiting for and talking about Cyrano— where is he, when is he coming, and what he is going to do when he gets here. And then all of the sudden, Cyrano, inhabited by Douglas Hodge sporting the grossest nose known to mankind, it makes Michael Jackson's nose look normal, is heard yelling from the balcony. This is followed by shouts from back of the house, the orchestra, and eventually the stage, the point being the guy is highly athletic, as well as unpredictable.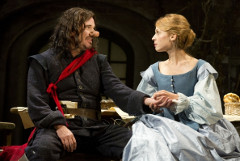 L-R: Cyrano de Bergerac (Douglas Hodge) and Roxane (Clémence Poésy). Photo by Joan Marcus.
Though Hodge who won a Tony in 2010 playing a cross-dressing night club performer in "La Cage aux Folles" – does have a few reflective moments – there is one nice scene when Cyrano bemoans the fact to his friend Le Bret (Max Baker) that Roxane (nicely played by French actress Clémence Poésy) cannot get past his nose to see his love for her – for the most part the production, with an updated translation by Ranjit Bolt, seems to be directed in shock and awe style, by London director Jamie Lloyd. It is as if nobody trusted the original script to carry the evening. What is most lost in the cacophony of voices and the play's bombastic action is Rostand's words, the actual poetry of the play. The one actor, whose classical style of acting differs from all the rest – and it does appear to fit the play like a glove – is Patrick Page, the original Green Goblin in "Spider-Man: Turn Off the Dark." Page plays the villainous aristocrat Comte de Guiche. His bad deed, which turns Roxane into a widow, is sending her newly wedded husband Christian (Kyle Soller) into battle.
The most moving scene in the play which makes you forget all that came before, and how could it not be, is the last scene in which a dying Cyrano visits Roxanne in the convent where she lives. Finally, it is revealed to Roxane that all of the letters that Christian wrote to her during the war, as well as his declarations of love under the balcony years past, came from the hand Cyrano, which leads to Roxane to profess her love for Cyrano. Brave to the end, Cyrano, with great difficulty in standing, draws his sword and rises to meet Death head on. "It comes. Even now my feet have turned to stone. My hands are gloved with lead! But since Death comes, I meet him still afoot." Remembering Mark Rylance's last 15 Tony winning minutes in Jerusalem which had him rolling around on the floor, Hodge is sure to garner a Tony nomination. However, it is Tracy Letts' astonishing performance as George, Martha's husband, in Who's Afraid of Virginia Woolf, that will take it home.