pool (no water)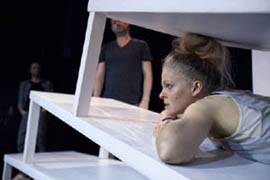 Estelle Bajou in "pool (no water)."

Written by Mark Ravenhill
Directed by Ianthe Demos
Performed by Estelle Bajou, Christopher Baker, Nick Flint,
Christina Bennett Lind, Richard Saudek
Choreographed by Natalie Lomonte
9th Space, 150 First Avenue, New York, New York 10003
May 9-26, Schedule: Wednesday – Saturday at 7:30pm;
Saturdays, Sundays at 2:30 pm. There will be an additional performance on Tuesday, May 22 at 7:30pm.
Tickets are $25 and can be arranged through www.9thspace.org or by calling 212.352.3101. For more information, please visit www.oneyearlease.org.
Reviewed by Edward Rubin, Friday, May 11, 2012
It's not enough that I succeed my best friend must fail — La Rochefoucauld
Whenever a friend succeeds, a little something in me dies — Gore Vidal

One thing you can definitely say about the eye and ear catching titles of British playwright Mark Ravenhill's plays, like the language his characters speak, is that they are lean, mean, and always to the point. And sometimes, like his London hit play Shopping and Fucking (1996) which the New York Times reviewed under the title Shopping and ****ing when it opened at the New York Theatre Workshop in 1998, unprintable. The homoerotic play, which had successful runs in Los Angeles, Atlanta and Austin, Texas, to name a few, depicted the wasteful lives of young adults addicted to heroin, sex, money, and abusive relationships, while foul language and simulated sex dotted the stage.
Ravenhill returned to our shores in 2010 with A Life in Three Acts at St Anne's Warehouse in Brooklyn, which he directed and co-wrote with its star, London based actor Bette Bourne. The evening, a light affair doused with sentiment and much nostalgia – particular attention is paid to Bourne's early coming out gay years – was a Q & A event which featured Bourne – with Ravenhill sitting on the stage and asking questions – retracing his seventy some odd years of theatrical living with witty and touching stories, songs, photographs, and consummate showman that he is, a few vaudevillian dance steps.
In his latest venture, Ravenhill returns to New York City, thanks to the One Year Lease Theatre Company at the 9th Space, with pool (no water), first seen at the Lyric Hammersmith Theatre in London in 2006. Forgoing the life of druggies and homosexual acts – though we do get a whiff of both – the playwright turns his sights on a group of six artists, three men and two women who are still struggling to make it, and one lucky lady who has acquired fame, fortune, and the much talked about pool in the play's title. Though never seen on stage or called by any name other than cunt, as strange as it sounds, Miss Pool (my words) is the star of the play, as all actions taken, as well as words delivered, both for and against, are done so with her in mind.
In ways the play, written as if coming out of the mouth of one person, seems less a play, and more a cleverly directed (Ianthe Demos) and beautifully choreographed (Naralie Lomonte), story-telling dance piece. This said, I can see, with the right actress or actor, (the latter with some minor male oriented tweaking) who can bring the bone-chilling words alive, a whole new life for the play, not to mention scads of theatre nominations and awards (acting, playwrighting, and direction) in the offing. In the right and able hands – Hello Pedro Almodovar and Julian Schnabel – it might even make a good movie.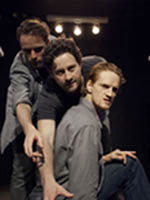 Richard Sandek, Nick Flint, Christopher Baker in "pool (no water)."
For this production the director has broken up what could have been a monologue into separate lines and distributed them somewhat equally among the 5 young and athletic actors – Estelle Bajou, Christopher Bakes, Nick Flint, Christina Bennett Lind, Richard Saudek – all of who traverse the stage, in their best Pilobolus fashion, carting James Hunting's set, a long narrow tables, one for each, which serve quite nicely as a chair, a bed, and various meeting places. Outwardly, the linearly recited story is simple. Inwardly, the verbalized thoughts of each self-torturing character, one minute infused with love compassion towards 'Miss Pool', the next filled with malice – is anything but.
The play unfolds with the 5 actors singing paeans, with a tinge of subtle doubt creeping in, to their beloved Miss Pool. "A pool, she had a pool... Did she mean to impress? Was it for show? No. I can't think. No. Because she's..."She's good. She's nice. She has integrity…she hasn't forgotten us…she comes to our exhibitions. Cramped little exhibitions in lofts in the bohemian quarter. Our photos, our objets trouvés, she comes, she sees, she sometimes buys. And she'll help our fund-raising drives…We adore her. We adore her. We all absolutely adore her." As the play progresses, feelings of jealously wash over the struggling, yet to make it, artists as their feelings flip flop back and forth – taking us with them which is the psychological electricity of the play – from love to a hate, the latter usually tinged with feelings of guilt.

One moment, criticizing her success, they chant "Because none of us was meant to be wealthy, none of us was meant to be recognized, none of us was meant to fly. We're the Group. And there's balance. And you took away the balance. One of us goes up, then one of us goes down. It's a natural law. Don't you understand the most basic natural law? Well of course you do - understood it and ignored it - on purpose." The next, when visiting her at her pool boy, personal trainer, cook, and housekeeper, palm tree laden estate they temporarily recant... "And we look at her and we see … Yes, really you're just a person. A person like us. And – why did we feel those terrible things all these years? Oh, it feels good to have let them go. And we notice how graceful her movements are and how beautiful her laugh sounds and we actually rather adore the way she's not so present – so pushing herself at you – so there as other people are."
Things take a turn for the worse when Miss Pool rounds up the crew for a midnight-dark skinny dipping party. Failing to realize that the pool boy drained the pool of its water, she ends up broken and mangled at the bottom of the pool. Thus begins the intricate story which involves clandestine photos taken by the artists as she lay unconscious in the hospital – they have a future exhibition in mind – drug-fueled days and nights at her estate, and a couple of sexual encounters with the pool boy (or is it the personal trainer), as they, not too patiently, wait for her to recover. And recover she does. The scenes leading up to the ending, which I won't tell you here, are surprising, and mean, mean, mean. Suffice to say, everybody gets their comeuppance. As for Miss Pool, she is a survivor and no doubt will go on to even greater success, while the others will spend the rest of their lives lamenting their failure.