ED RUBIN
Busby Berkeley Meets Las Vegas On Broadway
"Priscilla, Queen of the Desert"
"Priscilla, Queen of the Desert"
Book by Stephan Elliot & Allan Scott
Director Simon Phillips
Choreography Ross Coleman
Musical supervision, orchestration, arrangements Stephen "Spud" Murphy
The Palace Theatre
1564 Broadway at 47th Street
New York City
Ticketing: At Box Office/Ticketmaster at 877-250-2929 Opened: Sunday, March 20, 2011
Reviewed by Edward Rubin, Tuesday, May 3, 2011

Broadway's Priscilla, Queen of the Desert, funny, touching, and over the top in its inventiveness, to use a lyric from A Chorus Line song, is "One Long Singular Sensation," one that almost had the audience, the night I attended, dancing in the aisles. In fact, one highly energetic young lady, obviously electrified by the highly amplified disco music, did just that. Well, almost. She stood up in her seat, wiggled her body and wildly waved her arms until the man behind her yelled for her to sit down. So wrapped up in "It's Raining Men", the musical's opening number, it took several shout outs for her to get the message. Even seated, like others in the audience – me for instance – she continued to twist and sway throughout each musical number during the shows two and a half frenzied hours.

Adapted from the 1994 movie The Adventures off Priscilla, Queen of the Desert, Priscilla has been making the rounds since it first opened in Sydney, Australia in 2006. From there it moved to New Zealand in 2008, and then on to the West End of London in 2009, where it is still playing. The current Priscilla comes direct from Toronto's Princess of Wales Theatre where I first saw it last year during its pre-Broadway tryout. Though modifications have been made to the Broadway production – some of the play's more raunchy language seems to have been declawed, and the role of Tick, the butchest of the three drag queens, has been strengthened, with its original cast still intact, it is a near carbon copy of the Toronto production.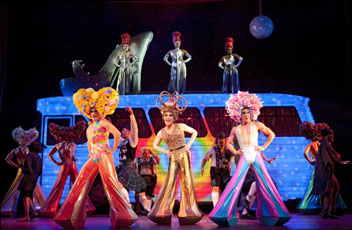 Priscilla Will, Tony & Nick. Photo by Joan Marcus.
The story of Priscilla is simple, three drag queens, each one searching for love, acceptance, and a new life, decide to take their drag act to a casino in Alice Springs, a small town in the middle of the Australian outback. Boarding a rickety old bus named Priscilla that frantically revolves and lights up with colors to match each scene, the road-tripping trio, with little more than hope, and a ton of over the top costumes, which snap, crackle, pop, and glitter, love, fight, confess and bond, and of course perform their act, at the drop of a feathered boa, at every little dinky town they pass. Joining in on the fun and games, with both good and bad intentions, are the various town folk that they meet along the way. Some welcome the trio with open arms. Still others, not appreciating what one character called an "invasion of queers" resort to violence.
The instigator of this trip to Alice Springs, where the trio is booked to perform their cabaret act, is Tick (Will Swenson). He has a secret. Once married, his ex-wife and a six year old son who he hasn't seen in years are waiting for him at the end of the journey. The bedrock of the play, supplying both warmth and wisdom, is Bernadette (Tony Sheldon), an aging transsexual performer. Recently left a widow by a 25 year old boy toy named Trumpet who died from inhalation of fumes while bleaching his hair, Bernadette, eager to get on with her life, reluctantly agrees, with much arm pulling on Tick's part, to come out of retirement. Rounding out the threesome is the young, wild, and always hot in the pants, Madonna fixated, Felicia (Nick Adams).
Priscilla Will, Tony & Nick. Photo by Joan Marcus.
Being a road trip, each outback town that Priscilla takes the trio to offers its own rewards and punishments. Some towns filled with macho miners are outright hostile to the trio. The ever flirtatious Felicia, out on the prowl in full a drag, after being exposed by a man who snatches the wig from his head, is beaten up by the locals. Saving his arse, so to speak, is the always surprising Bernadette. She kicks the guy in the balls, delivers one of her withering put down speeches, and whisks Felicia back to the bus. Other towns, more welcoming, albeit a bit hesitantly at first, end up joining them in song and dance. Actually, every town is an excuse for another fantastic, highly costumed Las Vegas meets Busby Berkeley musical number.
Along the way Priscilla breaks down. Saving the moment is Bob (C. David Johnson) a self-confessed, straight man who eventually joining the caravan as its chief mechanic becomes Bernadette's not so secret love interest. One of the funniest characters in the play is Bob's frenetically jabberwocky talking wife Cynthia (J. Elaine Marcos) who insists on stripping every time she goes out to the local bar. Breaking loose one night, literally pushing the three divas off the stage, much to the surprise of Bob who ordered her to stay home, Cynthia ends up at the local bar. Her resulting, show stopping act, played out to a room full of horny men, involves shooting ping pong balls from out of her you know what.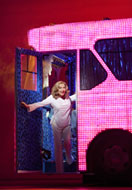 Tony Sheldon as Bernadette. Photo by Joan Marcus.
The three lead divas – sometimes lip-syncing, sometimes using their own voices, all wonderful in their parts, if you think of it, represent the three ages of man, young, middle-age, and older, and each act appropriately so. Nick, though admittedly gay, in his masculine handsome looks, and the fact that he was once married and has a child, gives the audience, a conundrum to contemplate. Is he or isn't he? Deeply in mourning, Bernadette who begins the play standing next to the coffin of her dearly departed Trumpet, a good pun at that, is the true heart of the story. Underneath her vulnerability is a great strength. We know that she will triumph. We also cherish her zinger-flinging, killer tongue.
In one scene, the audience rollicks in their seats as Bernadette tells a short, stout, mannish looking woman who is trying to stir up trouble (the fabulous Keala Settle who plays many different characters in the play) to "stuff a tampon up her tuch (short for tokhes, which is behind in Yiddish) and light it, as this is the only bang you will get in this life." In the Toronto production, obviously not worried about church-going Midwestern tourists, Bernadette uses the word twat instead of tuch. The young and restless of the trio is Felicia. Beautifully chiseled, finely muscled, impetuous to a fault, and highly acrobatic, his, unexpected splits brought gasps from the audience. His role, well, sort of, is to play younger brother to Nick, and son to Bernadette, the one she never had.
Nick Adams as Felicia. Photo by Joan Marcus.
Being a Feel Good Musical, at journeys end, everybody having gone through yet another life-change, gets to walk away a happier person. Nick reconnects with his son. Felicia, a "cock in a frock" as he calls himself, gets to perform his life-long dream, singing a Madonna medley on top of a mountain. Bernadette and Bob appear to have found love, and the audience is showered with silver confetti, a fitting finale to a festive fun-filled show.

Mixed reviews aside – the Broadway production did get roundly trashed by the New York Times – Priscilla has been nominated for a slew of theatrical awards in such categories as Best Musical, Best Book, Best Actor in a Musical (Tony Sheldon, Will Swenson), Best Dancer (Nick Adams), Best Choreography (Ross Coleman) and Best Costume Design (Tim Chappel & Lizzy Gardiner) by the Tony, Drama Desk, Outer Critics Circle, Drama League, and Fred Astaire Award, organizations. As always, it will be interesting to see who wins what.


Edward Rubin, can be contacted at erubin5000@aol.com