ED RUBIN
"Priscilla, Queen of the Desert" -- The Musical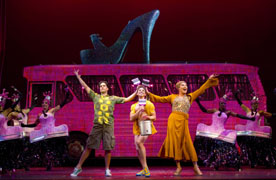 PRISCILLA, QUEEN OF THE DESERT -- (l-r) Will Swenson, Nick Adams, Tony Sheldon and the cast of the Broadway-bound musical, now playing Toronto's Princess of Wales Theatre through January 2, 2011. Broadway previews begin February 28 at The Palace Theatre for a March 20 opening. Photo: Joan Marcus.
"Priscilla, Queen of the Desert"
Book by Stephan Elliot & Allan Scott
Director Simon Phillips
Choreography Ross Coleman
Princess of Wales Theatre
300 King Street
Toronto, Canada
Ticketing: 416-872-1212. Online sales www.mirvish.com
Opened October 26, 2010
Reviewed by Edward Rubin, Wednesday, November 24, 2010
"Priscilla, Queen of the Desert," currently wowing audiences at the Princess of Wales Theatre in Toronto before it moves to Broadway this spring, is a grand and gloriously eye-popping musical extravaganza with more than a dollop of sentimentality. It is also just about the gayest theatrical production cum Las Vegas nightclub act to tread the boards of mainstream theatredom. From its countless show-stopping, gay anthem-filled musical numbers, both sung and lip-synched – It's Raining Men opens the show – to Tim Chappel's and Lizzy Gardiner's over the top Lady Gaga lookalike costumes, Brian Thomson's fantabulous multilayered sets, scantily clad muscle boys, drag queens, and gay-tinged, smut-laden zingers delivered at breakneck speed by its three starring divas, it makes "La Cage aux Folles" seem like a Episcopalian wake. Add a score of flamboyant singing and dancing backups and you know why Bette Midler, a wild and risqué performer herself, signed on as lead producer.
How "Priscilla" which originated in Australia, opened in New Zealand, and is currently playing at the Palace in London's West End, will be received by New York theatre critics who are relatively conservative, slightly jaded, and picayune to the nth degree, especially when it comes to plays coming from other shores, remains to be seen. Then there are the tourists. With no over the marquee names – What no Nathan Lane or Harvey Fierstein – a heady spate of queerness in your face, and some $125 a pop for the very best seats, will Priscilla be welcomed with open arms or will the seats, after New York's aging disco queens' finish flocking to see it, remain mostly empty? Another question. Will the producers temper the final product for Iowa tastes or will it remain a highly jeweled version of a Cherry Grove, Fire Island affair. I can't help remembering "Taboo," another highly costumed, wonder-filled gay in your face play brought in from London by Rosie O'Donnell. The critics sent it to hell and Rosie lost ten million dollars.
Still, here's hoping that Priscilla, joyously directed to a fare three well by Simon Phillips, the Artistic Director of the Melbourne Theatre Company, lives a long and long and healthy life.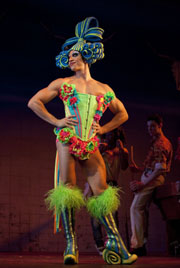 Nick Adams in "Priscilla, Queen of the Desert The Musical," now playing Toronto's Princess of Wales Theatre through January 2, 2011. Broadway previews begin February 28 at The Palace Theatre for a March 20 opening. Photo: Joan Marcus.
The story, based on the road-trip film "The Adventures off Priscilla, Queen of the Desert" (1994), unlike it accoutrements, is simple and straight forward. Three diva drags, each one in search of finding their true self, are crossing the continent of Australia on a rickety, light show of a bus, named Priscilla – a lead character herself – who changes its color, mood and position, with each new Outback town that they pass through. The instigator of this trip to Alice Springs, a city in the middle of nowhere, where the trio is booked to perform their cabaret act, is the very handsome and butch when not in drag, Tick (Will Swenson). He has a secret. Once married, his ex-wife and a six year old son who he hasn't seen in years are waiting for him at the end of the journey.
The bedrock of the play, supplying both warmth and wisdom, is Bernadette (Tony Sheldon), an aging transsexual performer. Recently left a widow by a 25 year old boy toy named Trumpet who had an accident while bleaching his hair no less, Bernadette, eager to get on with her life, reluctantly agrees, with much arm pulling on Tick's part, to come out of retirement. Rounding out the threesome is the young, wild, and always hot in the pants, Madonna fixated, Felicia (Nick Adams).
Being a road trip, each Outback town that Priscilla takes the trio to offers its own rewards and punishments. Some macho towns filled with miners are outright hostile to all the queerness. The ever flirtatious Felicia, out on the prowl, is beaten up by the locals. Other towns, albeit a bit hesitantly at first, end up joining them in song and dance. Actually, every town is an excuse for another fantastic musical number. Along the way Priscilla breaks down. Saving the moment is Bob (C. David Johnson) a self-confessed, married straight who eventually joins the bus tour as its chief mechanic and Bernadette's not so secret love interest. One of the funniest characters in the play is Bob's frenetically fast talking wife Cynthia (J. Elaine Marcos). Kept close to home by Bob since she insists on stripping every time they go out, roused by the appearance of the three divas, Cynthia manages to break lose. Her resulting, show stopping act, played to a room full of horny men at the local bar, involves shooting ping pong balls from out of her you know what.
The three lead singing and dancing divas, all wonderful in their parts, if you think of it, represent the three ages of man, young, mid-age, and older, and each act appropriately so. Nick, though admittedly gay, in his masculine handsome looks, and the fact that he was once married and has a child, gives the audience a conundrum to contemplate. Is he or isn't he. Bernadette, who begins the play in mourning for her Trumpet (a good pun at that), is the true heart of the story. Underneath her vulnerability is a great strength. We know that she will triumph. We also cherish her killer tongue. The audience rollicks in their seats as Bernadette tells one short, stout, mannish looking woman who is trying to stir up trouble to "stuff a tampon up her twat and light it as this is the only bang you will get in this life." As far as youth, well, it belongs to the impetuous Felicia. Beautifully chiseled, finely muscled, and highly acrobatic – his unexpected splits brought gasps from the audience – and impetuous to a fault. His role, well, sort of, is to play younger brother to Nick, and son, the one she never had, to Bernadette.
Being a Feel Good Musical, at journeys end, everybody having gone through yet another life-change, gets to walk away a happier person. Nick reconnects with his son, Felicia gets to perform a Madonna Melody, Bernadette and Bob appear to have found love, and the audience is showered with confetti, a fitting finale to a festive fun-filled show.