| go to index of reviews | go to entry page | | go to other departments |

ED RUBIN
"A Little Sondheim Class"
"Sondheim on Sondheim"
Music and Lyrics by Stephen Sondheim
Conceived and Directed by James Lapine
Roundabout Theatre Company at Studio 54
254 West 54th Street
New York, New York
March 19 – Closes June 13, 2010
Reviewed by Edward Rubin, Thursday, April 17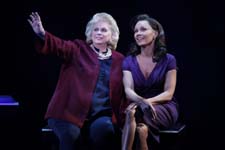 Barbara Cook and Vanessa Williams in Roundabout Theatre Company's "Sondheim on Sondheim". Photo by Richard Termine.
"He's a great professor of life. His students are all of us, both the performers and the audience. I think that Stephen and Shakespeare are the two greatest teachers of the human condition that I've ever experienced." – Mandy Patinkin.
There is no doubt that lyricist and composer Stephen Sondheim, an acquired and rarified taste – not unlike that of Phillip Glass, Gilbert & Sullivan and raw oysters with champagne - is both a genius and a national treasure. This alone is more than enough to justify Roundabout Theatre Company's current production of "Sondheim on Sondheim." Add to this that Sondheim just happens to be celebrating his eightieth birthday and you have a third reason – and three is a charm - to bring a survey of his work to the stage. Unless it is extended, three is also the number of months that "Sondheim on Sondheim" will be up and running at Studio 54.
Unfortunately the production, despite its all too earnest and eager to please cast, and its digitalized video snippets of the author discussing his life – the most enjoyable part of the concert's 2 hours and forty minutes – is not all that interesting in either the songs chosen, the singers selected to sing them, or the continually twisting and turning ramshackle set which smacks of a TV quiz show set. Even the highly touted octogenarian Barbara Cook, the main draw of the show, was sorely misused. While she touched our hearts with songs from "Sondheim's Passion" (1994), and "In Buddy's Eyes from Follies" (1970), clearly half the songs she sings are wincingly age and or voice inappropriate.
(l-r seated) Tom Wopat, Matthew Scott, Barbara Cook, Norm Lewis. (l-r standing) Vanessa Williams, Erin Mackey, Euan Morton and Leslie Kritzer in Roundabout Theatre Company's "Sondheim on Sondheim". Photo by Richard Termine.
On the upside, and yes, there were a few of these moments, Vanessa Williams, looking and sounding more beautiful than ever, was a complete surprise. Sleek and sexy, a la Eartha Kit who she seemed to be channeling ever so slightly, Williams playing the vamp, sang "Ah, But Underneath," a song that was added to the "London revival of Follies" (1987). Like the lyrics say, Williams "was smart, tart, dry as a martini but underneath she was all heart, something by Puccini. She was chic, sleek, anything in fashion. That was just a shell. Take a close peek and you could see the passion." Another show stopper was the underused Norm Lewis singing "Being Alive" from Company (1970). It was a knockout performance that just about stole the entire show, which means look for him in another Broadway play very soon.
The most revealing Sondheim video snippet, a surprising one at that given the mostly homogenized biographical script, was Sondheim pouring himself a healthy amount of vodka as he walked to his piano. It seems, so he confesses that vodka loosens up his mind when writing, which brings to mind Sondheim's wonderful song from Company (1970) - sadly missing from this concert - Ladies Who Lunch. But who, other than Elaine Stritch, can knock it out of the ballpark. The rest of the cast, the so called lesser known choristers, Leslie Kritzer, Erin Mackey, Euan Morton, Matthew Scott and Tom Wopat, though singing throughout in various couplings and various degrees of effectiveness, served primarily as gift wrapping for Cook and Williams. The concert ended, as one would expect, with Cook, singing Sondheim's most popular and widely recorded song, "Send in the Clowns" from A Little Night Music (1973).