Monstrous Dynasty


"The Soongs: By Dreams Betrayed"
Hong Kong Repertory Theatre at the Hong Kong Cultural Centre Grand Theatre
Ran January 4-8, 2014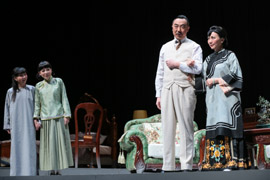 "The Soongs: by Dreams Betrayed" by Joanna Chan at Hong Kong Rep. Photo: Cheung Chi Wai Keith Sin@Hiro Graphics.
Aeschylus had the house of Atreus. Shakespeare had the house of Lancaster. Playwright Joanna Chan's terrain is the house of Soong.
For Americans unfamiliar with these legendary twentieth-century Chinese power mongers, maybe the names Sun Yat-sen and Chiang Kai-shek will ring a bell. A Soong sister was married to each, and these women functioned as far more than presidential window dressing. Both were in there slugging politically, one a leftist and the other happy to support her husband's nascent fascist leanings. Both Sun and Chiang were also abetted by the Soong sisters' Harvard-educated brother T.V., who was singularly adept at economic legerdemain. In the end, of course, the White House stopped taking Mme. Chiang Kai-shek's phone calls; communism won out; and two generations of what Chan calls the family's dreams toppled.
The play, which ran in New York in the early 1990s, in the recent Hong Kong Repertory Theatre production clocked in at more than three hours. Chan, who is bilingual, directed both productions. The current incarnation was presented at the Hong Kong Cultural Centre, a large, modern complex of the polished wood and grand staircase sort. No expense seems to have been spared.
The piece was a challenge on all fronts. Supertitles in English and Chinese (written Chinese is shared across the nation but spoken dialects are pronounced like separate languages) were a clear indication that many in the audience would need help. The play is wordy, the intrigue full of twists and turns, and the length of a supertitle often did not match the length of time it took to speak the line. I.e., some short titles remained on the screen a long time and some very lengthy ones whizzed by. Blink and you could miss a crucial point. For anyone unfamiliar with the family saga (I confess), keeping up was work.
There was, however, much to see besides the projected words. The visual world and staging were rich, often planting a private scene against a huge black and white photographic backdrop of everyday—and decidedly downtrodden looking—Chinese citizens. Designers Ricky Chan (sets) and Billy Chan (lighting) would subtly increase or decrease the presence of the ordinary behind the privileged to turn up the heat behind a debate. Director Chan used the ensemble to frame each of the three acts, with the sixteen agile players as the discontent but ultimately impossible to ignore Chinese masses.
The first act depicts the Soongs' rise, as the ambitious patriarch, Charlie (Ko Hon Man) sends his daughters to the United States to be educated. He himself stowed away to America as a child laborer and was educated by Methodist missionaries. The expectation was that he would return to China and spread Christianity. A kind of internal struggle between missionary ideals and the power accompanying shady means of making money occasionally rears its head, but mostly money wins out. There is the obligatory moment of Charlie asking his shocked wife, who wants all those rude politicos out of her house, just exactly where she imagines her high class life comes from.
The second act is largely about the rise of Chiang Kai-shek—an able soldier and a social boor—with the help of his wife, May-ling Soong. Chiang was played straightforwardly by Sun Wai Keung as a kind of meat and potatoes leader with no graces and no understanding of why these might be necessary. For that he had his beautiful, sophisticated, American-educated wife, played with a mixture of elegance and imperious selfishness by Michelle Ye. (Sidebar: both Ye and the real Mme. Chiang graduated from Wellesley.)
The final act shows the family (and their respective dreams, obviously) falling apart. The iron-willed May-ling parts ways with Ching-ling (Poon Pik Wan), the widow of Sun Yat-sen and destined to finish her life highly placed in the Chinese Communist Party, being named honorary president of the People's Republic of China shortly before her death.
While overall I found the hysteria and self-justification cranked up too high, the piece more than passes the now popular Bechdel test (named for graphic novelist Alison Bechdel), whose criteria are the presence of scenes with two or more named women and these talking about something other than men. Well, the Soong women do talk about men in this play, but hardly as love interests. These siblings were political powers in their own right and they deserve this play of their own. Whether or not they deserved to exercise their hubris on the backs of others is a different question.