Dorothy Chansky
Spysurround

"Spy Garbo"
Affinity Company Theater at 3LD Art & Technology Center
80 Greenwich Street, New York, NY
Written by Sheila Schwartz
Directed by Kevin Cunningham
March 1-April 10, 2011
Tickets: $30 Regular/$40 Reserved
(212) 352-3101 or www.ovationtix.com
Review by Dorothy Chansky
You could be forgiven for thinking that a show with the title "Spy Garbo" was about movies or stardom. Sheila Schwartz's play instead resuscitates three historic European figures whose reputations were made and broken in the mid twentieth-century battle between communism and fascism.
Still, the show business connection is not entirely wrong. Schwartz's conceit is that the three are auditioning for History, in the hope of going in villains and coming out leading men. That they do not entirely fail is a testament to the astounding research—both textual and visual—that Schwartz brings to the table. There's stuff that is not commonly known and that prompts reconsidering what we think we do know. The piece is a multi-media argument whose documentation includes archival film and photographs and some holographic ghosts from the characters' memories. Evidence comes in many forms.
Steven Rattazzi (Francisco Franco), Steven Hauck (Wilhelm Canaris), and Chad Hoeppner (Kim Philby). Photo by Jim Baldassare.
Francisco Franco (played by Steven Rattazzi), Kim Philby (Chad Hoeppner), and the perhaps less well known Wilhelm Canaris (Hitler's military intelligence chief, played here by Steven Hauck) convene in the afterlife in a kind of über library, hoping to find the documents that will revise their reputations. Each sees himself as a good guy who saved his country from communism (Franco), fought against Nazism (Canaris, who was a double agent), or just deserved his glamour status because he was clever, handsome, and elusive (Philby, who defected to the USSR in 1963 and escaped punishment for betraying his native England). The eponymous character, who never appears, was an actual double agent whose fifty volumes of files reveal his top-secret exploits with Schwartz's trio. Apparently, the three (anti)-heroes think something was left out of the official story. Or that it's gone missing in the files.
Steven Rattazzi (Francisco Franco), Chad Hoeppner (Kim Philby), and Steven Hauck (Wilhelm Canaris). Photo by Jim Baldassare.
This is historiographic metadrama in mixed modes. Yes, a mouthful. Historiography considers just how history is concocted, knowing full well that the past (what happened) and history (the story that gets encoded) are not the same. What makes it into the public record is what is at stake here, but the piece is meta because it calls into question not only the role of the historian, and how we know what we think to be true, but the veracity of personal testimony and the impossibility of ever getting all of it right. The tricky status of visual evidence is also on trial. Films are manipulated and constructed. So, for that matter, are photos. And let's not leave out memory. It, too, while claiming to represent "truth" is subjective and subject at the very least to neuron circuitry for which there is no reliable IT number to call 24/7.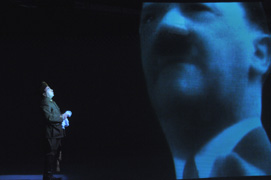 Steven Rattazzi (Francisco Franco). Photo by Jim Baldassare.
This being a 3LD production, the film, stills, and holograms are meant to be more than background. The wife Canaris froze out, although he still loved her, materializes in eerie three dimensionality to haunt him. Franco parses a meeting with Hitler, zooming in on a closeup of the latter's face, with a tiny Franco in the margins of the photo. As Hitler bloviates, his mouth in the photo moves; the mouth stops when Franco glosses the public pronouncements with his own view of what happened in the encounter.
The screens on which everything is projected—from Greta Garbo to theatre curtains and library stacks—is a U-shaped surround on the front three walls of the performance space. Spectators are engulfed by images, and I think we are meant to be inside the heads of the disgruntled three, all of whom loved movies and all of whom are obsessed with the photos and newsreels that (mis)represented them to a waiting world.
Steven Hauck (Wilhelm Canaris). Photo by Jim Baldassare.
Nifty though this sounds, it has its drawbacks. Foremost, all the technology in the world can't make up for lousy sightlines. A flat floor with no elevation for the live performers nor any raking in the audience seating meant that for me, at least, a man of average height in the row ahead of me prevented my seeing any actors positioned center stage. Since much of the show was blocked to be stand-and-deliver (the director is Kevin Cunningham), this meant listening to—rather than seeing—performers for a good third of the evening. Once upon a time in the seventeenth century, raked stages and/or audience seating were the latest in theatre technology. It was a good innovation.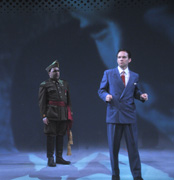 Steven Rattazzi (Francisco Franco)
and Chad Hoeppner (Kim Philby). Photo by Jim Baldassare.
Equally serious is how the actors are dwarfed not only by the sheer size of the projections, but by the weird way in which their voices are miked and how their acting verges on the automatized. Rattazzi's Franco foregrounds the dictator's high voice and awkwardness as a speaker, but his routine barking and whining do little to generate interest. Hauck's Canaris is pure icy Teuton—tall, unsmiling, unyielding, unsurprising. Chad Hoeppner's Philby is at least fun to watch as he sips incessantly from a hip flask, flaunting his charm and wielding a flip sarcasm that would make him an obvious winner (remember, this is an audition for History) except for what he know about his betrayal of Churchill et al. to Stalin.

Buried in all of the video (Aaron Harrow, Jeff Morey, Peter Norrman), sound manipulation (Marcelo Anez), and sometimes overly obvious lighting (Laura Mrockzkowki) is a script that deserves better. These anti-heroes are brainy, agenda-driven, scary, petulant, and even funny. Also, being dead, they have the benefit of total hindsight. Schwartz's script invites overlap, competition, and shifting alliances (Canaris and Franco love to gang up on Philby) all in the supposed interest of exoneration and "accuracy." What the archival material—as well as the invented holograms—illustrate, after all, is what's at stake, and that would be the historical record, not the projections for the sake of projecting.