Dorothy Chansky
Saints Alive!
Heidi Schreck's "Creature"
Directed by Leigh Silverman
Presented by Page 73 Productions and New Georges
The Ohio Theatre, 66 Wooster Street (between Spring and Broome Streets)
Closed November 21, 2009
by Dorothy Chansky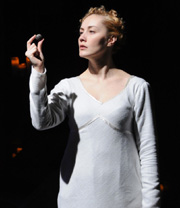 Sofia Jean Gomez. Photo by Jim Baldassare.
"Creature," Heidi Schreck's new play, both portrays and riffs on the life of Margery Kempe, a brewer's wife who decided, in 1401, to pursue sainthood as a career. The rock star avant la lettre (played by the protean Sofia Jean Gomez) proceeded to fast, rant, make pilgrimages, and—significantly—assure that her story got told her way for posterity via a detailed and sometimes self-contradictory autobiography.
In Schreck's telling, Margery's vision of Christ in purple robes materializes during the raging puerperal fever that sets in following the birth of her first child. She also encounters the devil, who gives her a preview of hell as he opens wide and says "ah," inviting her to see an eternity of brimstone inside his gaping maw. No middle ground for her.
Jeremy Shamos and Sofia Jean Gomez. Photo by Jim Baldassare.
Margery seeks guidance from Father Thomas (Jeremy Shamos), a priest who once had visions of his own. She also visits Juliana of Norwich (Marylouise Burke), an ascetic who withdrew from the world some thirty years earlier and now writes tracts and holds court.
Under Leigh Silverman's sure handed direction, this superbly paced production delivered a world where the daffy and the divine regularly collide. Witchcraft, superstition, and the outlaw status of Christians who wanted to read the Bible in English (they were called Lollards) are from a bygone mindset. But Schreck's language is largely contemporary and quite casual, and the performances careened credibly from impassioned to terrified to contrite, all laced with healthy dollops of goofiness.
MaryLousie Burke and Sofia Jean Gomez. Photo by Jim Baldassare.
Darren Goldstein and Sofia Jean Gomez. Photo by Jim Baldassare.
Gomez's Margery was a lusty sprite who bites hypocritical priests and flounces around in a gaudy robe until she decides to abjure sex with her husband (the quick-tongued and earthy Darren Goldstein) and insists on wearing white—a no-no for married women. Marylouise Burke was a dithering compendium of wisdom and whining spiked with equal parts of motherliness and ego. (Juliana autographs a copy of her book for Margery, but Burke's inscription went on long enough for us to get that she, too, recognized the importance of self-promotion for any saint worth her future-minded salt.) Burke also doubled as a hazelnut. God's creatures take many forms.
One of the pleasures of this production was the mesh of design elements that conjured a damp, dark world and also allowed for a cinematic flow. The environment was defined by a few sturdy beams, a freestanding door, a table, and a few stools, all made of dark wood and all reminders of a time when fires (a defining event in the play) could raze entire towns in short order. Matt Frey's lighting rendered a series of interiors in which bright white was not an option. Banks of candles pulled us into a golden but flickering realm where security could be snuffed out in an instant and where the best illumination still felt shadowy.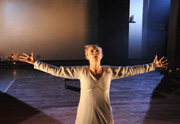 Sofia Jean Gomez. Photo by Jim Baldassare.
"Creature" was a coproduction of the always engaging New Georges and Page 73 Productions. Page 73 produces the work of early-career playwrights who have not yet had a professional New York premiere. Schreck is better known as an Obie-winning actress, currently in "Circle Mirror Transformation" at Playwrights Horizons, but here she has proven herself a double threat.