Dorothy Chansky
She Said, She Said

WorkShop Theater
312 West 36th Street, 4th floor
March 12 – April 4, 2009, Wednesdays – Saturdays @ 8:00 p.m.
Tickets: $18; students and seniors $15
Box office: (212) 352-3101 or www.theatermania.com
Reviewed by Dorothy Chansky
Loyalty breeds strange bedfellows. Just look at the characters in Kathryn Chetkovich's occasionally thought-provoking although too often soapy She Said She Said, receiving a workmanlike premiere at Workshop Theater under the direction of Peter Sylvester. Chetokovich's forty-something yuppies think they are doing the right thing by friends and lovers, yet they end up behaving like a bunch of sneaky creeps. Their behavior takes them by surprise and it is the results of hard-won self discoveries that interest the playwright.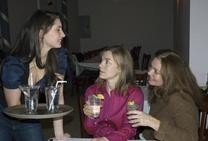 Ashley Anderson, Shelley McPherson and Julianne Carpenter in "She Said, She Said." Photo by Peter Sylvester.
Claire (played by Julianne Carpenter) is an administrator at a women's college in a small city. She becomes engaged to Dan (Tom Berdik) when she learns she is pregnant. She holds off on telling her best girlfriend, Jamie (Shelley McPherson), however, because Jamie has just divorced Dan's brother, Ross (Mark Hofmaier), and says Ross raped her following their son's graduation a few days earlier. Since many of the encounters in the play are fuelled by alcohol and since the characters seems commitment shy, it is soon clear that what passes for confession or confiding is often only partially predicated on truths. Claire develops a loathing for the perennially underemployed Ross, so, when her fiancé asks her to help her brother-in-law to be, she refuses. Her justification (the request is to put in a good word for Ross for a position as head groundskeeper at the college) for demurring is "workplace protocol." After all, groundskeeping is totally outside her professional purview.
The title of the play is meant to focus us on what women say in the name of friendship, and Chetkovich amplifies the realm of chick lit confessional by adding two characters who are on opposite sides of what is supposed to be a second-to-third wave feminist spectrum. The self-righteous Nina (Dee Dee Friedman) runs a battered women's shelter and has no use for men. (The excuse for her presence is that she was a college friend of Jamie and Claire's.) The opportunistic CoCo (Ashley Anderson) is a cocktail waitress who is willing to trade sex for rent but balks at the word prostitute.
Mark Hofmaier and Tom Berdik in "She Said, She Said." Photo by Peter Sylvester
The problem here is not men per se so much as it is selfhood. The ambivalent Claire never really seems to be in love with Dan. Marrying for the first time in her early forties, she comes across as someone relieved to be able to join the herd when she learns she's pregnant. If she manifested so much as an iota of interest in children this might carry weight. As written, it feels like an excuse for the playwright to stage a game of secrets and lies. The man-hater and the waitress are like a pair of Greek choruses but they emerge less as integral components of the main argument than as threads of other stories that are never developed. (Anderson does invest the arch, sexy, and utterly amoral CoCo with a persuasive mixture of warmth and sangfroid.)
The spare production benefits from very clever slides that cover quick scene changes. Designed by Akiz Productions (no individual name appears in the program), these feature images of the plays' characters that either develop from suggestion to specific portrait or, conversely, become covered up, amplifying what is happening in the play itself. Cynthia D. Johnson's costumes define the characters without labeling them. And finally, Julianne Carpenter does, at the end of the performance, move Claire from the realm of the TV-slick into an emotionally deeper place where the irreversible effects of her actions—including electing to marry and go through with her pregnancy—become clear to her. Commitment spells compromise and she has both committed to actions she is only beginning to understand and compromised an integrity that is not recuperable.