Teatro Patologico Explores Meanings of Madness
at LaMaMa and The United Nations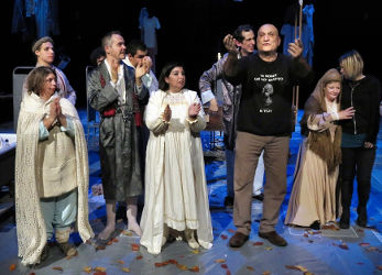 Dario D'Ambrosi and cast of "Follies in Titus" in curtain call at La MaMa.
"Follies in Titus"
December 1 to 9, 2017
La MaMa E.T.C. (Ellen Stewart Theatre), 66 E 4th St., 2 fl.
Presented by La MaMa E.T.C.
Thursday to Saturday at 8PM; Sunday at 4PM
$25 gen. adm.; $20 Students/Seniors + $1 Facility Fee
Ten $10 tickets available to every performance on a first-come, first-served basis (advance sale recommended).
Box office 212-352-3101, www.lamama.org
Reviewed by Caroline O'Connor December 3, 2017.
"Medea"
December 4, 2018 (closed)
United Nations headquarters (ECOSOS Chamber)
Reviewed by Caroline O'Connor December 4, 2017.
Two of Western theater history's most brutal dramas, Shakespeare's "Titus Andronicus" and Euripides' "Medea," plumb the ancient divide between madness and sanity in relation to justice and injustice. Dario D'Ambrosi, creator of the theater movement Teatro Patologico, has brought adaptations of both plays to New York this month. The ensembles of both productions are student-actors of D'Ambrosi's "La Magia de Teatro" (The Magic of Theater) troupe, who otherwise may never have gotten the chance to perform. Why? They are "differently abled," meaning they are people with mental, physical, or developmental impairments including schizophrenia, manic depression, and Down Syndrome.
"Follies in Titus," D'Ambrosi's adaptation of "Titus Andronicus," is presented by La MaMa November 30 through December 9 and is the latest of D'Ambrosi's annual productions there. "Medea" was previously presented by La MaMa and subsequently was presented at Wilton's Music Hall in London, where it won the Wilton Prize in 2012/13 as the best show of the season. It was revived December 4 at the United Nations Headquarters in honor of International Day of Persons with Disabilities. D'Ambrosi has reduced both plays to essentials in an effort to reflect the power struggle at the heart of each narrative. He is a director, actor and former soccer player who recently received the Robert F. Kennedy Human Rights Italia Award for developing a college program in the performing arts for people with mental disabilities. It's named the Integrated Theater of Emotions and it is offered at the University of Rome Tor Vergata.
Those who work with impaired and mentally ill persons are acutely attuned to the issue of true versus feigned reality. In these plays, D'Ambrosi and his ensemble strike at this divide in a way that is unique to their sensibility.
"Follies in Titus" -- Cristiana Saporetti (Tamora) and Andrea Scrimieri (Saturnino).
Both of the productions emphasize the capability of "differently-abled" actors to convey the pathos inherent to their characters. In "Follies in Titus," these include notably Cristiana Saporetti as Tamora, Queen of the Goths, and Paolo Giliberti and Andrea Scrimieri as Titus' pair of headstrong sons, Bassanio and Saturnino. In "Medea," the disabled actors are Euripides' chorus, hauntingly deft at punctuating the emotional arc of the play, from the celebratory atmosphere of Jason's wedding to the murders of his children. "The emotional states, the tempo and rhythm of great actors are indeed very similar to those who live with intellectual disabilities," writes D'Ambrosi. "This experiment is the confirmation that in order to interpret a character and give it a life of its own what truly matters is the emotion that we live and that we evoke in others."
Paolo Vaselli, as Titus, grasps the pill bottle.
Perhaps D'Ambrosi's efforts are most aligned with theorists in the field of disability studies who don't interpret mental, physical, or developmental impairments as disabilities, but as abnormalities, deficiencies, or, in cases of mentally ill persons, enablers of false interpretations of reality. Indeed, D'Ambrosi's thoroughly professional "Titus" adaptation reflects themes central to the original play by employing mechanisms that assist the actors in exploring the battle for psychic and territorial control of their world. Most significant is a pill bottle clung close to Paolo Vaselli's Titus (or "Tito," as he is referred to throughout the play), who transforms from a confined patient to a prescribing doctor in a fantastical, yet simple costume change early in the show. In this retelling of "Titus," it is not domination of Rome that the characters vie for, but that of a psychiatric ward-- specifically, the function of medication administrator.
The script, devised through collaboration with the cast, has Titus' sons, Bassianus and Saturnino, fighting over who gets to control administration of the medicines. Later, Tamora plots with Saturnino for control of this "small world." The medical forum replacing the complex political world of ancient Rome (for which critics often consider Titus' daughter Lavinia a symbolic representation) supports the production's efforts to explore themes of alternating "true and feigned madness." In doing so, it reveals a porous, unstable divide between "sane" and "insane." Take, for instance, an eloquently simple line that bookends first and last moments Titus spends onstage--"am I man who cures, or who needs to be cured?" The audience may be surprised at their newfound, personal investment in that question by the play's end.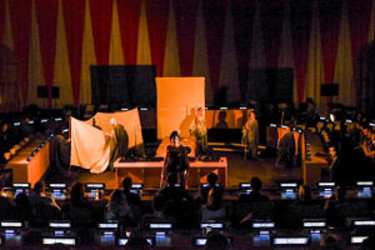 "Medea" in ECOSOS Chamber of United Nations. Photo by Costanza Sciubba Caniglia
True to the original plays, both of D'Ambrosi's productions highlight the futility of feigning madness for the sake of restoring justice, power, and honor. Titus' actions to avenge Lavinia's rape and mutilation are, at their least, pathological, and, at most, psychotic. They are also a strategy for vengeance that could only be conceived through skilled predetermination. Medea is similarly driven to restore honor to her family at a human price in the wake of her husband Jason's desertion, and devises a series of calculated moves that illustrate the full, working facilities of her mind versus any signs of "madness." In D'Ambrosi's retelling, the truly pathological are the celebrated war general and the elite heiress of the Sun god, who can only regain stature through loss, and who incur chaos through their thoroughly able-mindedness. Staging "Medea" at the U.N.'s Economic and Social Affairs Chamber profoundly frames the tragic pursuit of personal and political power within a real theater of global consequence, making for a particularly sobering commentary.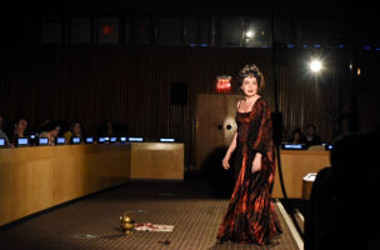 Celeste Moratti as Medea. Photo by Costanza Sciubba Caniglia
The effectiveness of "Medea" as a production, and as a consciousness-raising effort to commemorate International Day of Persons with Disabilities, rests on the power it imbues into its protagonist (played gracefully and devastatingly by Celeste Moratti) as the antithesis to male dominance, and its chorus, made up entirely of students of The Integrated Theatre of Emotions. In Medea's re-imagining of a future, her children are better off facing death than they are facing life in Greece dictated by their father. The virility and legitimacy of male-dominated society is stunted by tragedy, allowing, potentially, for a new social structure. The chorus moves as a unit, particularly in the scene in which they drive Jason mad with grief, not only fulfilling the traditional function of the Greek chorus, but also allowing for the radical possibility of the empowerment of women and other marginalized peoples. However, it is most significant in is its role in fulfilling Teatro Patologico's efforts to restore "dignity to the fool."