FUN WITH CLYMOVE
Clymove Dance 2023 Inaugural Gala + Spring Season
May 26 and 27, 2023
Center for Performance Research, 361 Manhattan Ave., Brooklyn
Reviewed by Barney Yates May 27, 2023
CLYMOVE ensemble. Photo by KASAI NYC.
Choreographer Clymene Aldinger has a playful sense of irony, which we were blessed with at the Spring season of her company, CLYMOVE, May 26 and 27, presented in Williamsburg, Brooklyn at Center for Performance Research, 361 Manhattan Ave. The show, titled "Time Signatures," was an evening of nine contemporary dance pieces, all choreographed by Aldinger, consisting of solos, trios, and quartets performed by the thoroughly enjoyable ensemble of JoVonna Parks, Bridget Cronin, Angelica Mondol Viaña and Roxanne Young. The evening was dedicated to Elisa Monte, Ms. Aldinger's mentor. It recapped everything that has been created by CLYMOVE since its inception in 2021.
As an overview, let me point out that Ms. Aldinger has an attractive company of dancers who are very strong technically. Aldinger was a principal dancer with the esteemed Elisa Monte Dance Company and a protégé of Monte, so unsurprisingly, her touch is postmodern, jazzy and primal.
The evening I saw was abundant in commentary on femaleness, with the dancers role-playing as mothers, sisters, friends and babies. But it wasn't the usual somber stuff. From the beginning I noted how refreshing it was to find a female ensemble with a sense of humor. None of the movement was explicit, so you could make a guessing game about what you were seeing. In all of the seven dances of the first half, before intermission, there was a setup: a prop placed on a small black circular table downstage. If you were lucky, you could deduce each dance's message from that prop plus the title of the dance before you inferred it from the movement which, as I said, was nonrepresentational.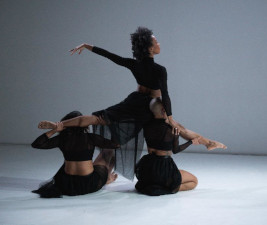 JoVonna Parks. Photo by KASAI NYC.
"Cradle," the first dance, set the dancers wide-leggedly hopping across the stage floor. It seemed frog-legged to me and I thought it would be suitable to a production of Aristophanes' "The Frogs." My wife found it evocative of sumo wrestlers. It would probably be more on target to see it as babies learning to walk, or girls in a playground, or siblings in a bratty stage. A "queen bee" got them all lined up how she wanted them, until one of them rebelled. Anyway, the movement showed great flexibility in the dancers and originality in its physical comedy.
"Rockaway" opened with a treadmill wheel, like a pet hamster runs on, sitting on the round table. Angelica Mondol Viaña spun the wheel, but couldn't keep it upright. The ensuing dance seemed to be an expression of girls' frustration. Bridget Cronin simulated having hands tied behind her back. She moved in interesting and innovative contortions on the floor and finally was able to stand. The lights changed from a bluish to a pinkish hue. Throughout there were sounds of seagulls and pile drivers (likely seashore sounds of the Rockaways).
"Scilla" opened with a music box on the table that played "Pop Goes the Weasel." A little dog popped out of it. One dancer was helped to stand but couldn't. The characters squabbled like sisters and a childish one regressed. It was a lot of fun.
"Robots" began with Newton's Cradle on the table--a balance pendulum with swinging kinetic balls. The dancers moved like the gears of a watch to the clicking rhythm of the balls. Later, they exchanged thumb gestures, as if to say "play with me" indicating thumb wrestling.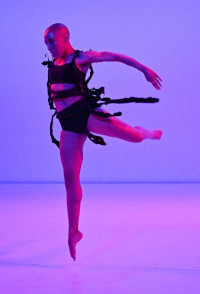 Roxanne Young. Photo by KASAI NYC.
In "Whiskey," Bridget Cronin couldn't quite fit her fingers into a pair of long, black gloves. She counted, "1,2,3,4 fuck!" A solo was danced before a film noir gobo projected on the back wall. She mimed drinking occasionally. In the end, Angelica Mondol Viaña was pained by a shining light. All the other dances of part one were performed to original music commissioned by CLYMOVE Dance. Inc. This one was by arrangement with Jeanann Seidman.
"Hert" began with a metronome on the table. The dancers entered clad in costumes of strings. They seem to improvise the word "fuck" to the beat. My notes record, "athleticism throughout."
In "Pumped," Roxanne Young brought on two machines: an electric breast pump and a motorized baby swing. She didn't know what to do with them. Jovonna Parks was on the stage floor, maybe she was the baby, learning to stand. There was a video projection of her driving Brooklyn streets. She arrived at a sign that said "end." The message was unclear. Anyway, it was intermission time and the audience was in a good mood; the first half having been fun and light.
Bridget Cronin. Photo by KASAI NYC.
The second half was two dances performed to music by Music by DJ Kurt Rambus. It began with "Sutra," a piece with the same vocabulary we had seen, but less pointed, more abstract, with references to an hourglass that was brought onstage. Music was electronic and rich in bell sounds. It was enjoyable, but it was the same kind of stuff as part one. In slow motion sequences, the audience broke out numerous cell phones for pictures.
The evening ended with "Aura," which was introduced with a lava lamp. There was a lot of the dancers lifting and caressing each other. It was graceful, but not as fun as the stuff in part one. I wrote in my notes, "She saved the best for first."
The evening's intention had been to praise the gift of womanhood and mentorship in dance, and to show what happens when women support each other and share wisdom. I'll admit what you have already surmised, if you read this far, that I didn't get all of it. I'm a guy and a little obtuse, even on a good day. But I certainly had a good time, as did my wife, who accompanied me.
After the show, we nosed around the neighborhood on the way back to the Graham Ave. subway stop. We found Brujos Brooklyn Taco Company at 333 Graham Ave. and had a surprisingly delicious and affordable dinner there. We agreed that the restaurant is worth a trip on the L train if you're in the mood for Mexican.