DANCES WE DANCE

Dances We Dance in "Passages"
Theatre at St. Jeans, 150 E. 76th Street
June 3-5, 2022
Reviewed by Barney Yates June 5, 2022
Francesca Todesco in "Mother." Photo by Steve Pisano.
Dances We Dance, led by Artistic Director Francesca Todesco, produced its 2022 Spring Season June 3 to 5 in The Theatre at St. Jeans. It's the company's debut season. As someone who is newly interested in early modern dance, I was glad to see the evening's Duncan dances, which were performed with maturity and understanding.
The program says "for Betty." Let me explain the reference. Dances We Dance was originally founded in New York in 1970 by the late and beloved dancers/teachers/choreographers/mentors Betty Jones and Fritz Ludin.
The program offered recreations of classic choreography by Isadora Duncan reinterpreted by Todesco, plus a premiere by Todesco, "Intimations of Immortality," set to music by Scriabin. Another premiere was by guest choreographer Catherine Gallant, "Late Echo." It was set to music by James Ra. The evening's closer was a premiere by Todesco, set to "Fuga Y Misterio" by Astor Piazzola.
The evening began with "Reflets D' Allemagne," choreographed by Todesco, danced to music by Florent Schmitt that was performed ably on one piano (four handedly!) by Nathaniel LaNasa and Isidora Vladic. There were eight danced vignettes, interrupted by a musical interlude. Three of its dances were constructed by Duncan following the death of her children in 1913. All of them displayed pretty standard Duncan movement vocabulary and classical, diaphonous costumes by Ivana Drazic. The next section, "Scriabin Etudes," was a trilogy of dances set by Duncan in 1921 to works by Scriabin. They were danced by Todesco with Nathaniel LaNasa at the piano. The two most memorable were "Mother," in which Todesco's acting evoked Duncan's loss and having to say goodbye to her two children who had drowned in the Seine, and "Revolutionary," which clearly showed the phases of pugnacity, weariness, and renewed vigor in a revolutionary's life. I reflected on the difference between the world of 1921 and today and mused on how in today's world, we need the energy and commitment that Todesco channeled in "Revolutionary." I also made a note to myself on how hard Scriabin is to play.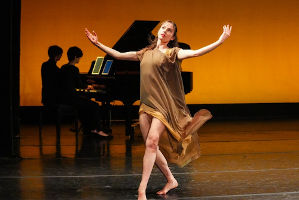 Rosy Gentle in "Reflets D'Allemagne," accompanied by Nathaniuel LaNasa and Isidora Vladic. Photo by Steven Pisano.
After intermission, the accompaniment changed to piano by Nathaniel LaNasa and and cello by Kirsten Jermé.
"The Calling" by Todesco, set to music by Chopin and Gurdjieff, was danced by Margherita Tisato. It's a dance is supposedly inspired by the tale of Joan of Arc. The costume by Ivana Drazic, with its grey overgarment, suggested Joan's armor.
"Late Echo," a premiere by guest choreographer Catherine Gallant, was set to "Evocation" by James Ra. Five dancers costumed in slacks enacted beautiful friezes before projections of beehive with its honeycomb and of flowers closing.
"Intimations of Immortality," a premiere by Todesco, was danced by Todesco to an excerpt of Wordsworth's poem "Ode on Intimations of Immortality from Recollections of Early Childhood." Music by Scriabin was performed by Nathaniel LaNasa. It was a meditative, somber piece performed with sophistication and wisdom.
The finale, "Fuga Y Misterio," was a premiere choreographed by Todesco to music of the same name by Astor Piazzola in a recorded version for 12 cellos. Cellist Kirsten Jermé joined in live onstage. The piece was dedicated to "all wild women" and its sensuality dominates my memories of the evening. You can't go wrong when you choreograph to Astor Piazzola music. Todesco's dedication to Duncan is admirable, but I came out feeling she had saved the best for last.
Let me close with a nod to pianist Nathaniel LaNasa who, along with other musicians featured during the evening, played splendidly throughout.